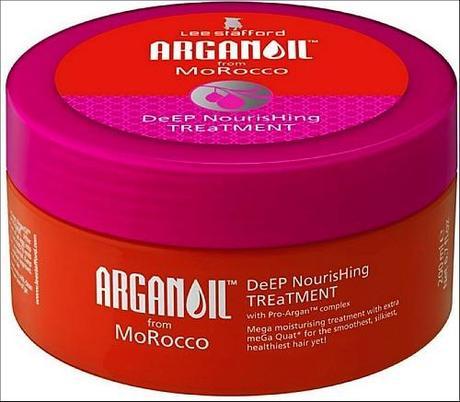 Guess what, hair enthusiasts? Popular British haircare line, Lee Stafford, has made its way across the pond and is available in the US! Started by celeb hairdresser, Lee Stafford, this line has a mega cult following (and for good reason)!
I recently had the chance to test-drive the line's Argan Oil Deep Nourishing Treatment and have fallen head-over-hair. This mega moisturizing mask revives over-worked hair in a matter of minutes (and let's face it…our abused tresses need some serious TLC after constantly being blown-out, flat-ironed, and curled). Here's the locks-loving scoop:
Tresses 411: Lee Stafford's major moisturizing Argan Oil from Morocco Deep Nourishing Treatment ($14.99) contains a Pro-Argan complex that hydrates and restores hair to its absolute best. It also contains cutting-edge ingredients that help flatten and condition the hair, keeping frizz at bay. Oh, and did I mention how speedy it is? Simply work into your hair from roots to ends and leave in for 5 minutes. The end result? Super silky, shiny locks (I'm talking uber silky, people).
Why it rocks: For just under 15 bucks you can take your blow-dried-flat-ironed-product-overloaded tresses from dull to healthy and restored in 5 minutes! (And what's not to love about those kind of quickie results?!?)
You can find Lee Stafford products at Ulta stores or Ulta.com. Happy (hair) nourishing, beauties!
What deep conditioning treatments are you loving right now, readers?
Share 'em in the comments section below!

Crows' Feet, Cupcakes, and Cellulite does not accept compensation for reviews. Samples may have been provided. Opinions are 100% the author's own.