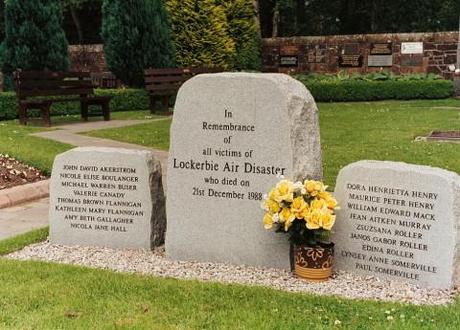 The Lockerbie Garden of Remembrance. Photo credit: GargoyleG
The background
Abdul Baset Ali al-Megrahi, the only person convicted over the 1988 Lockerbie bombing above Scotland which killed 270 people, has died at his home in Libya. He was freed from Scottish jail in 2009 on compassionate grounds because of terminal prostrate cancer, stirring much controversy when he outlived doctors' expectations by almost three years. Megrahi was given something akin to a hero's welcome when he returned home to Libya and was greeted by Saif al-Islam, son of General Muammar Gaddafi. Conspiracy theories continue to swirl as to why he was released.
Megrahi, a Libyan intelligence officer, always denied any responsibility for the bombing of Pan Am Flight 103 in December 1988. UK Prime Minister David Cameron, who has argued that Megrahi never should have been freed, said the occasion of his death was a time to remember the 270 victims of "an appalling terrorist act." The bombing remains the deadliest terrorist incident ever to have taken place on British soil.
Megrahi will be buried at Tripoli's main cemetery today. His death has re-ignited calls for a beefed-up investigation into the Lockerbie bombing and the reasons for his release from jail.
Megrahi surely didn't act alone
An editorial in The Times said that Megrahi's death "brings to a close a disgraceful episode that has permitted a man found guilty of murder to die at home, surrounded by his family, a dignity that he denied to his 270 victims." The paper argued that he should not have been permitted to leave prison "at all" and hoped that the Libyan elections due on June 19 will produce a new Libyan government that "will seek to unearth the truth about Lockerbie, which has been buried for too long. It is hard to imagine that al-Megrahi acted alone yet nobody else has been convicted."
Megrahi: Not guilty?
Jim Shire, whose daughter, Flora, died on board Pan Am Flight 103, wrote in The Times that, "for truth's sake, we fight on to clear al-Megrahi's name." Shire insisted that Megrahi had been the victim of a "miscarriage of justice" and that "there are people in Britain and America who, blinding themselves to the profound failure of the evidence against Baset, have tried deliberately to suppress the truth, and even to deny that Baset was mortally sick. Some of them have clearly done so knowing what they were doing. One can only pray for them." Shire has suggested that Iran, rather than Libya, was behind the bombing plot.
Blame the conniving politicians
The Daily Mail's Stephen Glover said that Megrahi was freed by "conniving politicians in squalid pursuit of a fast buck." Glover described the Megrahi affair as "one of the most shameful episodes in modern British history. It has involved nothing less than the subverting of British justice for commercial gain. Megrahi was a convicted mass murderer who was cynically traded by the last Labour government in return for commercial opportunities in Colonel Muammar Gaddafi's Libya. If this seems an almost incredible charge, I am afraid it is one that can be sustained by ample evidence."
Death unlikely to bring us closer to the truth
Writing at The Guardian's Comment is free, retired diplomat Oliver Miles regretted that Megrahi's death won't bring us "closer to the truth." He argued Libyans "will want to clear up Lockerbie if they can, and they will support us if we make reasonable requests for help in our investigations. No one can be sure, but my guess is that the truth will not be found. Only a few will have been in on any secret, and most of them are dead."
Cameron should release the official papers
In a leader The Telegraph boomed that it's time for us to learn "the real reasons" why he was released. The newspaper reminded that information obtained by WikiLeaks has indicated that when the prisoner was diagnosed with terminal cancer, Gordon Brown and his ministers "saw an opportunity for securing his release." The Telegraph called on Cameron to "now keep his promise to publish all the official papers relating to the affair. We need to know the full extent to which Mr Brown and his ministers, cynically content to divert responsibility to the Scottish government, were involved in this shoddy affair."
Time for a public inquiry
In a leader, The Independent regretted that the death of Megrahi "is a closure of sorts, but only of the diplomatic fracas" that accompanied his release. "It brings us no closer to solving the mystery of who was responsible for the bomb … Nor does it offer any resolution to the families of the 270 people who died," sighed the newspaper, which called on the Scottish Government to agree to a public inquiry into the tragedy.