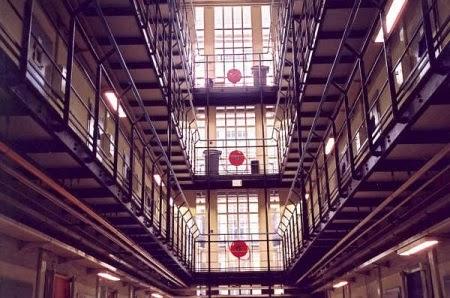 Music is a prison? It's be done by Johnny Cash (get his At Folsom Prison and At San Quentin albums) before an audience of inmates. Metallica did it in 2003, also at San Quentin. Billy Bragg and Mick Jones performed at London's Wormwood Scrubs. On a side note: the crap Elvis Presley movie Jailhouse Rock.
The Dutch do things a little differently. On November 17th the Locked Up festival takes over the Schutterswei in Alkmaar. It is a 19th Century building that is no longer serves as a penitentiary. Live music by a wealth of singer-songwriters - don't miss Yori Swart, and arts on display.
Good food and drinks (no lodging). Tickets: 5 Euros.
The music
Daniel Versteegh
My Baby
Douwe Bob
My Blue Van
Okke Punt
Rachel Schipper
Yori Swart

The arts
BOXIE
Charlotte Samuels
Roelof Gootjes
Pieter Klomp
Jeroen Dekker
Linda Anneveld
Frits de Beer
Thieu Smeets
Peter Ankoné