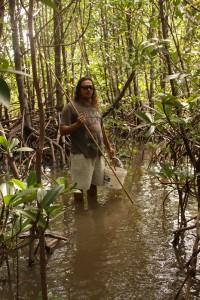 Linc leading the way with spear in hand
The brothers have been offering tours since 2002. They work with several area tour companies for clients but also offer tours for the independent traveler. Their most popular tour is the Mangrove fishing experience. You meet the family at their home – conveniently located about a minute walk from Cooya Beach where you will start your training!
Want to learn how to arrow fish from above the water? The brothers can teach you – each arrow has a long bamboo shaft, weighted at one end with the thin spear and a thicker part of the bamboo. Hold the end of the bamboo shaft with one hand, hold the end of the bamboo with your index finger, lean back, life your front foot and then rear forward aiming the thin barb less spear at whatever you are aiming for. It sounds easy but in reality it is rather challenging, especially when you are aiming for a thin moving target in sometimes murky water surrounded by mangrove branches and roots.
The brothers grew up in the area and have fished here all their lives. They know these waters inside out out, the varying conditions, and the wildlife both above and below water. So when you see warning signs on the beach indicating dangerous swimming conditions because of crocodiles – or jellyfish blown up to much larger than their normal size indicating it is unsafe to go in the waters – in reality trust the brother's judgment.
Timing your tour so the tide is going out you will wade among the thick at times mangrove swamps that line this part of the Coral Sea. There is a coastal reef just off shore – when the tide goes out you can actually walk all the way to this particular reef. The Great Barrier Reef is much further offshore with plenty of small reefs up and down this part of Australia's coastline.
Green Ants, can be used for medicinal purposes
Leaves all stuck together forming a green ant colony
Trees can get huge in the Daintree Rainforest!
Looking along the Coral Sea with Thornton Peak in the background
With your new-found confidence of throwing a spear you are ready for action. Walk slowly, don't splash – depending on the time of year there may be mosquitoes (can take a mosquito net, bug spray or simply do as the locals do – pull off a small mangrove branch with leaves and use it as a fan to swat away these pesky buggers).
Linc said he has been stung plenty of times by jellyfish. Often they brush you and bring some "heat" but if you don't thrash around and break their tentacles often they will just keep moving and the expected ensuing sting won't happen. There are plenty of fish that live here – you might see thousands of tiny shrimp and any of a number of sting rays including the same species that killed Steve Irwin (that unfortunate incident actually happened right off the coast here at one of the local islands). Mullet and Whiting fish are very common.
The brothers can customize a variety of tours based on interest. To someone who is not from this area, and introduction to their culture, traditions and hunting techniques makes for a memorable tour. Examples include night fishing by boat in the tributaries of the Daintree, night spear fishing out on the coastal reef using torchlight (traditional materials for the burning of the torch are used) or perhaps just going out fishing for mud crabs.
After the tour you will view some tools they use in hunting and some of their impressive turtle shells including one giant sea tortoise that fed 200 people in one sitting. Boomerangs, stone axes and other hunting implements are still used.
A particular species of a tree Kangaroo was named after their father Bennett. He has been extremely involved in the local preservation of their language, culture and way of life. With a recording studio downstairs, he has recorded the verbal history of some of the elders.
Visit: www.bamaway.com.au/KukuYalanji.aspx or email: [email protected]
#ad I have been commissioned by and will be working with Tourism Australia for this program and resulting content.