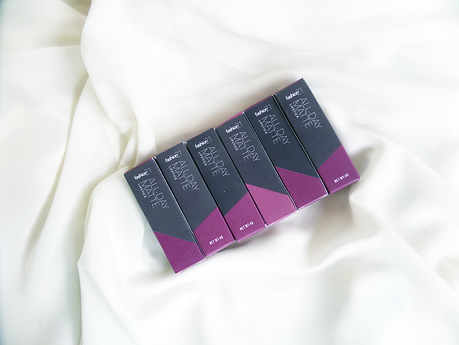 I believe that there is always a gem in a sea full of ordinary things. I don't know how it started, but Filipinos have this common misconception about local brands - that they are not as good as those of foreign brands. Some Filipinos will even buy a fake makeup from a high-end brand just to be 'in', without knowing that there is a better alternative that's safe and cheaper than those knockoffs. There are so many local brands with good-performer products, like Fashion 21 All-Day Matte Lipsticks.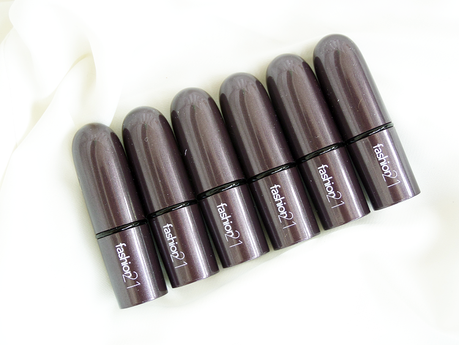 The packaging of Fashion 21 All-Day Matte Lipsticks reminds me of MAC lipsticks. They are pretty cute in their purple-ish bullet-style tube. My only concern is that the part where you twist the tube tends to get loose easily, so you gotta be extra careful with it. The manufactured date was written under the tube together with the name of the shade of each lipstick.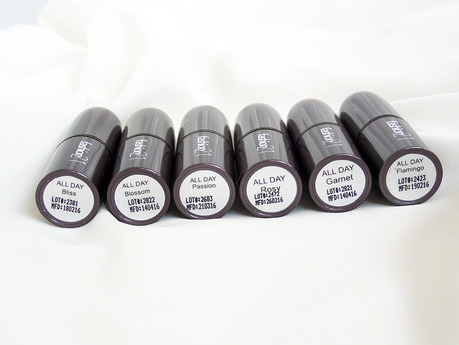 I have six shades of Fashion 21 All-Day Matte Lipstick; Bliss, Blossom, Passion, Rosy, Garnet, and Flamingo. At first glance, they look like a bunch of red lipsticks, but they're actually more on the pink side.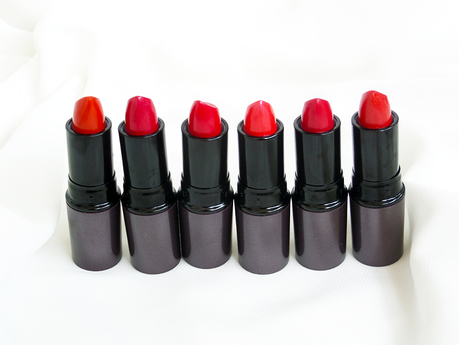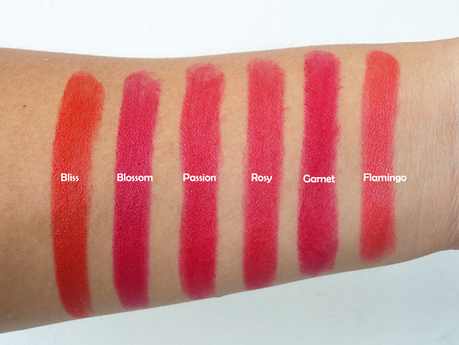 Bliss has a soft orange color. At first it looks like a bright orange, but it's actually a mild orange with a hint of peach when on the lips.
Blossom and Garnet have almost identical fuchsia pink shade. They are my favorite.
Passion and Rosy also has an identical soft dark pink going on.
Flamingo is the only one with shimmer in it. I was actually expecting a bright pink shade for this one, but it turns out that it's a frosty peachy pink.


The formulation of these lipsticks is surprisingly good. They are creamy and moisturizing. The pigmentation is so-so, not good, but also not bad. I had to swipe a couple of layers to build up the color, except for the Blossom. Perhaps it is because Blossom has a darker shade so it is more opaque than the others. Bliss is next to Blossom in terms of opacity.
What's really surprising is how long they can stay and withstand the Manila heat! Okay, maybe they are not as pigmented as those with other brands, still they are totally buildable and if you add one or two more swipes to your lips, it can give you a nice color. But for a 175 pesos lipstick that can stay for several hours? Ooh... I'll say dibs!

BLOGLOVIN
|
FACEBOOK
|
TWITTER
| INSTAGRAM