Hey Loveys,
Happy Sunday! What a weekend this has been! I'm... well... exhausted! Lol! Friday night was completely uneventful so I'm not even going to recap on it, however I'm going to start on Saturday and tell you about my weekend from there!
Saturday night we hosted our first annual lobsterfest so we had to get everything ready for the big event during the day. We were having 8 lobsters come in from Nova Scotia thanks to one of our guests! They were live and fresh, fresh, fresh! So we bought a lobster shell cracker, some drinks, appetizers, and wine to keep our guests happy! People eventually showed up around 5pm and we busted out the wine and hung out and chatted and laughed for a while! I had made home made juice because one of our guests was running the GoodLife Half-Marathon today so she wasn't drinking wine. Check out my awesome juices...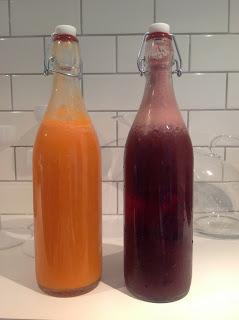 The juice on the right is a citrus/carrot juice and the one on the left is a berry/pear juice! They were a major hit amongst everyone. The runner friend drank all of the citrus juice by herself! Haha, it was awesome! One of my bosses turned out to be a big "Juice by Sarah" fan as well! I guess I'll be bringing fresh juice to more group gatherings from now on! When it was time to start cooking the lobster, it was a bit weird.... they were live, so we had to dunk them into boiling water... Wah wahh. Carlton bid all lobsters adeau...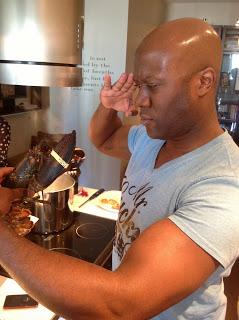 And obviously I had to hold a lobster as well. It was creepy, luckily it didn't move while I was holding it...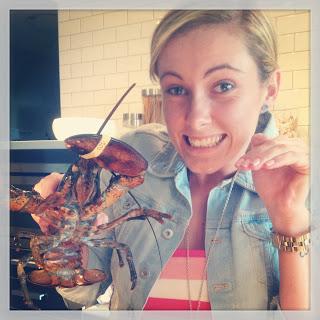 It didn't turn out to be the biggest deal after we got past the initial killing. We cooked 8 lobsters in total...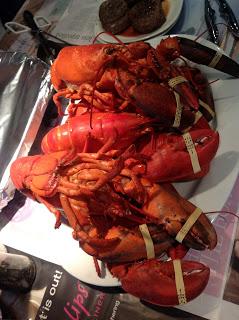 Weird right? CB was so proud of his culinary skills....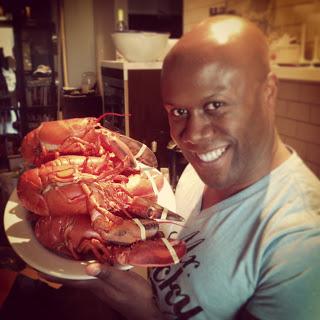 All in all it was AMAZING. I ate WAAAAY too much lobster and butter and steak (we had surf and turf) and white wine. These were the wonderful ladies (minus Melissa who had to leave due to a prior commitment!)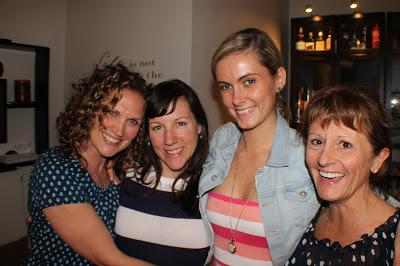 Today was the GoodLife Toronto Marathon (and half and 5k) so we ventured out to see some friends running it! This year I didn't do any of the races... this was the half-marathon that I did last year. Up until today I hadn't really wished that I was running the half-marathon. Although, once I was walking down the street watching the runners, it all came rushing back and I totally wanted to be one of the people running.
We were at the event for about 4 hours! My friend and basically my life mentor, Mo Hagan, was running the half (she finished in 1:59!!) and so I caught up with her to see her. I used to work for her, and I miss her a ton. I always learned something new from her whenever we had 1 on 1 time, she's so smart and so business savy. She's VP of Operations/Group Exercise for GoodLife Fitness and also the Education Director of Can-Fit-Pro. I've looked up to her probably since I was 13 years old, and she's one of the main reasons I got into the fitness industry.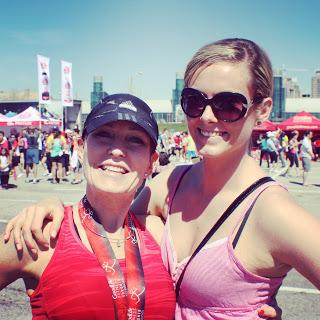 Awwww! :) So after I met up with her and while we were waiting for our friends to finish the 5km race, we were also watching runners finish to were doing the half-marathon and the full marathon. I have to admit, I really wanted to be running the half again by this point, and thoughts of doing a full crossed my mind. I don't know why, I've always told myself that I would never run a full... watching all of the people got me really emotional about it more than once. Whenever people would run through the finish line holding each others hands, or helping each other out, it brought tears to my eyes every time. It was just so motivating and made me realize that I shouldn't care about my time, or compare myself to others... I just need to go out and run at my own pace, finish on my own terms and just have a good time.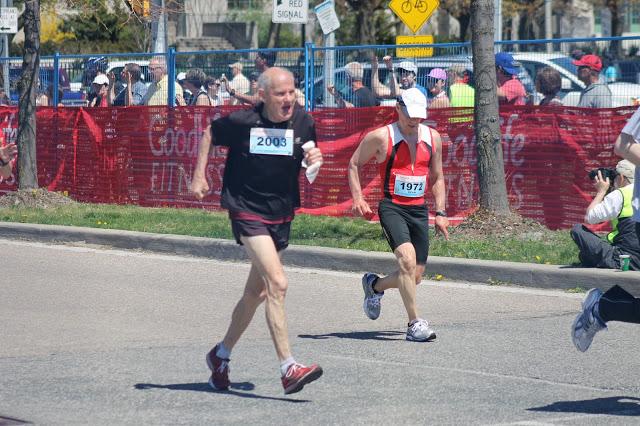 Like, I'm sorry... but this man finished the full marathon. Are you kidding me? Tell me this doesn't make you want to get your ass off the couch and get hustling? How motivating is it to see him??? I almost died, I cheered him on so hard, I just loved it. A friend of mine was actually running the whole event for GoodLife and he told me a story about today when I was talking to him. I guess a man had collapsed at the corner right before the finish line (50 meters away maybe). My friend actually picked him up, and walked him through the finish line, and then got him medical attention. The runner didn't think that he had finished the marathon, but thanks to my friend he actually did.
I cried listening to that story. Thank god for my sunglasses.
I think after today, I'm wanting to run another half again. I think that I want to do it for the sake of doing it. Last year I did it with a time in mind and going at it knowing I wanted to be a certain speed. I think my view of racing has changed so much and now my goal is to make it through races pain free and happy. So I guess now I'm probably going to train for a half-marathon in the fall. Le sigh. I've been saying I didn't want to do another for so long now. Famous last words, right?
Q: Did you do one of many races this weekend? How did you do?
Q: How do you become motivated to do something you previously didn't want to do?
PS - I got my first sunburn of the year today. Good job Sarah... :|