This product was launched somewhere in 1999 or 2000 maybe and it created a buzz. I did not get a chance to use it then but when I saw it sometime later then I definitely went running for it and have been using it since then.
I don't remember this is my 10th -11thbottle but I have definitely tried a lot of serum including streax pro, aveda brilliant and so on but this is something which is been with me for a long time now.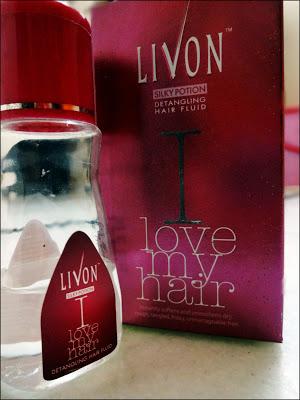 Net Vol:
100ml for 200 INR
Key Ingredients:
 Cyclopentasiloxane, cyclotetrasiloxane, dimethiconol, tocopheryl acetate, mineral oil.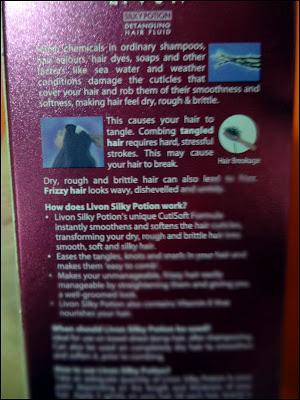 Shelf Life:
2 years
Color of Product:
transparent
Smell of the product:
No smell but if you have a hound nose like I do maybe a slight sweetish smell
Directions for use:
Damp your hair with little bit of water and then apply Livon Silky Potion on the hair.

 

After applying the silky potion, comb as usual and let the hair air-dry. You need not wash off, it's a leave-on conditioner. It comes in a flip-open cap to control the amount of fluid coming out from the bottle..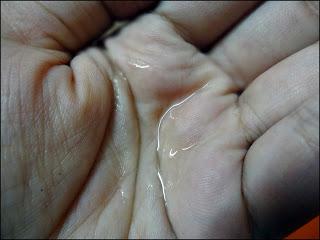 What the Product Claims:
Livon enriched with Vitamin E and a unique CutiSoft formula, is perfect for everyone who wants perfect hair. It gently detangles hair and reduces breakage, leaving behind a shiny, protective sheath that keeps hair soft and shiny.

Feel about Product:
Well if you go through the ingredients list you will find a lot of chemicals and they aren't hiding it. The cutisoft thing mainly means silicone. You can feel it when you take the serum in your palm. It glides and is kind of slippery. Now regarding using silicone, I am on the edge regarding this. Unless its giving me something which makes me yaaaayyy I tend to avoid it. Also, it's your hair nothing like you are consuming silicone so I can definitely give it a chance.
This product mainly controls frizz as it says above. I won't say I have extremely frizzy hair but ya I would like to control whatever I have. It detangles the hair nicely without any effort. I have straight hair and when I started using this product it added a little shine to my hair. So next time I used more assuming a direct relation of more product more shine. But it doesn't work so. The shine builds on as you go on using the product regularly. Using more serum will make your hair limpy.
Coming to standing for the claims. This product stands for all the claims it said. It worked really well for me and I have been using it since years. Also make sure that you don't apply it to the scalp. I get itchy feeling if I accidentally do that. I feel it's a bit pricey for every time use considering the quantity provided. But you can use it once in a while and get shiny hair instantly
Good about Product:
Affordable
Travel friendly
Imparts shine to the hair
Detangles the hair
Controls frizz to a certain extent
Bad about Product:
Price can be reduced a bit
More of frizz control can be added for beauties with curly hair.
Availability
:  Easy
Fashion and beauty rating: 4/5