From cornfields in Iowa to waiting tables near Nashville, to the stage at Radio City Music Hall in New York City, has been on a journey. And now, a year after the release of her celebrated and acclaimed breakthrough album, The Dream, the 31-year-old singer-songwriter is sweetening the pot with a deluxe version, Living The Dream.
We caught up with Hailey over Zoom to talk about the deluxe release, working with artists who have been influences and important parts of her career successes, keeping an indie feeling while working with a label, and more. And, we played a round of 5 Quick Questions with Hailey Whitters that you can see a little further down in this post.
The dream started as a broken-hearted, frustrated waitress not knowing if her dreams were going to come true...
One of the first questions we asked (after offering congratulations on managing to complete and release new music during the pandemic) was about releasing a deluxe version of her album versus releasing an independent EP with these new songs. She told us that all of these new songs are part of the same story as the original album. And when it comes to the artists involved, she told us that "each artist that was selected for the Living The Dream deluxe was an artist that had a hand in making it possible for me to be able to say that I was living the dream."
She also told us that she had some of these songs written before the pandemic hit, and some were written during it. And that she was really in a mindset of getting ready to put together a whole new album. It was her producer though, that steered her in this direction.
Hailey told us that he reached out to her one day and said "Hey, you're writing a lot of really great stuff right now, you can't tour right now, the pandemic's hit, what if - instead, we make a deluxe. You keep saying in these interviews that you're living the dream, and you've gotten to do a lot of bucket list things this year because of that record. What if you do this Living The Dream project and just show fans what you mean by that and what that looks like."
She summed it up like this, "The dream started as a broken-hearted, frustrated waitress not knowing if her dreams were going to come true and I like how it starts there and then it ends with this deluxe project where fans can see all of the cool things I got to do as a result of this record. It feels like the perfect little end of the chapter of the dream to be able to show those fans, 'hey, look what happened, I didn't give up and thanks to y'all and the response you've shown the record, the love that you've shown this record, I've gotten to do a lot of things that I didn't think I'd get to do."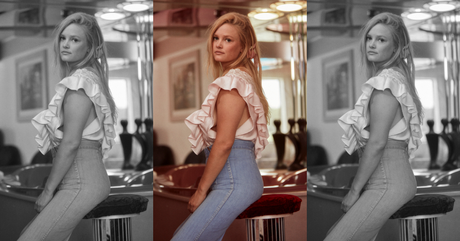 The artist I wanted to ask about in our short window of time was Trisha Yearwood. Yearwood was a giant star in the 90s and influenced a ton of fans and future singers and songwriters, Hailey Whitters among them. But there was also something specific I had on my mind regarding the song they perform together.
How Far Can It Go? is one of the newly released songs from Whitters, and it feels like it belongs both in her catalogue and in that of Trisha Yearwood. And, to my ears specifically, it sounds like Yearwood's 1995 hit XXX's and OOO's (An American Girl) is sitting just under the surface, so close that I feel like I can hear it underneath How Far Can It Go? (To the point that I was Googling to see if anyone else was talking about it.) Hailey laughed and said she was happy to hear that and that she used to play XXXs and OOOs in the bars. She said that when they wrote the song before they ever asked Trish Yearwood to sing with her, they were thinking about her and her hits and that another song, She's In Love With The Boy was a major influence for them.
Hailey says She's In Love With The Boy, "was such a big influence on me as a young girl, growing up in the middle of a cornfield, that was one of the songs that I was like 'I'm gonna move to Nashville and be a country star', so we were definitely channelling that."
From there, it was just a big 'wait and hope' situation to see if Trisha Yearwood would be into it. And when she did, when the call came in with a YES answer, she said they celebrated exactly how you'd imagine - jumping up and down, screaming, and generally freaking out. You love to hear it.
Hailey Whitters - How Far Can It Go? (ft. Trisha Yearwood)
Note: Hailey said that it was that way with all of the artists featured on these new songs. In her words, "I was fully prepared to be shot down on every ask." We're glad it didn't go that way!
There wasn't time to dive deep on all of the songs and artists included on Living The Dream, but she did mention Little Big Town and the break she got (and royalty cheques she saved to pay to make The Dream) from them cutting Happy People (on 2017's The Breaker) and sending it to radio, as well as Brent Cobb and Jordan Davis who took her on tour. She may say she was prepared for all of them to say no, but it feels like they were all already invested and interested before the question was ever asked.
If was going to write about each of these songs in any depth, we'd be here for another 1,000 words. So instead, let me say this. It makes me smile that Hailey Whitters was able to bring artists that mean a lot to her, into this project. Each of these songs could have been made and released as a solo effort like Hailey says she was prepared to do, but there's something special about the features and voices and bonus vibe it all gives off.
Hailey Whitters - Fillin' My Cup (ft. Little Big Town)
Another thing we talked about was maintaining her indie sensibilities while working in the label system. The Dream was released without a label (February 2020), and it wasn't until June 2020 that she signed with Songs & Daughters via Big Loud. She told me that it's still weird sometimes, having a lot more people on her team, with ideas and involvement, and that she can be a little bit of a control freak. But she also knows and acknowledges that all of these people know what they're doing, and she feels like they are all working towards the same goals, which makes it easier to relinquish some of the work and move forward.
She said, "I feel very lucky to have found the label situation I did. I mean, I was really discouraged by a lot of the meetings in town and they just felt like everything but the music. And when I found Big Loud and Songs & Daughters it was about the music and about what we were building on my indie label Pigasus, and they were really cool about everything that we'd built prior to having the record label involved." She added, "It really feels like a partnership and I feel really lucky to have that."
It's wonderful that she's able to feel like she has found that. And we hope that other artists are afforded the same opportunities in the future when things feel like they may not be going in the right direction.
As we got closer to the end of our call, I asked Hailey if there was something she could share that fans wouldn't find in a Google search or any stories written about her so far. She thought for a minute and then told me that she was once stung by 18 yellow jackets! She told us that she likes to hike and camp and said, "I was back-country camping in the Smokey Mountains and my backpack fell over onto a nest of yellow jackets and I got SWARMED!" We're all thankful she's not allergic and came out alright!
Now, hit play on our round of 5 Quick Questions with Hailey Whitters to find out which album she's reaching for to play from front to back (while in the bath with a bottle of red wine), who she'd love to duet with, who she thinks we should be listening to, and more!
5 Quick Questions with Hailey Whitters
Thank you to Hailey Whitters for taking the time out of her day in New Orleans to talk to us, and for playing 5 Quick Questions. We can't wait to do it all again in person when we can.
We asked if there was anything else she wanted to share with us and all of you, Hailey said she hopes everyone listens to and enjoys the release, that they can follow her on all of her socials for lots of content, and to stay tuned for more concert dates when it's safe to get back on the road.
In the end, she says about the album, "I hope when fans hear it, when they start at the beginning of the project with Ten Year Town they can just hear the whole story front to back, my 14 years in town and really kinda understand that whole struggle between chasing a dream and hoping it pans out and getting to see it come to life."
Check out the complete tracklist for the deluxe release of The Dream, Living The Dream, and hit play to start your top to bottom listen, now.
Hailey Whitters, Living The Dream (Deluxe Edition) Tracklist