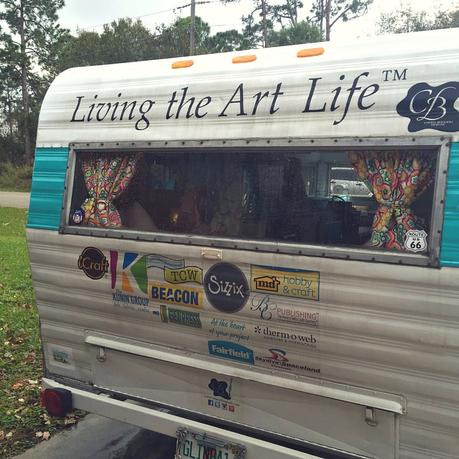 Months and weeks of planning goes into each road trip I take with Glinda. Nevertheless, no matter how much you plan and prepare, it's always a last minute rush to get out the door on time. I had a bit of a delay on Tuesday morning because much of a few days prior had been getting my car serviced for unexpected issues. During the oil change on Saturday, I was informed that my brakes and rotors had to be replaced. $$$ Then Sunday, evening after packing all day, dear hubby offered to go ahead and help me get Glinda hooked up then. As I'm backing my car into the driveway to connect with Glinda, my water pump goes out and dumps fluid all in my driveway. I had to wait until Monday to get that fixed (again $$$) and that took much of the day. Tuesday morning arrived and I was trying to finish loading in the rain. Thankfully, I did finally get out only a few hours later than planned and fortunately, I made it out before my home area apparently flooded.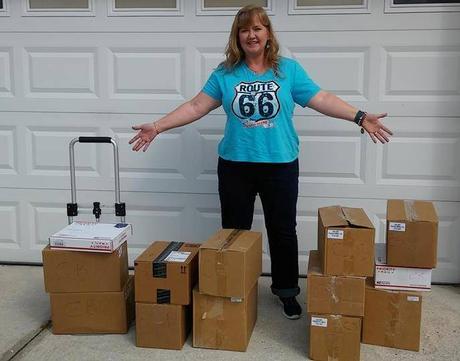 My first stop was in Orlando to pick up more Powertex USA supplies. I'm so excited that I'll be introducing so many people to this amazingly fun mixed media product. Wait until you can see how much you can do with it. I'll be teaching a few Figurine workshops as well as the Bison workshop.
I'll be teaching many more mixed media classes and have some exciting news to share as well. I have two new sponsors that are joining me and Glinda on our Living The Art Life™ Tours. The first is Gel Press. There are so many things you can do with a gelatin plate and this is a perfect partnership for my classes and they work so well with all the other companies I work with. The second is DecoArt Inc. You've seen me working with their Media line and now I'll be teaching with their Media line. Most all of my classes use acrylic paint in some format, so how perfect is this? I'm thrilled to have these two companies join us!
Onto my trip - driving out of Florida seemed to take FOR-E-VERRRR. I started on the southeast coast and had to travel across the leg of Florida, up the state and across the panhandle. I don't think people realize how big Florida really is. My first night, I drove late into the night and pulled over to sleep at a Flying J. I love these truck stops. I'm safe, there is security, and I have access to bathrooms and food. These truck stops are a small town center. Did you know you can take a shower, do your laundry, relax and watch TV in the lounge, get your haircut, and more? And the people I've met at Flying J's and Pilots have been really nice. I'm always welcomed when I walk in the door and the truckers are really nice too.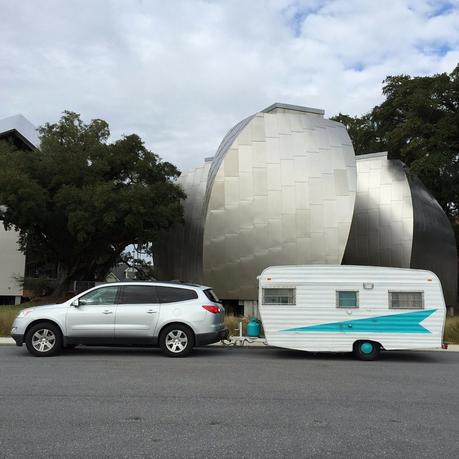 Day 2, I drove to Mississippi and decided after a time that I wanted to stretch my legs a bit. I found the Ohr-O'Keefe Museum of Art in Biloxi, Mississippi. George Ohr was considered the "Mad Potter of Biloxi". He had created a massive body of works and much is on display at this museum. I loved the architecture as well with the contrast of brick and steel. These massive pods resemble clay pots and each will house a gallery. Only one is open at this time as they complete the others. There were other works of art as well. There was a sculpture exhibit called Rhythm & Movement by Martin Payton as well as an exhibit by James Michalopoulos titled Southern Spirits, Texture & Tumult. His paintings were amazing and reminded me that I really need to start using even more texture and playing with more heavy oil paints in my personal works of art. I am completely fascinated by oils with LOTS of texture. I would have taken even more pictures, but signs on all gallery doors said NO PHOTOGRAPHY and I totally respect that as an artist. However, they museum has since messaged me and state that they have lightened up on that and allow photos of general collections but do ask that you don't zoom in on one piece of work. Sounds like I need to go back and get some more photos now.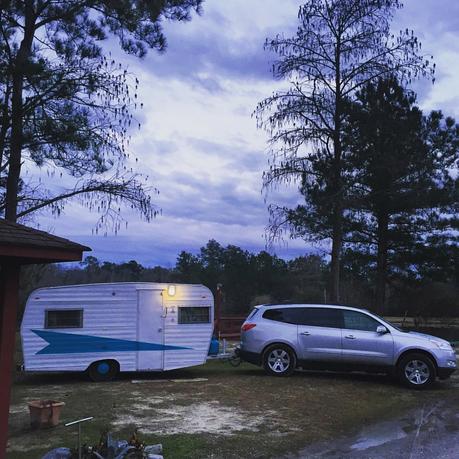 It was getting cold, so I decided a campground with electricity and heat might be nice, so I found a cozy campground called Magic River Campground. I was even more excited to discover that this was the original Passport America campground. (*note - I am a member of their Referral Buddy program and get discounts off my membership and referral fees if you join through my link in sidebar which helps me continue to travel and teach - or you can call and just tell them I referred you if you join) I've been a member for almost a year now and have definitely saved money by being a member as well as discovered some really great campgrounds. I always meet the nicest people at these campgrounds. They are excited to see Glinda and they are always so kind and helpful. They kind of keep an eye on me in a protective way...not creepy.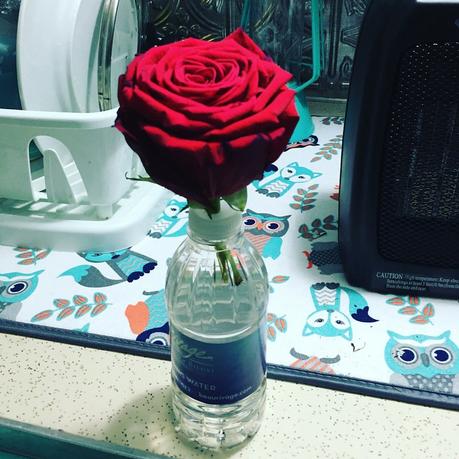 Check out the rose that a fellow camper brought me for Glinda. See how sweet?
I also did a Periscope live that night. You can 'katch' the replay here

Day 3, I'm back on the road and headed to Texas. Louisiana was an interesting drive. I really wanted to go into New Orleans, but I might save that for the trip back or for a later date when I can go with hubby since that is his College town and I've never been yet.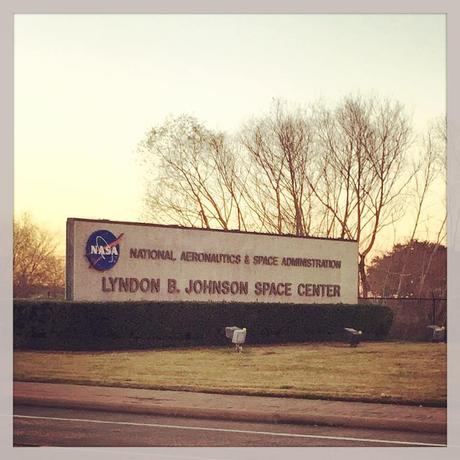 I arrived safe and sound in Texas and excited to see that I am staying directly across the street from the NASA Houston Space Center at a Courtyard Marriott. I know I'll always find a clean, safe, and friendly hotel at any Marriott, so they are always my first choice when possible.
Now, I need to get ready for my classes tonight at Scrap Shack Texas! Follow along on my social media channels to see what's next. After this, my next stop is Craft Crossing.