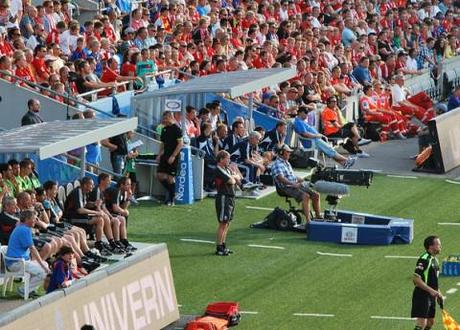 Kenny Dalglish watches on from the sidelines. Photo credit: Kong Niffe
Liverpool's back-to-back defeats at the hands of relegation threatened Queens Park Rangers and Wigan Athletic have incensed fans of the historied club and increased the pressure on reds' manager Kenny Dalglish, who is now the bookmakers' third-favourite to be the next manager to get the leave his post. So, can "King" Kenny turn it around? Or would Liverpool be better off with a new gaffer at the Anfield helm? Here's what the pick of the sports commentariat make of the mess at Liverpool.
Liverpool have lost five of their last six and collected just eight points from their last 11 league games. In the build-up to the home loss to Wigan, Dalglish defended his record: ""People should take an intelligence check. Judging our performance by league position alone is disrespectful. There's a bigger picture. In 30 years' time it will be remembered they won the Carling Cup – and maybe the FA Cup – in 2012. If that happens, the league position will be overlooked."
Attn: Kenny. Liverpool are not a cup team. James Lawton of The Independent criticised Dalglish for having "spent more than £100m on a Liverpool team which looks increasingly unfit for purpose," and reminded Dalglish that Liverpool are much more than a cup team. He argued that Dalglish's "extremely tentative" Carling Cup final win over Championship side Cardiff City is no "landmark of  inexorable success … The team they supplanted at Wembley was, of course, Championship-bound Birmingham City …" Lawton suggested that Liverpool's American ownership must be getting increasingly twitchy: "Liverpool have taken eight points from their last 11 games … Mere statistics, you may say, but they do happen to be irrefutable in what they say about Liverpool's current plight. They also happen to be rather dear to the heart of the American ownership and a key part of their appraisals of the progress of the baseball branch of the business prosecuted by the Boston Red Sox. Having handed Dalglish and the club's director of football, Damien Comolli, the money to buy Andy Carroll, Jordan Henderson, Stewart Downing, Jose Enrique, Sebastien Coates and Charlie Adam – and complete the pursuit of Suarez – the Fenway Sports Group is not likely to be either enamoured or feeling any need for an intelligence check when it applies some of the same criteria to the soccer division. Indeed, the sharp edge of Fenway's analysis is likely to get especially acute when it measures the distance that still separates Liverpool from £30m worth of Champions League revenue."
Liverpool are 'like an old lush.' Chris Bascombe of The Telegraph accused the club and its supporters of a basic lack of "self-awareness," and said Liverpool are "like an old lush, sat in the corner telling the world how attractive and marvelous they are, utterly affronted when anyone blind to their natural beauty suggests otherwise. Friends, lovers and acquaintances nod enthusiastically each time the club attest to their own greatness, but neutrals and rivals think their better days have long since passed." "Walk around Old Trafford, the Etihad Arena or the Emirates on matchday. Pause, soak in the scale of the view and keep convincing yourself Anfield does not look like the remnant of another era," sniped Basdcombe. "Look at the league table for the last 22 years and ask how many genuine title challenges there have been. Two? Three perhaps?" Turning to Dalglish, Bascombe said he is "destined to get one more chance next season regardless of the debate about whether he should. Not because it has been a fantastic season (it clearly has not), not because the league table tells fibs (it does not) and not because his signings are good enough (they certainly are not). He will get another season because there is no appetite to write him off  … When Rafael Benitez came seventh and Roy Hodgson flirted with a relegation scrap, you could call anyone at Liverpool and aside from a handful of sycophants, 90 per cent of employees from the board down to the secretaries did not just crave change, they lobbied for it. The fundamental difference between then and now is the same enquiries provoke the opposite view. Dalglish is not just liked, or respected. He is adored and trusted."
Do you think Liverpool should sack Dalglish? Leave a comment and let us know your thoughts.
Benefit of the doubt … for now. At The Guardian's Sport Blog, Evan Fanning regretted that the "nonsensical hysteria around modern football dictates that any criticism or questioning of a manager implies that you think he should be handed a cardboard box and told to clear his desk but Dalglish and Liverpool's director of football, Damien Comolli, are moving closer to forfeiting the benefit of the doubt." He said that the performance in Saturday's defeat at home to Wigan was "the worst in the league at Anfield this season" and although Dalglish's claim that his players were tired after three games in seven days "has some validity" " the lack of cohesion in Liverpool's play, coupled with the manager's team selection, is something that has been evident throughout the season." "This season was, in many ways, a transitional year for Liverpool and, with one trophy already secured and another a real possibility, it has been a lot better than many might have expected," acknowledged Fanning. "But, given how weak the league has been at times and how much money the club has spent on players, this was a glorious opportunity to sneak back into the top four. Instead, just as when a great chance has presented itself on the pitch, Liverpool have fluffed their lines."