After bearing witness to Soundgarden's conquering of Hyde Park last summer with their triumphant headline set at Hard Rock calling, I was eager to see how the reunited foursome dealt with a more intimate setting. Not that the O2 Academy in Birmingham is that intimate with its wall to wall bars and sweaty full-to-capacity main room.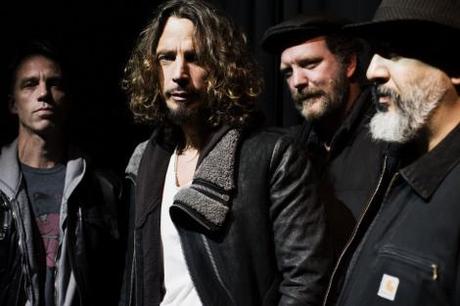 Upon entry to the venue the average age of tonight's crowd was given away by a single item for sale at the merch stand. Yes for the reasonable price of fifteen English pounds your new born baby could be the best dressed tot at the breast feeding group with their very own Soundgarden baby grow. The gathered crowd may be mostly the wrong side of thirty but surely this highlights the longevity of genuinely well thought out rock music such as the kind these Seattle boys peddle.
Tonight's support act is Graveyard. A band that look and sound like they have walked directly off the set of Cameran Crowes homage to 70′s Rock 'n'roll 'Almost Famous', they receive a very warm reception thanks to their groove laden blues drenched retro riffery with a long haired bearded appearance to suit.
After the break Soundgarden's rousing entrance music signals the arrival of Matt Cameron as he takes his place behind the drums followed closely by lead guitarist Kim Thayil and bass giant Ben Shepherd. The volume of the cheering obviously increases when wavy haired, fountain of youth drinking frontman Chris Cornell strides out to center stage and the band explode straight into two 'Superunknown' era classics, the album opener 'Let Me Drown' followed by fan favorite 'Spoonman'.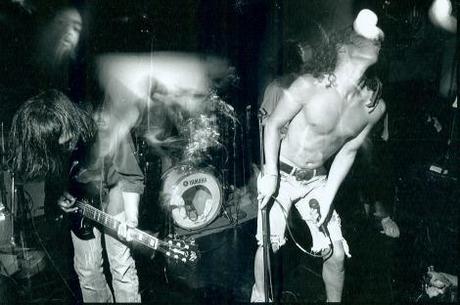 The third song in the set is clearly a conscious move by the band to prove that the brand new 'King Animal' material easily holds its own and stands up next to the songs that have had over a decade to marinade in the fans collective consciousness. Cornell then addresses the crowd with an anecdotal introduction to the leading come back single from 'King Animal'.
Apparently the band have enjoyed previous trips to 'Brum' so much that Kim Thayil encouraged the boys to write a song about it entitled 'Been Away For Too Long' which they could then dedicate to the loyal citizens of their favorite UK city upon their inevitable return. A flattering story I'm sure every venue on this tour have been treated to. The band then continue to romp through songs lifted from there impressive era spanning career.
An obvious highlight arrives when the meandering opening bars of the flagship 'Black Hole Sun' begin to ring out along with ripples of approval throughout the room. As a self confessed keen eyed guitar aficionado a conversation played out in my head at this point in the gig. A conversation I imagined being initiated by a suit from guitar manufacturer Gibson and it went something like this: "Excuse me Mr Cornell, would you mind playing your brand new signature model Gibson ES-335 when your band plays its international MTV super mega hit?" The release of this signature model Gibson is in itself proof of Soundgarden's status as veteran champions of alternative rock.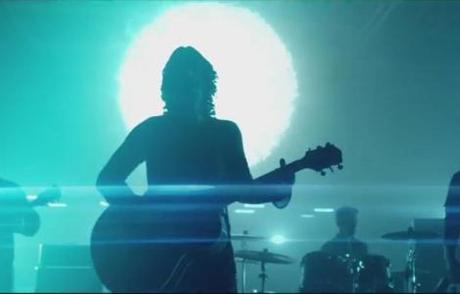 The penultimate song in the set 'Blow Up The Outside World' is simply hypnotic but the spell is broken when towards the very end of the song Ben Shepherd seems to be having bass guitar trouble. Before the band can begin the final song Shepherd thrashes violently at his strings, walks to the front of the stage, removes his instrument and hands a photographer what is probably a thousand pounds worth of bass  guitar. As he paces off stage several roadies squirrel into action to replace a faulty amp and the band launch into a slightly more top end trebly rendition of 'Rusty Cage'. Not to worry though as when Ben makes a theatrically late arrival on stage after the rest of the band for the encore, he is met with rapturous cheers and a replacement amp ready for the first of two encore songs 'Jesus Christ Pose'.
The very last song of tonight's concert has become a set piece staple of their live set since reforming in 2010. 'Slaves and Bulldozers' is extended into a psychedelic noise fest with only Thayil and Shepherd left onstage competing with each other over who can achieve the most monstrous skull rattling feedback and white noise. You could actually feel the bass frequencies washing over you as they harassed their amps with their guitars and detuned their strings. A truly mesmerising drawn out full body experience that lasted so long it probably directly contributed to my friend and I missing the last train home.
The fifty quid taxi fair was well worth incurring though and I'm sure everyone leaving the venue tonight concurred with Cornell's flimsy anecdote that Soundgarden have in fact been away from Birmingham for too long and it's most excellent to have them back.