They came, they apologised, they conquered.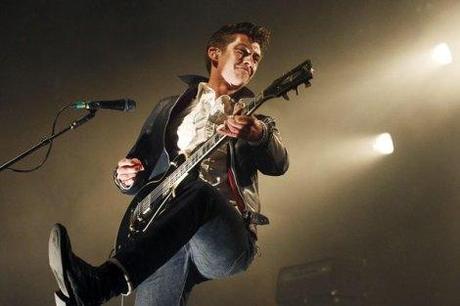 The Sheffield band had previously been scheduled to play on Halloween but due to Alex Turner's bout of laryngitis – which we imagine would make singing quite difficult – the gig was postponed, just hours before they were meant to go on stage. Cue anger and frustration from many, especially those who'd traveled to Birmingham specifically for the gig.
But alas, life goes on, and on this Arctic evening in the West Midlands fans trouped to the NEC to maybe, just maybe consider showing signs of forgiveness towards the frontman.
The Strypes, a band of young Irish upstarts who've amassed quite an enviable list of admirers over the last year, including the likes of Paul Weller, Noel Gallagher, Jeff Beck and Elton John, provided support. To see such a young group of musicians play in such a overwhelming setting of both significance and size was strange, especially when you consider what you yourself were doing at the age of 17. Lead singer Ross Farrelly might well be playing the role of the sunglassed cool face of the band, think Lou Reed Velvets era, but the lack of authority he possessed meant it came across as an obvious and unnatural act. Guitarist Josh McClorey is undeniably talented and at least tried to inject some energy into the show but they simply haven't got the songs. If they slowed things down and tried replicating their blues heroes, which I thought was originally was their unique selling point, then they'd at least stand out. They came across as four lads competing battle of the bands, the only difference was that they'd just come from a shopping spree with Paul Weller.
And so, it was time for Arctic Monkeys to come on and make up for the aforementioned postponement. The backdrop was a simple yet sleek 'A' and an 'M' and the band kicked off with 'Do I Wanna Know', opener and possibly the standout track from their latest album AM.
Those drums, that riff, that pose. What a song to make an entrance with. Sheer power reflected off each and every surface, into the ocean of people below, and right back at the band.
The ferocious Brianstorm followed and was testament to Matt Helders' drumming ability as the song raced through at the average speed of a Sebastian Vettel lap.
Turner, a peacock dressed for a black tie event, truly made the stage, and indeed the whole venue, his own. He had it all in his repertoire; strut, swagger and an unshakable confidence most could only ever wish for. But it'd all be in vain if he didn't have the songwriting prowess and command of language that he possesses. That he was criticised for his Glastonbury performance was a very British trait, a dubiousness bordering on suspiciousness of anyone who dares to be so downright cocky. Let's face it, we all wish we were more like Alex Turner, don't we?
The crowd always knew they were going to be in for a magnificent show, but it was evident that they were also going to require some sort of apology, and it was supplied in typical witty fashion. After allowing the fans to sing lyrics back to him he quipped: "Birmingham, if I knew you were going to sound so good I would have let you take my place instead of postponing," before adding that he was genuinely sorry. Decent enough.
Songs from all five albums formed part of the setlist which shows just how formidable their back catalog is. The Queens of the Stone Age inspired 'Pretty Visitors' and the eery 'Don't Look Down Cause I've Moved Your Chair' were brutally heavy, whilst their earlier, more poppier songs, were hardened somewhat, rather than sticking out like sore indie thumbs.
'One For The Road' and 'Why'd You Only Call Me When You're High?' provided the slick hip hop groove that saw AM head in a brave new direction whilst the stop-start 'Arabella' can already safely class itself as one of the greatest songs in their repertoire. The end of the track even saw guitarist Jamie Cook and bassist Nick O'Malley break into the riff from Black Sabbath's 'War Pigs', a subtle yet monster-like nod towards the musical heritage of the city they were stood in.
Bill Ryder-Jones, formerly of The Coral, joined them onstage for a few songs and somehow managed to add substance to what was already an incredibly well run machine.
Whilst they may be leather-clad and loud beyond belief the band also had moments of delicate romanticism, from Humbug's 'Cornerstone' to AM's 'I Wanna Be Yours', penned by poet John Cooper-Clarke. The former also saw confetti shoot from four huge cannons in what turned out to be quite a magical display.
The encore consisted of the meandering 'Snap Out Of It', a poignant semi-acoustic 'Mardy Bum' and 'R U Mine?', a beast of a song that very much lives in the same pulsating vein as opener 'Do I Wanna Know?'.
Apology accepted.