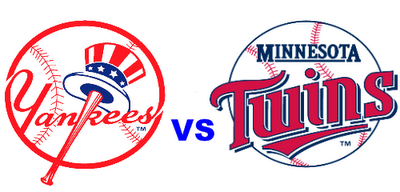 The Yankees (2-1) open up a four-game series against the Twins (1-2) tonight in the Bronx. The Twins had trouble scoring runs over opening weekend, a problem that the Yankees absolutely did not have.  Ivan Supernova, who had an excellent spring, takes the mound for the Bombers, while Scott Baker will be hurling for the Twins.  I like Nova, I think he can be a genuine #3 starter one day; he has good stuff, good control, and a quiet maturity about him.  The quiet maturity may be due to his inability to speak English or give riveting interviews, but whatever. We will just go with the quiet maturity line. In case I do not mention it six or eight times, I would like to do dirty things to Joe Mauer. Okay, let's get this party started.
Pre-Game:  Michael Kay is wearing a god-awful blazer. It is either micro-suede, velour-like, or made of platypus skin.  Sadly, it is a mystery that won't be solved.  The umpiring crew for tonight, in case anyone cares, is Dan Bellino (behind the plate), Brian Gorman, Larry Vanover, and Tony Randazzo.  I think Tony "The Razz" Randazzo was a Sopranos character.  Lineups!
Twins: 1. Denard Span, CF; 2.Tsuyoshi Nishioka, 2B (his name took me about 5 minutes to correctly type; we are calling him "Yoshi," thanks); 3. Stud Muffin Mauer, C; 4. Justin Morneau, 1B; 5. Delmon Young, LF; 6. Jim Thome, DH; 7. Jason Kubel, RF; 8. Danny Valencia, 3B; Alexi Casilla, SS. 
Yankees: 1. Cute but Prematurely Balding, LF; 2. The Baseball Jesus, SS; 3. Big White Bread McGee, 1B; 4. Whiny Bitch Diaz, 3B; 5. AL MVP, 2B; 6. Swishelicious, RF; 7. Hip Hip Posada, DH; 8. Teenage Mutant Ninja Granderson, CF (he looks like a turtle, I'm sorry); 9. Thurman Munson 2.0, C.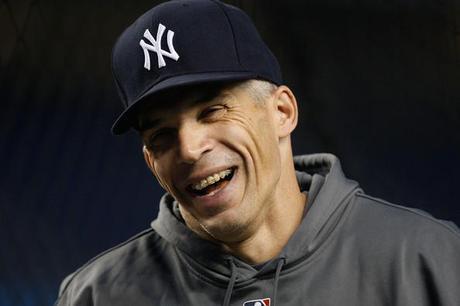 The lineups reminded me of something… I am in a fantasy baseball league for the first time, and I am sort of obsessed.  Being super competitive and all, I suspected that I would enjoy it, but I had no idea how addictive it could be.  I just checked my fantasy roster and I thankfully do not have any Twin on my team ("Joe Girardi's Braces") other than Francisco Liriano, who screwed me over the weekend.  See, on Sunday, I had to watch Max Scherzer, who is on my fantasy team, pitch against the Yankees – and I am not going to lie, it sort of stressed me out.  I (obviously) always want the Yankees to win, but there was something that made me slightly anxious, knowing that every run they scored was fucking up my team ERA.  I understand how crazy I sound.  My point is only that I do not enjoy games as much when anyone on "Joe Girardi's Braces" is playing the actual Joe Girardi; it is a lose-lose situation for me. Regardless, I promise not to obsess about it here, but fantasy baseball is for realz awesome. I also love all of the managers in my league; they have made the experience SO much fun, especially for a rookie like me. Okay, sorry for the tangent, it is game time, fools.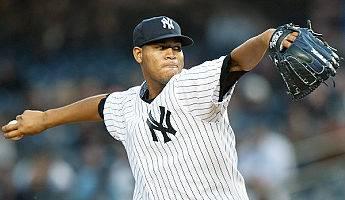 Top of the 1st: Ivan Nova starts out with a strike. Do you ever make mental, karma-like bets with yourself? For example, I normally make some sort of wager on the first pitch – if it is a strike, the Yankees will win; if it is a ball, the Yankees will lose.  So, all-in-all, this is an excellent and ridiculously irrelevant sign.  And while I rambled, Supernova starts out with a super strikeout.  Yoshi is up! He is very miniature. He just came over from Japan this year, and I would like to be his immigration attorney.  So Yoshi, you should totally hit me up.  You should also go to the batting cage, based upon that weak grounder to short.  And then Mauer hits a hot shot up the middle, but the Baseball Jesus had him played perfectly. Easy 1-2-3 inning for the Yanks.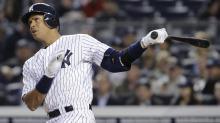 Bottom of the 1st: Gardner leads things off, and he has struggled out of the gate this year.  He hits a soft fly ball to left field, remaining useless for the time being.  Derek Jeter swings at the first pitch and weakly pops it up. What the hell is this? Can we at least try to see some pitches?  Tex is up.  Oh shit. On an 0-2 pitch, he is hit directly on the side of his right foot. It looks as if it hurt like a bitch, but he is playing through it.  The fans are booing as Baker buzzes ARod inside. And then he tells Baker to go fuck himself! HOMERUN! Alex rocks the ball, a laser bullet dart line-drive shot that jumped off the bat into the left field bleachers. Then Robbie strikes out on a foul tip to the catcher. 2-0 Yankees. 
Top of the 2nd: Groundout by Morneau, followed by a fly ball from Delmon Young. And then Derek Jeter displays his terrible range, booting a slow groundball and taking away what would have been an easy out for Robinson Cano. Jim Thome, who is approximately 78-years-old, is on first with the E-6. Every time that I convince myself that everything is going to be just fine with DJ, he does something like that.  Thankfully, Kubel flies out, rendering the error moot.  2-0 Yankees.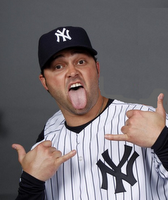 Bottom of the 2nd: Swish leads off the second with a walk.  He is so patient, and he has gotten even more comfortable at the plate over the past few years.  It seems that he has really grown into his pinstripes.  I heart him, he gives the Yankees character. And I love that he imagines his dead grandparents sitting on top of the scoreboard, and he looks up at them before every at bat.  Please re-sign Swish, Brian Cashman.  Jorge hits another 2-run homer, his third in the past two games!  WOW.  It seems that our 39-year-old catcher is adjusting to his full-time DH role. The offense has been incredible so far. I do not know if we can sustain this hot homer streak, but for now, let's enjoy it.  Granderson follows with a hot shot up the middle. Scott Baker is struggling. His fastball looks lifeless.  Can Russell Martin continue his hitting bonanza?!!!  No, he cannot. Instead, he grounds into a double play.  Way to make me look like an asshole.  Brett Gardner is so overly patient at the plate that it makes me nervous, but he draws the walk, prolonging Scott Baker's 22-pitch inning of torture.  Brett is now driving Scott Baker nuts, dancing about five yards off of first base.  As he takes off for second, Derek grounds out to first. Sigh. 4-0 Yankees. 
Top of the 3rd: Kim Jones is wearing a sexxxy black trench rain coat and talking about how she is BFF with CC Sabathia.  She is informing us that Ivan Nova "ordered shirts, suits, and ties that CC helped him pick out," which will be delivered on Thursday. Is she serious about this? Kim Jones, I like you. But this is awful.  Nova walks Valencia, gets Casilla to fly out to right, and then gets Span to ground into a 6-4-3 double play.  Nicely done, boys.  4-0 Yankees. 
Bottom of the 3rd: Tex goes down swinging on a backdoor slider.  He looked totally fooled, poor guy. ARod rocks another one, but gets just under it, flying out to deep center.  Cano softly flies out to left.  Well, that was ugly.  4-0 Yankees.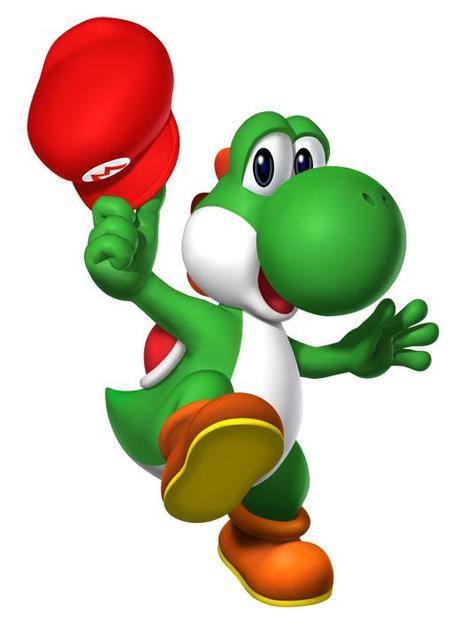 Top of the 4th: Yoshi looks so angry and tiny. Like a little Ichiro with an evil smirk.  I sort of love him.  But he grounds directly to Supernova.  Nova gets Mauer to hit another groundball out, but then Morneau rockets a line-drive to right-center for a double.  And then he gives up an infield single to Delmon Young, who hit a slow roller to third base that Alex had no play on.  Runners on the corners, two outs, Jim Thome is up.  This sort of scares me. Ugggghhhhh. And that is why. He slams the ball to deep right-center – we are lucky it wasn't a homer – for a two-run double.  That sucked.  A passed ball lets Jimbo take third. Nova looks like he has lost his sharpness, the ball is all over the place. But he gets out of it after 31 pitches in the inning.  4-2 Yankees.
Bottom of the 4th: Swish hits a can of corn to right field. Yawn.  Jorge hits an easy groundball to second. Double Yawn.  Oh but then Granderson walks.  Which is not all that exciting, but at least it isn't an out that a replacement-level little leaguer could make. Michael Kay just shared that Russell Martin's middle name is Coltron, which is "pretty cool" according to MK.  As Grandy takes off for second, R.Mart executes a perfect hit-and-run, lining a ball into right field.  Granderson takes third.  And then a delayed steal by R.Mart! I am becoming a huge fan. Oh, but now Brett Gardner is up. I love Brett, don't get me wrong. I do. But he is clearly slumping right now.  Let's see what he can do with second and third, two outs.  Oh wow! Brett is robbed! He lined a ball into left field and Delmon Young flew out of no where to dive and make the play. What a catch!! Brett must be so frustrated, but hopefully that will get him going.  4-2 Yankees.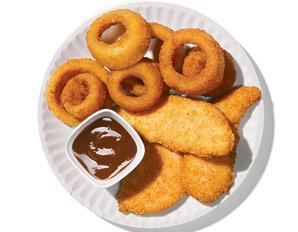 Top of the 5th: Danny Valencia flies out to right for the first out, but Casilla laces a double to the wall.  I am eating chicken tenders and onion rings and drinking a beer, all of which are delicious.  Wow, crazy stat alert: Ivan Nova's ERA last season through four innings – 2.57; Ivan Nova's ERA last season after the fourth inning – 12.46.  Well, we are in the fifth, so color me totally freaked out.  Thanks, YES Network.  But he strikes out Span, who is not happy with the call. Yoshi is up! Ugh, he knocks a double to the wall, scoring Casilla. But thank the Jesus, Joe Mauer weakly grounds out to first. 4-3 Yankees. 
Bottom of the 5th: We need some runs, because Supernova has not been totally super and does not have much left. Our bazillion dollar bullpen will most likely be called upon sometime soon. DJ hits a deep shot to the right field corner, but it just slices fouls.  He then gets lucky, because the first-base ump said he checked his swing, when he most definitely went around. Will he make the most of it? No. I really need to stop asking these leading rhetorical questions.  He strikes out on the same exact pitch. Fugly.  Tex launches a ball that is about three feet foul of the pole in right.  But he gets the walk, only to have ARod ground into a sharp double play.  Lame sauce.  4-3 Yankees.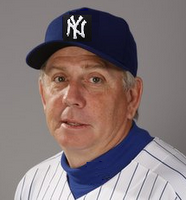 Top of the 6th: I was curious to see if Ivan would be back in, but he is.  And then Justin Morneau lines the ball into right field for a hard-hit single.  Um, it is time to get the bullpen going, Coach Larry Rothschild or whatever your name is. We will just go with Gramps.  As I type that, he makes the call to the bullpen.  Damn right. And Nova gets the double play, exactly what he needed! Then he strikes out Thome, pumping his fists as he walks off the mound. Aw, he is all riled up and excited! I think he is done, but what a solid first start for the rookie. 4-3 Yankees.
Bottom of the 6th: Come on, Robbie, let's get something going.  And he does! Cano lines one into left, his first hit of the day. We needed that.  Now we need runs.  Wow. Very interesting. Sharp groundball hit to Morneau, looked like an easy double-play ball.  But he bobbled it and only got the out at first.  One out, Cano on second, Jorge up. I would not cry about another two-run homerun right now.  But he grounds to short. Granderson, come on! A man in scoring position! Full count! Do this! Or don't, whatever. Just ground out weakly.  Baker has to be done at 94 pitches; he was lucky to get through that.  It looks like a battle of the bullpens, and I will take the Yanks in that fight. 4-3 Yankees.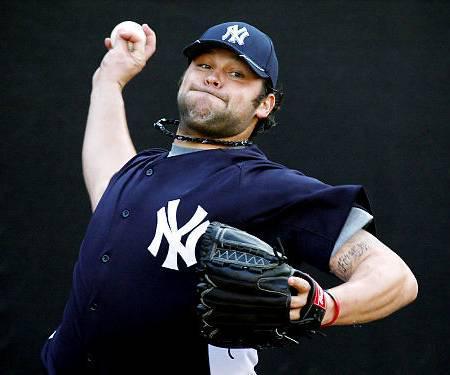 Super boring 7th inning: The Obese Mulleted Whalecow is on the mound, but he gets an incredibly fast, incredibly boring three outs.  1-2-3 in 9 pitches.  A+, Joba. I could not ask for more.  Okay now it is our turn. R.Mart leads things off. It sort of bothers me that he is wearing Hideki's number (#55).  Hideki Matsui just had so many big hits. I am not saying his number should be retired or anything; it is just sad to see it being worn by someone else.  Especially when that someone gets called out looking on strikes.  And then Gardner grounds out to first, before DJ flies out to left. Um, I am glad that absolutely nothing happened that inning? 4-3 Yankees.
Top of the 8th: Rafael Soriano is in. He strikes out Denard Span.  The "PC Richards & Son" strike-out whistle at Yankee Stadium is marketing at its worst.  We should not totally sell out the game of baseball.  The next thing we know there will be commercials as at-bat songs and Nascar-style patches covering pinstripes. Yoshi is up! Oh that little bastard.  He hits a groundball to the pitcher, which knocks off the tip of Soriano's glove.  Tying run on first. Yessss! He gets Mauer to pop out to third and Morneau to strike out. A lot of pitches, but excellent results. The Sandman is waiting, Minnesota. 4-3 Yankees.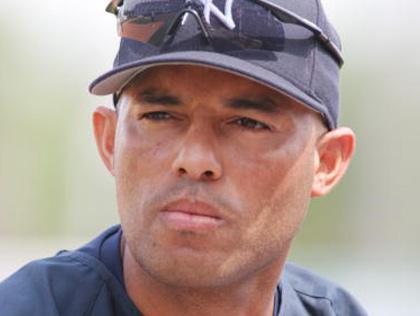 Bottom of the 8th: I would really love some insurance runs.  Tex leads things off, and if he is going to hit a homerun in every single game this year like I have accurately predicted, he really needs to get one now.  He only lines a single into left field, but I will take it. ARod takes such a huge swing; I swear I could feel the breeze through my TV. Holy crap – if he connected, it was never ever landing.  But he grounds into a double play, super lame.  I actually thought he was safe at first, but it was a bang-bang play.  Robbie lines a shot into center, which almost took off the pitcher's head.  Swish strikes out looking, Twins down to three outs. I mean, they shouldn't worry or anything. They are just batting against the Greatest Closer of All-Time, the MoBot 3000X.  4-3 Yankees.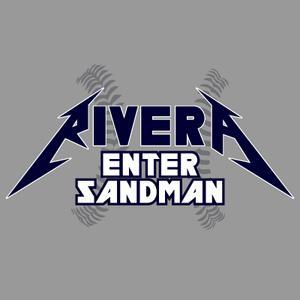 Top of the 9th: Okay, I accidentally just typed 4-5 Yankees and that sort of worries superstitious me quite a bit.  But it is Mo. Nothing to fear.  (Omg, I totally fear the day we no longer have Mariano on the mound).  Delmon Young comes up to the plate swinging, fouling off the first pitch.  And the second one, too.  My dream in life is to catch a foul ball in Yankee Stadium. Or a homerun. Whatever. I once caught a foul ball at a Durham Bulls' game, but I was actually in the parking lot, so I don't think that counts.  Mo gets Delmon looking, one down.  Thome is up, who once again scares me.  But he skies a pop-up into the stratosphere which Robinson Cano eventually catches.  Two down.  Wow, Kubel is 3 for 6 with one grand-slam against Mo, just to add to the drama. Mo looks really, really sharp. He is dialing it up; just reached 96.  But Kubel keeps it alive with a line-drive up the middle. He is now 4 for 7 against Mariano, a truly heroic feat.  Tying run on first.  Someone is pinch-running for Kubel. Valencia is up.  His average is .083 right now, my birth year, which is special.  One strike away. Oh Mariano is mad. He never gets mad. He thought he had strike three and turned away "in disgust," as the ever-emotional Michael Kay suggests. Sharp grounder to third….And that is it! We have now beaten the Twins in 14 out of our last 15 games. 4-3 Yankees.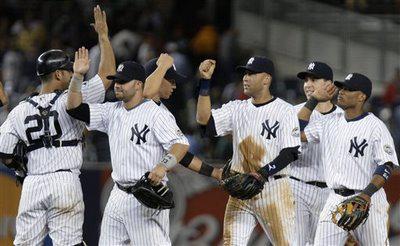 The Yankees win, thhhhheeeeeeeeeee Yankees win! It is now time to watch the Butler Bulldogs try to win their first national championship.  Win or lose, Brad Stevens for President. JHop out.
[Update: Congrats to Kemba, UConn, and the sleazy Jim Calhoun.  Butler just couldn't hit anything last night. But they had such an incredible and surprisingly season, and they made me a Bulldog fan for life.  So Brad, if you need to be comforted or consoled after last night's disaster, please feel free to call or email.  I am already counting down until next March – let's go Devils!].