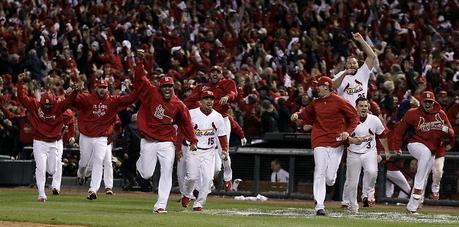 I debated whether I should give you a rousing introduction, packed with fake THIS IS LIFE OR DEATH FOR THE CARDS excitement, so you would get all pumped up to read (what I am sure will turn into) approximately 43 pages of baseball ridiculousness.  But I already mentioned how much I care about this World Series, so like? No point in being a phony bitch.  Instead, I promise you snark, unconnected references to fried chicken and beer, random musings about my love for Fat Elvis, unfounded cocaine rumors in Texas, and a semi-coherent recap with offensive color commentary.  We both win. Hopefully the Rangers will win, too.  Not because I care, but because they will prove me right (in my prediction). And then we can move on to college basketball accordingly, without feeling guilty for being done with baseball just because the Yankees are out of it.  I am still not bitter, I swear.  Here are tonight's line-ups:
Texas:  1. Kinsler (2B), 2. Andrus (SS), 3. Hamilton (LF), 4. Young (1B), 5. Beltre (3B), 6. Cruz (RF), 7. Napoli (C), 8. Gentry (CF), 9. Lewis (P).
St. Louis: 1. Furcal (SS), 2. Schumaker (CF), 3. Pujols (1B), 4. Berkman (RF), 5. Holliday (LF), 6. Freese (3B), 7. Molina (C), 8. Punto (2B), 9. Garcia (P).
I mean, on paper, you have to give the edge to St. Louis.  If their line-up fired on all cylinders more often, they would be unbelievable.  But this is the post-season.  And tonight, as usual, will come down to pitching.  If I was Ron Washington, I would manage this game as if it was Game 7, because I do not want a championship to hinge on the weather-assisted, better-rested Chris Carpenter.  If that means a few extra lines in the clubhouse during the seventh-inning stretch, so be it. I'd already be dreaming about that big float with my little imposter.  And, of course, the celebratory eight-ball that my dealer brings me after we win.  Let's do this.
Top 1: I like how Ian Kinsler wears his socks. Confident men wear their baseball pants like britches. Oh. But I just noticed Garcia's red glove. I detest mitts that are not a normal leather color, like brown or black.  It just seems so fake and trying way too hard to color coordinate.  Kinsler draws a walk to lead things off.  It is most likely just beginning-of-the-game jitters for Garcia, but I'd like to think that Kinsler's dapper socks distracted him. Elvis, not the fat one, drills a liner into the left-field gap.  It is first and third, no outs, and the Cards are in trouble already.  Wow. My favorite All-Star Alcoholic just hit a hard single through the right hole for a squeaker of an RBI-single. Ron's Ragers are up 1-0 already.  Yay! The cameras just flashed to Ron as I typed that, and he was jumping up and down, waving his arms frantically in the dugout. I think I saw his nose running. A big swinging strike-out of Michael Young brings up the former Red Sox Adrian Beltre.  I wonder if he plans on being John Lackey for Halloween, too.  I can still see the outline of his pectoral muscles through his jersey, so it doesn't appear that he has the same penchant for Popeye's.  It seems important to note, however, that I fully support the Sox choice of Popeye's over KFC. Their buttery biscuits of fat and deliciousness are to die for.  Beltre is still up; his at-bat has been going on for like 45 minutes.  Aaaaand he strikes out.  The free-swinging Nelson Cruz hits a hard grounder to end the inning.  1-0, Texas.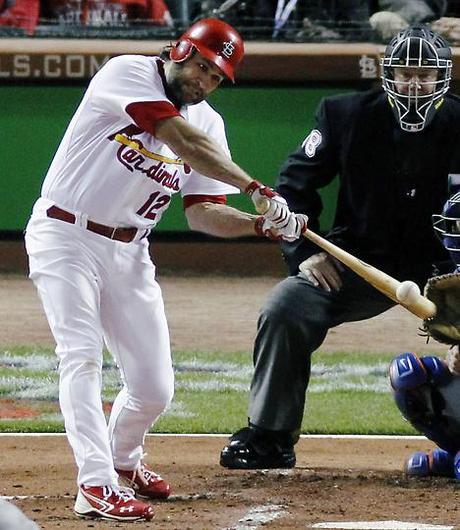 Bottom 1: I mean, when you have first and third, with one run in and no outs, you simply must score that guy from third.  The Rangers could have had a huge first inning. I don't know how confident I am in Colby Lewis.  He has been up-and-down all season.  Furcal just drove a ball to center, but right to Gentry.  One out.  And now Schumaker lines one to the right-field gap for a single. Maybe Colby needs to settle down, too. Big Al is up. He jumps on the first pitch and gets under it, popping it into shallow right field.  Now my fantasy baseball boyfriend is up. AND FAT ELVIS GOES DEEP FOR A TWO-RUN HOMER.  He has not sung yet, bitches!  (Also? Why the hell couldn't he do that during Game 7 of my World Series?). Someone walked.  I was too busy brooding.  Colby is clearly rattled. It is probably because the only creatures who should be named Colby are, like, cowboys and puppies.  He gets out of it, but the Cards are up. 2-1, St. Louis.
Top 2: My brother and I just ordered enough food to feed an army. Or at least the Red Sox rotation.  I am very excited about my French onion soup and medium-rare steak sandwich.  Napoli leads off the second. Wow, according to FOX's nifty graphic, he has 9 RBIs in the World Series, while the rest of the Rangers combined have 10.  A tremendous and hairy beast, that Mike Napoli. And he walks. Gentry follows with a screaming grounder to left.  First and second, no outs.  Garcia cannot keep pitching like this, or the Rangers, as incompetent as they may be, will eventually make him pay.  Wow. What a HORRENDOUS bunt play by Colby Lewis.  A hard bunt to the pitcher, Garcia immediately went to third for the first out, and then Lewis was doubled up.  Ugh, awful. Now there are two outs with a man on second. Kinsler rocks a ball to right for a ground-rule double and, just when I thought that Garcia was going to get out of trouble again, this bitch is all tied up.  Oh, Ron is going nuts, pumping his fist and hollering "yes" over and over again.  His razor blade and mirror have been safely tucked away under the dugout bench.  Every time I see Lance's awful beard, my heart cries blood drops of sadness.  Nolan Ryan's suit is very mob boss tonight.  Tony Soprano is not a good look for him.  Garcia gets out of it, but the score is now 2-2.
Bottom 2: Molina grounds out to short.  And then Punto does his best to murder Carpenter, but ultimately fails.  He let go of the bat mid-swing, and it spun sharply into the dugout.  He strikes out in repentance and Garcia weakly grounds out to end the inning. LAME. 2-2. 

Top 3: God, it's only the top of the third and we are already on two-full pages in Microsoft Word. Fun fact: I write all of my posts in Word and then transfer them to Blogger; I do not know why I do this, because it creates formatting problems. But I simply prefer to write in Word.  Foul ball and Freese dives into the camera well.  I love the mulleted camera person who grabbed him around the waist and tried to push him back over the fence upside down.  Garcia strikes out Hamilton on an outside fastball, before Michael Young takes the first pitch up the middle for a single.  Then Beltre blows any chance of scoring to hell with an inning-ending double play. I have a feeling this is going to be a very, very long night of baseball. 2-2. 
Bottom 3: I am so bored with this game and it's not even one-third over.  October just isn't the same without pinstripes, you know? Albert is up with two outs. I am simultaneously typing and eating my delicious steak sandwich, which surprisingly came with onion rings. I was truly delighted. It's the little things in life. Al teases the crowd with a long fly ball, but it is just that and nothing more.  2-2.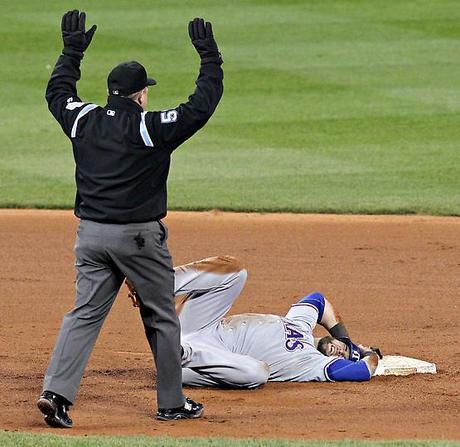 Top 4: Wow, Fernando Salas is already in.  Interesting move by Tony the Tinkerer. Garcia was getting roughed up, I guess.  There will not be a Game 7 if the Cards do not win tonight, but this is going to kill their bullpen if it gets there.  Oh, wow. Cruz popped one up to shallow left, Furcal and Holliday got all confused, and the ball popped off Holliday's glove for an error. That was totally his ball.  It is eerily reminiscent of his error from the 2009 ALDS.  Mike Napoli comes up huge again, drilling a sharp grounder down the line for an RBI-single. Rangers take the lead!  Also? Jaime Garcia could have been just as useful (useless?) this inning. Tony's over-thinking has just bitten him in the ass.  In fact, if the Rangers win, Tony's fuck-ups in the past two games may rewrite the entire script for his otherwise brilliant season.  Gentry strikes out. And then Colby Lewis bunts the ball for what should be an easy sacrifice, but Salas throws the ball into center! Second error of the inning. Oh nooo.  Napoli is rolling around on the ground. Twisted his left ankle sliding. Ron and the trainer are running out there. Naps is up, though, walking gingerly.  And he is staying in the game! First and second, one out, Kinsler is up.  He is so tiny, like a little elf with great socks.  He strikes out looking, to bring up Elvis. I like that this game is really a battle of the Elvises (Elvisi?), Fat vs. Andrus.  And Fat is winning, as Andrus flies out to left. 3-2, Texas.
Bottom 4: I just realized that I am wrapped up in a fleece Yankees blanket from 2009, the inaugural season of the new Stadium and the last time we won the World Series.  How depressing.  Fat Elvis leads off with a grounder which looks like an out, but video confirms that Lewis missed first base.  Sigh. What is with all of these ridiculous errors? This is the World Series! Are we heading for Bill Buckner 2011?! Good god I hope so. An epic scandal would totally make me care about this game again.  Matt Holliday walks, bringing up David Freese.  If Colby Lewis gives this right back AGAIN, I will flip. Jesus Christ. Another error (although it won't be called an error, because you can't assume the double play). Perfect double play ball to second for the first out, but Andrus then launches the ball over Young's head.  He threw it SO hard over his head that it bounced back quickly and Berkman couldn't score from third. First and third, one out. I am shaking my head.  Neck Tattoo Molina is up.  (Do any other Molinas have a neck tattoo? They are awful. Neck tattoos, not the Molinas).  He grounds to third, but the run scores to tie it.  Then Punto strikes out, stranding a man at third. This game is never going to end. I hate everyone. 3-3.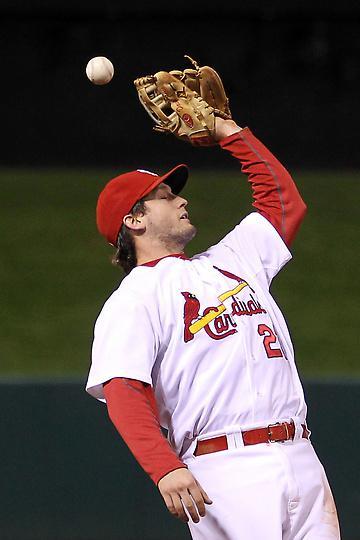 Top 5: OH MY GOD. ARE YOU KIDDING ME? Easy, lazy, ridiculously soft pop-up to third, the ball drops directly into Freese's mitt and he immediately proceeds to drop it. Another fucking error.  The Cards deserve to lose at this point, although the Rangers have not been much better. Young rips a line-drive to center which rolls to the wall, scoring Josh Hamilton easily.  I want the Rangers to score runs simply so I can see Ron freak out in the dugout.  This time, he was jumping up and down, doing a full frontal butterfly swim-stroke motion with his arms while screaming "come on, come on, come on!" Priceless. The Rangers are winning again, but probably only for this half-inning so don't get too excited.  The bases are now loaded, with two outs, and Colby Lewis is up.  I would most definitely, without any doubt, pinch hit for him here.  How many chances do you get bases loaded in Game 6 of the World Series? You go for runs now! It is not like Lewis has been overpowering on the mound.  Ugh, and he strikes out to prove my point.  Really disappointing Ron. I hope this doesn't turn you into Grady Little 2.0. 4-3, Texas.
Bottom 5: John Jay is batting for Salas, and he hits one hard to second for an easy out.  Huh. I find myself naturally rooting for the Rangers, and I don't even know why. I cannot tell if I just want this goddamn game to be over or if I actually support them, somewhere deep inside. A mystery. WAIT. A 1-2-3 inning! Holy crap. The Baseball Jesus has answered my prayers. Still shockingly 4-3, Texas.
Top 6: Some hairy monster named Lynn is now pitching for St. Louis. He last cut his hair in June 2006. In other news, Joe Buck's tie matches Tim McCarver's shirt. Both are pink. Both are heinous.  Kinsler flies out and Andrus grounds out (a beautiful play by Furcal), before Hamilton grounds a ball sharply under Big Al's glove for a single.  But Young immediately flies out and this puppy is still moving right along.  4-3, Texas.
Bottom 6: Ugh, Colby is still in. Wait, he has really only let up two hits? None since the first inning? Color me impressed, Colby Lewis.  And he strikes out Big Al to start things off. Fat Elvis, my fantasy lover (our relationship has progressed accordingly), follows with an infield single.  That's his third hit tonight! Holliday needs to atone for his suckass defense here.  But Young bobbles the ball – another fucking error – and everyone is safe.  That is five errors tonight! Ron goes out to talk to Colby and…what?! Leaves him in! Grady Little, Grady Little Grady Little.  Freese is up, who also needs to atone for his ridiculous error.  And motherfucker, he walks and the bases are loaded.  One out.  I am having screaming images of Pedro Martinez now.  Ron is coming back out and he is calling for Alexi Ogando.  Is it too late? His first three pitches are balls.  I am laughing. Not in a funny way. In a crazed sort of way. Oh a strike! And then another ball to force in the game tying run in the bottom of the sixth.  I cannot believe we are tied again. On a quick throw to third, Holliday is picked off for the second out! WOW. You cannot have a bigger base-running error in this situation.  This is one of the messiest games of baseball I have ever watched.   The ball gets away from Napoli on a wild pitch and Alexi walks the bases loaded again.  This calls Holliday's awful baserunning into question even more, because he would have just trotted home as the go-ahead run.  Derek Holland is now pitching for the Rangers.  Please let this half-inning end. It finally does. 4-4.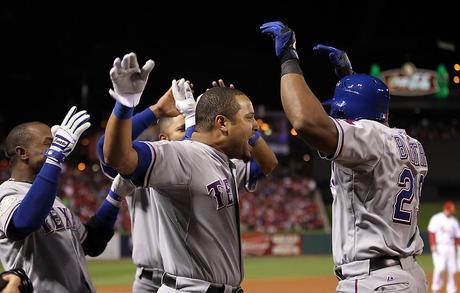 Top 7: BELTRE WITH A HUGE GO-AHEAD HOME RUN TO LEAD OFF! Maybe this game is growing on me.  I normally like high-scoring, back-and-forth, non-pitcher's duels.  Nope, I thought about it for a moment and I still don't care. NELSON CRUZ WITH ANOTHER HOMER! Back-to-back, bitches. Maybe this lead will stick! Cruz crushed that ball into the third-deck.  Who is this asshole that is pitching? Oh it is still the hairy Lynn person. Napoli goes down on strikes before David Murphy hits a single up the middle.  Now Derek Holland bunts and the sac fails, as Murphy is thrown out at second.  Someone needs to teach the Texas pitchers how to bunt properly.  This is the second time tonight they have failed to execute a sacrifice.  Hairy Beast is coming out, Dotel is in.  Base hit into center by Kinsler, which easily scores Holland. Again, Ron waves his arm – only one this time – in a wild windmill motion and jumps and down.  The Non-Fat Elvis is up, but he strikes out.  Regardless, the Rangers score three huge runs as we enter the seventh-inning stretch.  7-4, Texas. 
Bottom 7: Wow, the Navy petty officer, Generald Wilson, who sang "God Bless America," gave me chills. What a voice. Holland has a horrible molester-stache going. I wonder if his white van, bag of candies, and chloroform are waiting in the parking lot.  Furcal is out, bringing up Ryan Theriot, who pops up to second. Big Al is up, and this could be his last at-bat ever in a St. Louis uniform. Which would be kind of sad. He chops a grounder to short and the inning is over.  Big Al is a big 0 for four. And the Rangers are still winning.  7-4, Texas.
Top 8: I would be extremely thrilled with a speedy 1-2-3 inning here. While I love post-championship celebrations (although I love them much more in front of a home crowd), I am just ready for us to be at that point already.  I'm sorry, I had to pause my DVR so I could properly spell Marc R-Z-E-P-C-Z-Y-N-S-K-I, who is now pitching for the Cards. There are just way too many consonants in his name, and I say that as an immigration attorney.  Nine consonants to two vowels is an inappropriate ratio. But who cares, 1-2-3 inning! 7-4, Texas.
Bottom 8: Fat Elvis, who has been on fire tonight, leads off. What a fascinating specimen of chubby mulleted man.  His graying beard.  Sunken puppy dog eyes.  Baby face. He pops up to Nelson Cruz.  Now Matt Holliday (who has to get a reputation as a post-season choker/horrible defender after this gem, right?)….no wait, the incredible Allen Craig is up! And he slams a homer to left field!!  Freese grounds out and Neck Tattoo lines a shot to left. The tying run is up.  Gerald Laird is pinch-hitting, as Crazy Ron calls on Mike Adams, former Brace, to close out the eighth.  Descalso is up and he promptly grounds to first for an easy…wait, what?! He is safe?! He is! Kinsler threw the ball into the dirt. I do not know why he didn't go to second with that ball. Christ.  John Jay is up, men on first and second, and he lines a shot into right! Bases loaded, holy crap.  Furcal hits the first pitch, a slow grounder to Adams to end the inning. Whew. 7-5, Texas.
Top 9: This is it! We made it to the ninth inning, guys! I am proud of us.  We have only been wanting to stab our eyes out for approximately three hours now.  I just went and took Excedrin.  All of the errors gave me a headache.  Jason Motte is pitching, although I am not sure why. It is not as if he has been effective. But there are two outs and Endy Chavez is strolling to the plate.  He flies out to right and this is really it! 7-5, Texas.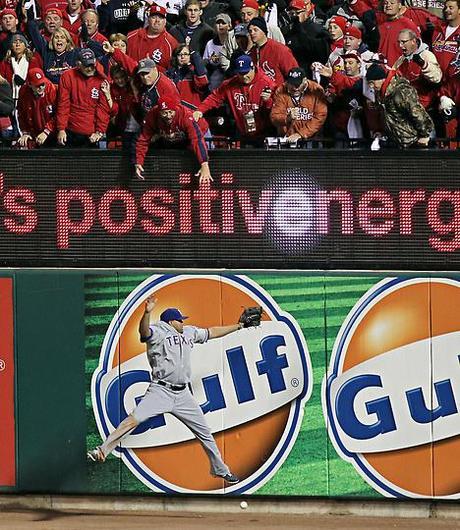 Bottom 9: Neftali Feliz is in to close out Game 6 of the World Series. The Rangers are three outs from history.  Ron Washington will forever live down his cocaine bust.  Josh Hamilton will be a Champion Alcoholic. Nolan Ryan will simply add to his already brilliant legacy of kickass awesomeness.  In fact, the camera just flashed to him and he still looks like Tony Soprano, but a slightly happier version.  Like he is only in the mood to bang two strippers and whack one asshole tonight. Weirdly, this game will not be over until the Fat Elvis sings. AGAIN.  Theriot strikes out! And now Big Al is up.  He slams a double to the left-center gap.  Holy crap, Fat Elvis can tie it here! Lance walks and it is first and second, one out, for the also magical Allen Craig.  He had a homer earlier and if he does it again, people may asphyxiate themselves with their white rally towels in glee.  Okay, Feliz hasn't thrown a strike in six pitches.  He needs to find the strike zone again, quickly. Feliz nails him looking with a slider that crosses the middle of the plate. Two outs.  The World Series comes down to David Freese.  And now he is down to one strike.  ARE YOU KIDDING?!?!?!??? HE JUST TIED THE GAME. A huge triple over Nelson Cruz's head.  The inning ends, but I hate everyone again. 7-7.  
Top 10: I CANNOT BELIEVE THIS GAME IS STILL GOING ON. With one out, Non-Fat Elvis hits a grounder up the middle for a single. Please, Josh Hamilton. For addicts everywhere. Do this. Even with your fucked up groin. Please. OMG TWO-RUN SHOT! WOOOOO. The stadium is deathly silent. The inning ends. The Rangers are, again, three outs from their first championship. 9-7, Texas.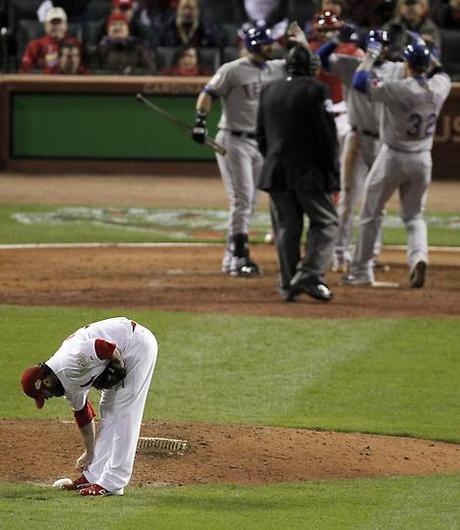 Bottom 10: The Cardinals do not have anyone left on their bench and the pitcher's spot is coming up in this life-or-death half-inning.  Darren Oliver is in to try and save this game all over again. Descalso leads off with a single to right. John Jay hits a bloop single to left.  No outs, men on first and second, and the winning run is at the plate.  This is ridiculous.  But I will say that, somewhere over the course of the past two hours, this went from being a boring game to an admittedly tremendous competition.  Kyle Lohse is up. Yes, it has come down to Kyle Lohse. A beautiful bunt, over the head of Andrus, so beautiful that he is almost safe – but not. One out.  Theriot is up, Pujols is on deck, and Fat Elvis has not sung yet!!!!  Oliver is out, Scott Feldman is coming in. Who has never had a save in his career. Groundball to third scores the run from third.  Big Al is up.  For real, this could be his last at-bat as a Cardinal. And they are intentionally walking him to pitch to Fat Elvis. I think I would do the same, although Berkman scares the hell out of me, too.  It always seems to come down to Fat Elvis for me.  And the Rangers are only one strike away again…  And Lance ties the game!!!!  RBI line-drive.  WHAT A GAME. Don't get me wrong, I still want it to be over – so much that I may now be rooting for the Cards – but what a fucking game.  (Nolan Ryan may be getting ready to whack someone).  Oh my god, the inning ends. We are tied. AGAIN. 9-9. 
Top 11: It is 12:30 a.m. We are in hour number four. I will let you know if anything good happens.  I mean, I'm not sure who is playing at this point. Ugh nothing happens. This bitch is still tied. 9-9.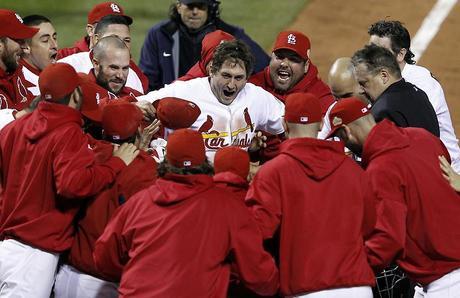 Bottom 11: David Freese leads off against Lowe, who is now pitching for Texas. DAVID FREESE WINS THE GAME ON A WALK-OFF HOME RUN!!! WOW! We are going to Game 7! And you have to like the Cardinals in it. Wow. What a wild game. The Rangers should go cry; they had this game won about six different times tonight.  From the first inning on, they gave up every lead they had.  The Cards committed about 18 errors.  I like that they are fighters. though.  More importantly, god knows I love me some Fat Elvis. And he has not sung just yet.  Final Score: 10-9, St. Louis.