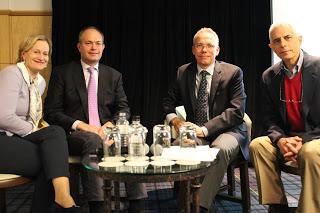 Faculty for the CLL Society/CLL Society Patient Forum
Drs. Trotman (U. of Sydney) Bill Wierda (MDACC), Wiestner (NIH) and Koffman (CLL Society)
There is nothing like being at the live meeting. Nothing.
You can't mail it in. You can't send your team.
iwCLL 2015 is nothing if not intense.
When you sit in the plenary sessions, when you hear the tough questions, when you grab the doctors and researchers between sessions to hear their unrehearsed take on the latest data, you get a raw glimpse of where things are going for those of us with CLL. And let me tell you, it's going in the right direction.
I attend this meeting with a closet full of different hats: as a patient so I can learn what I need to know to stay alive, as a doctor for my patients with CLL, as an advocate to fight for patients' voices, as a reporter to bring you the latest news, as the medical director of a nonprofit forge new alliances, as an educator and moderator as a very successful groundbreaking CLL patient forum (the first ever held in conjunction with iwCLL) , as interviewee on the patient's perceptive for other news agencies, and as faculty giving a keynote lecture on how the cost of our meds effects us patients.
No wonder I am tired.
Let me just give one teaser on news. The consensus is growing that the role of chemotherapy in treating our disease is shrinking.
New therapies will be moving frontline. Better therapies are coming.
The future is bright.
Stay tuned for much news.If you want a personal response, or just want to stay in touch, please email me at
[email protected]
I have no other way of contacting. Thanks. Stay strong. After all, we are all in this together. And please visit our website: http://cllsociety.org for the latest news and information.