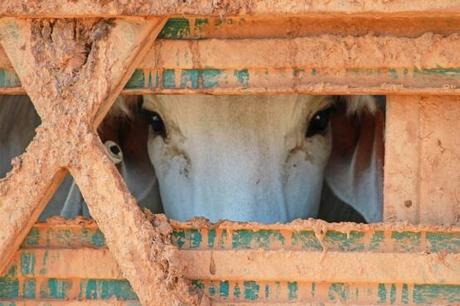 [Warning. This article contains links to graphic content]
The fate of the live export trade in Australia is currently hanging in the balance with serious pressure being put on the government by opposition parties coupled with the resurgence of shocking video evidence of animal cruelty.
Independent MP Andrew Wilkie who this week called for an all out ban on live exports has demanded that "heads should roll" at the MLA (Meat and Livestock Australia) for sullying Australia's animal welfare record.
Lyn White of Animals Australia has re-released footage of her investigation into the goings on in Indonesian abattoirs which reveals the disturbing truth regarding the government's inability to guarantee the welfare of the animals once they leave Australia.
There is also evidence of severe mistreatment of Australian merino sheep in Kuwait City showing the animals being stuffed into car boots and dragged through the street.
Prime Minister Julia Gillard has stated that during the current suspension of trade, work is being done to improve the manner in which the animals are treated, "We are now taking the steps necessary where we can track where Australian animals go and we know the conditions under which they are being dealt with." The government has been urged to follow the precedent set by New Zealand who banned live exports in 2003.
The fears that the current Australian ban will severely affect the country's beef industry are being vocalised with some farmers in the south reporting a lull in prices. Many are worried that the 11,000 livestock that have been left stranded in Australia will flood the domestic markets. With the suspension bringing the $320 million-a-year export business to it's knees the MLA has been criticised heavily for not using it's contingency fund to give aid to the disenfranchised farmers, despite repeated requests from the Agriculture Minister.