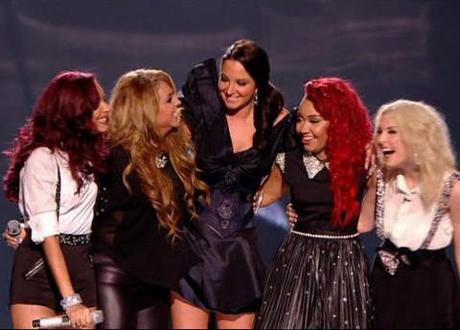 Little Mix and Tulisa, their mentor and The X Factor judge. Photo credit: Ramones karaoke

Little Mix have won The X Factor. The four-strong girl band, who were put together and mentored by first-time judge Tulisa Contostavlos, beat out Liverpudlian solo act Marcus Collins in Sunday's night finale. The final, which took place in front of 10,000 X Factor enthusiasts at London's Wembley Arena, drew to a close perhaps the most controversial and unsuccessful edition of the long-running talent show.
The girls took the crown after turning in three solid if not spectacular performances. They kicked off with Don't Let Go (originally by En Vogue), and then did a soulful rendition of carol Silent Night, before finishing with their take on the winner's single, Cannonball by Damien Rice. At Huffington Post UK, Caroline Frost suggested that Collins' "inadequate offering of Wham!'s Last Christmas" could well have proved his ultimate downfall.
The X Factor's untidy year. Andrew Billen of The Times (£) argued that Sunday's uninspiring final was a fitting closer to "an untidy season riddled by wrangles over the judging line-up, the absence of Godfather Simon Cowell, minor format changes, and ratings down on the previous year." Billen insisted that the judges "did not seem to enjoy one another" throughout the series and said that the "giganticism" of the big Wembley production was cruel on the contestants: "while the venue was greater than usual the talent was less." Turning to the winners, Billen was not much kinder; he said the "fused-together" girl band "did not look like most girl bands — shorter, a more uneven distribution of weight" and suggested that their win was more down to "likeability" and "the spread of their geographical provenance" rather than singing talent.
Was it likeability rather than talent that saw Little Mix triumph?
The X Factor's weird year. The Guardian's Stuart Heritage argued that Little Mix were just about worthy winners. "Amelia Lily, who came third, spent most of the series on the sidelines waiting for Frankie Cocozza to self-destruct, so it would have been slightly unfair on the others for her to win. Marcus Collins, despite his energy and stage presence, seemed unable to get through any song without whooping like a knackered ambulance. And that left Little Mix, who quickly learned the value of appealing to teenage girls. That, more than anything else, might have been their masterstroke." Heritage argued that its been a "weird year" for The X Factor: "Although it's still incredibly popular, this has been the first time the show's ratings haven't improved upon the previous year. The revamped judging lineup will cop a lot of the blame – especially incomprehensible Kelly Rowland, ineffectual Tulisa and unstoppable fun-gutter Gary Barlow – but you could argue that the problem went deeper than that. Everything from the talent-spotting to the song choices to the styling and choreography felt like an afterthought this time around." In a kinder moment, Heritage conceded that this year's The X Factor "has been completely without highlight … In Misha B it might have found a star to rival Leona Lewis."
Is The X Factor anything more than a big budget karaoke fest? Let us know your thoughts by leaving a comment below.
Cheer up Micha B, it's best not to win. At Huffington Post UK, Adenike Adenitire suggested that winning X Factor is not necessarily a blessing. In defence of Misha B, who went out in the semi-finals, Adenitire reassured, "what 'real' artist wants to win the X Factor anyway? I've been watching X Factor since the very first series and as much as I love the show, to me that is exactly what it is – a show, and when the 'winner' is crowned and the curtain falls, it's back to the real world – and in the real world most of these acts just don't cut it. But then why would they? Their introduction to the record-buying public has been essentially taking part in a high-budget televised karaoke fest and being drowned in stage production and outfits, which have nothing to do with who they want to be as artists – that's if they've even had time to think about that element." To ram home her point, Adenitire reminded readers of the sad demise of previous winners Steve Brookstein, Joe McElderry and "Leon What's-his-face" who now appear at "the opening of an envelope" but don't trouble the UK charts.