New to little Indiana? Subscribe for free to my RSS feed. Thanks for stopping by!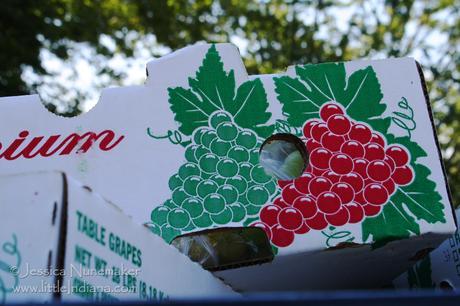 Vevay, Indiana: Swiss Wine Festival Grapes in Waiting
The Swiss Wine Festival in Vevay, Indiana has a lot of scheduled events, but Switzerland County had one that little Indiana couldn't wait to step into:The Media Celebrity Grape Stomp for Charity!
Swiss Wine Festival in Vevay, Indiana
little Indiana was invited to be a part of the Media Celebrity Grape Stomp for Charity in Vevay, Indiana.
While "celebrity" may be a bit elevated for little ol' me, hubs had two words to say about the whole thing, "Do it!" So? little Indiana did.
I may or may not have squashed a few grapes in the bathtub the night before the big event. Well, I know me, and I didn't want to think, "Ew! I'm stomping grapes!" the whole time. That would throw me off my game!
Swiss Wine Festival Grape Stomp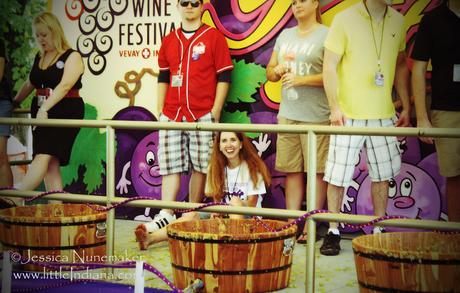 Vevay, Indiana: Swiss Wine Festival -- little Indiana is tired!
This Indiana grape stomp was a great time! Just so you know, the result of my effort will not be made into Indiana wine!
We were all grouped together for a total of three rounds. I was placed in the third and final round  with two other women.
How does it work? Everyone has a swabber. This high school FFA member volunteered to stick her hands in the grape mush and work the juice over to the tiny little grating in the lower middle of the barrel.
The cups of juice are added up and whomever has the most amount of cups wins!
Center Stage
I already knew what the audience was thinking–not only did I have being a girl against me, but I was the smallest one there!
But I also had something that many of my competitors didn't have: A small group of spectators from my very own hometown–four hours away! It was an unexpected coincidence but wonderful.
I admit I hammed it up a bit when it was my turn on the stage. Who wants to cheer on someone who just stands there?
Stomping Grapes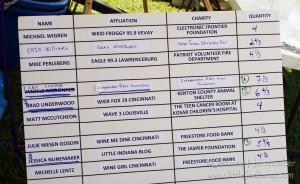 Vevay, Indiana: Swiss Wine Festival Grape Stomp
When the music started and it was time to stomp grapes? I was off like a shot!
"If you're going to go, go all out" was my personal mantra. No way was I going home empty-handed. I'm a bit competitive. Okay, a lot competitive.
It was cold! About halfway through my feet ached from the cold. I'm hoping that next year? They take the grapes out of the fridge at least the night before. Brrr!
Winning The Grape Stomp
little Indiana ended up in third place with 5 7/8 cups of grape juice! Third! Woot!
That means that $250 bucks goes to the charity of my choice: The Jasper Foundation. Pretty exciting stuff.
little Indiana was also exhausted and ready for a nap! Two minutes of non-stop stomping? Whew! But I didn't stop there, of course–I had plenty of Indiana town exploring to do.
Just look out, because next year? First place is mine!
Stomping Grapes
Vevay, Indiana: Grape Stomp Win
If you want a great Indiana festival, you can't go wrong by attending the Swiss Wine Festival! There's something to do for everyone.
Plus, well, I would love to see a few friendly faces cheering me on at next year's grape stomp!
See more Swiss Wine Festival images and other pictures in Indiana on my Flickr photostream.
Swiss Wine Festival in Vevay, Indiana

View Larger Map
little Indiana: Where to Stay, Play, and Eat in Small Towns in Indiana. Discovering Indiana's best small towns! Now get little Indiana on your Kindle.
New! Offering affordable online advertising for your small Indiana business! little Indiana Businesses is the online presence that you've been looking for.