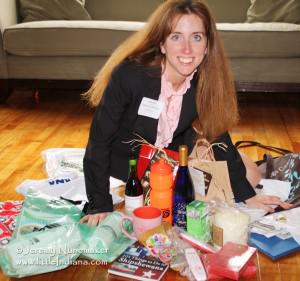 little Indiana and husband headed to Indianapolis to attend the 2011 Indiana Tourism Media Marketplace hosted by the Indiana Office of Tourism Development. I've received emails and comments from many of you wondering how I know where to go and why I do this in the first place.
Indiana is…
Well, Indiana has stuff. Lots and lots of neat stuff that you probably didn't even realize! I know that when little Indiana was just a seed (this site was a year in the making by the way. I'm thorough like that), I wasn't sure what I would find. I was hopeful, yet hesitant.
Attending the 2011 Indiana Tourism Media Marketplace just reinforced the idea that Indiana is a pretty cool state to live in. Why is that? Well, not only did I get a bunch of great swag (Chocolate! Indiana Wine! Water bottles! Mugs! Books! A Vera Bradley bag!) but I learned a lot about places I have yet to go! Did I mention the foot-tall stack of brochures and catalogs? How cool is that!
Indiana Town Fans

I talked to a number of people at the 2011 Indiana Tourism Media Marketplace, who were representing small towns and have the same passion for local as I do. It was a whole lot of fun! I thought maybe I would be intimidated by representing small Indiana towns because it's not exactly common. If anything, I'm further grounded in my conviction that, well, Indiana, and especially little Indiana, just plain rocks! From our little Indiana Facebook Page debates over Peeps, to clowns versus spiders, and making it to Round 2 for the $2,000 grant from MomCentral, you guys keep me going — even when the pile of photos to be processed threatens to overwhelm!
Busy As A Bee

It looks like this year is turning out to be a very busy one for which I am eternally grateful. From a motorbike festival, to museums, food, and all of that sort of goodness that you know I just love, there's pride, community, and a whole lot of great and fascinating Hoosiers out there! If you have a festival you would like for me to add to the Indiana Town Festivals and Events Calendar, please let me know. It's what it's all about!
little Indiana: Where to Stay, Play, and Eat in Small Towns in Indiana. Discovering Indiana's best small towns!
Now get little Indiana on your Kindle.
New! Offering affordable online advertising for your small Indiana business! little Indiana Businesses is the online presence that you've been looking for.