We've been all-in on Kira Isabella since we first fell in love with Real Good Radio and Love Me Like That. And on Sunday at Boots & Hearts 2018, the Ottawa native got up on the main stage and reminded everyone exactly why she belongs there.
From the very start of her set, the sun-soaked Sunday afternoon fans were singing along loudly to Isabella's songs. It was easy to see that the love and interaction put a smile on her face as she walked out on the catwalk to get closer to them. And it was easy to tell that she was enjoying that feeling of connection as she and the band played through her set.
With 10 songs in the Top 20 over her career, Isabella has no shortage of hits and fan favourites to play every time she steps on stage. And when you add in her love of fun covers, and new songs including Danger Danger and Little Girl, she's got a great show to put on.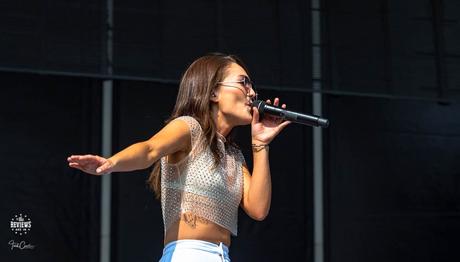 Kira Isabella is a Canadian country music star. She's a Canadian Country Music Association Rising Star (2012) and Female Artist of the Year (2013) winner - and she's showing no signs of slowing down. Her growth on stage as a performer and in herself as an artist is clear. Her voice and talent put her in the upper echelon of female artists in the country. And we'll continue to be happy to see her every time we get the chance.
Just like we were happy to see her on Sunday.
It was fantastic to see Kira Isabella up on the main stage on Sunday doing her thing. But it was also cool to see her pop out on the Front Porch Stage on Saturday to sing for the crowd during the Chris Buck Band's set. Kira made her surprise entrance during their Top 20 duet, That's When You Know, and the crowd showed her all kinds of love. We asked Chris Buck about it later that day and he told us that he was super happy that she was able to be there with him. And she seemed happy about it too.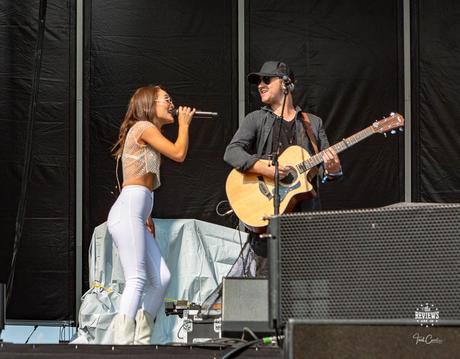 Note: It was great to see Nate Hall on guitar and singing some backups for Kira after his great performance in the Emerging Artist Showcase on Thursday.
In a set that included some of our favourites like Little More Work To Do and Blame It On Your Truck, along with her latest hit, Little Girl, Kira Isabella showed everyone that she's main stage ready for whatever comes her way next.
Photos of Kira Isabella at Boots & Hearts 2018