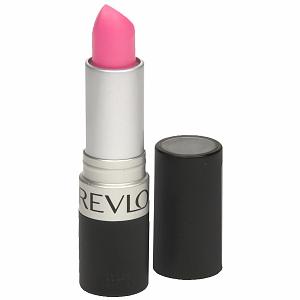 Product Details:
Ultra-creamy saturated lip color that delivers beautiful, lightweight matte color without any dryness, caking or fading.

Straight from the Runway shades.
Beautifully rich matte color glides effortlessly across lips.
Suede-like, cushiony feel and with maximum color impact.
Beautifully rich shades from nude to deepest berry.

Made in the USA

drugstore.com
The lipstick comes in a sleek, black tube with a clear 'window' on top of the cap where you can see its color as well the shade detail at the bottom of the tube. As for its durability, you can expect it wouldn't break easily despite how many times you drop the lipstick.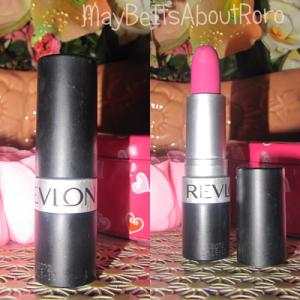 Mine has a little sticker on the side of the tube with detailed info about the lipstick (ingredients, weight, bar code, etc).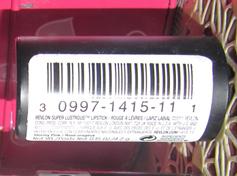 The Revlon lipstick contains 4.2 g and the shade that I have is 011 Stormy pink. The color is kind of a bright baby pink with slight purple undertone which I find it a very lovely shade. It is available in different pretty colors. I like the fact that it doesn't have a pungent smell (only subtle) as some of the lip products I had.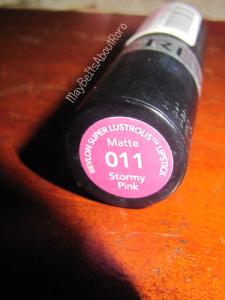 I find the consistency of the Revlon lipstick quite smooth and it glides on the lips easily. But my problem with it is the product is not very pigmented and I have to reapply quite a few times because the color appears sheer on my lips when applied once or even twice. Also, since it's a matte lipstick make sure you put on lip balm before you apply it otherwise your lips would appear dry and the creases on it would be visible.
This is how it looks like on my lips. I really like the color despite its sheer pigmentation and the need to apply repeatedly for the desired color.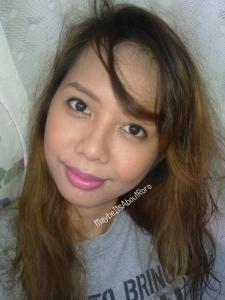 Excuse me for how I look, I'm having an amazing bad hair day today.

When the product is smudge, it doesn't come off that easily plus it would stay put on the lips, although the color would appear faint once smudged. The effect is also the same when you eat or drink. Regarding if it lasts for hours, it doesn't stay too long and only for about 3 hours, which is already pretty decent for me.
The Revlon Super Lustrous Matte Lipstick costs  $7-8 but Drugstore.com sells it 20% off. If you're also a budget diva like me, you should look online for cheaper deals. If you're in the Philippines, this can also be bought in any malls or SM Department Stores and Watsons. I got mine from my mom as well as my other high-end lipsticks like the Rimmel London Lasting Finish Lipstick.
Verdict
The good
durable packaging
has great shades to choose from
doesn't have foul chemical smell
smooth and matte
doesn't smudge easily
decent lasting power
cheaper when bought online
The bad
can be drying on lips
to be applied many times to get the right color
expensive to me
Roro's thoughts
This is my first Revlon lipstick and I kind of like it but just not my favorite one. The shade is gorgeous despite the need to apply a few times to get the color I wanted. And I also have to remember to condition my lips before applying the it. I would love to try the nude shades and the berry ones next time.
I give it three and a half lips just cause I love the color!

Have you tried the Revlon Super Lustrous™ Matte Lipsticks?
What are your thoughts on it?
Thanks for reading!
DON'T LET A BAD HAIR RUIN YOUR FUN TODAY!
kisses,
roro
♥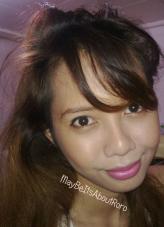 Have a fun bad hair day!