" On a bad day, theres always l ipstick "
This is so true.... On days I am feeling blah, some makeup and a sweep of my favorite lipstick and my mood gets an instant makeover. On numerous occasions, especially now when I have nowhere to go, or I'm forced to hide my lipstick behind the quintessential mask, I just wear lipstick at home and I feel fly. No kidding- try it!!
Anyways, I have shared several guides like foundation buying guide ( ), eyeliner guide ( )on the blog in the past, I realized that I hadn't shared a guide on lipsticks- my favorite of all things makeup. So without any further ado let's delve right into it.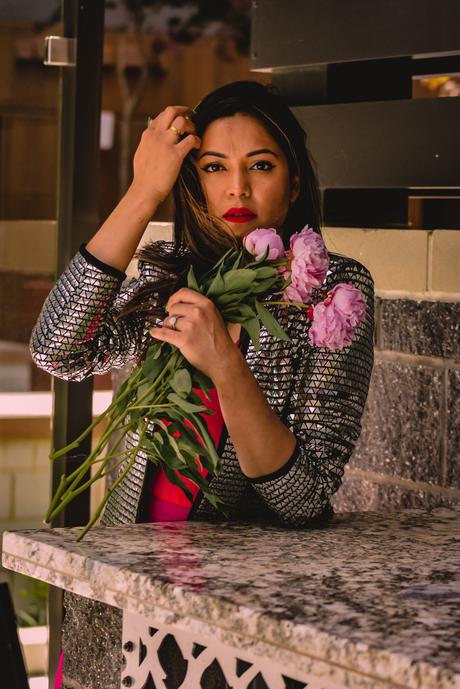 Lipstick -This is your usual lipstick or the lipstick you have always seen your mom wear and now your kids see you wear. Lipstick's main ingredients are waxes and oils; other ingredients include pigments to achieve a specific color, as well as emollients to help keep lips moist. Lipsticks can either be Matte or Glossy finish. Matte lipsticks add more depth, more volume, and more definition to your lips, whereas the regular ones add color and moisture to your lips. I am personally a Matte girl and 90% of my lipstick collection is matte.
Lipgloss - If you are looking for some color, plump and sheen on your lips, then lipgloss is what you need. These are more dip in style and come in a matte and satin finish as well. Lipglosses tend to be on the stickier side and I've personally never been a fan of them. Unless going for a glam, sultry look, I keep em at bay.
Lip stain - These simply stain your lips rather than giving an intense look and depth. Lip stain is mostly water or gel, although some products do include natural plant oils or mineral oil. Synthetic dyes and/or natural ingredients are added to stain the lips for up to 18 hours. These are meant to last longer, are smudge-proof and would be just ideal for wearing under those masks.
- A lip crayon is usually a tinted balm or lipstick that comes in a super adorable crayon form. These actually resemble a pencil/ crayon and you need to use a sharpener to keep the tip usable. Like lipsticks, lip crayons come in many, many different formulas and finishes like matte, glossy, metallic etc.
FEW THINGS TO REMEMBER WHEN BUYING LIPSTICKS
Don't go by the price, expensive doesn't always mean the best. You do get other added benefits for instance smudge-proof, long-lasting, beautiful packaging, with the added up price, but it may or may not be the best. I've had some high end brand lipsticks that were beautiful to look at both on the outside packaging and when applied on lips, but the post-wash-lip-staining killed the game for me. Blotchy, residual colored stains on your lips post a deep cleanse is sure-shot an indicative of a lipstick's poor quality which is not acceptable.
Always try lipsticks before committing to them. A shade that might look good on your favorite influencer, might not look as good on you. This entirely depends on your skin color and lip shape as well. So don't just buy, try it and then go for a shade that is most flattering.
When buying lipstick in a store, try on and step out to get a closer look in natural light. The glam lighting inside the stores is always deceiving and will make any dang color look amazeballs. Instead, step out and get an up-close look in daylight. You want a shade that works well both day and night.
Another tip, when buying lipsticks in a store don't try more than three shades cuz after that your lips have had enough and a layer of the lipstick pigment starts to build on your lips. Any shade you try after that will look off. So stick to trying out a maximum of three at any given time. Start with the lightest first and then go for the brighter/darker ones.
Do check for store's return and exchange policy. Sephora is pretty good with their return policy. If you aren't satisfied with your purchase you can get a full credit refund with a receipt and a store credit without a receipt- no questions will be asked.
Lipsticks have a shelf life of three years, so spend your money wisely.
HOW TO GET THE PERFECT POUT EACH TIME
Bought the perfect shade of red lipstick, NOW WHAT? Well, there are a few steps you must adhere to in order to have the perfect put each time.
The key to perfect pouts is unchapped lips. Prep your lips while in the shower. Use a clean, soft wash cloth or a tooth brush to scrub away any dead skin. Follow gentle circular motions to scrape off any dead skin. The result- soft plump lips.
Use a lip liner that matches your lipstick. Start at the cupids arch and follow your natural line. Rim both the upper and the lower lips. I don't usually use a lipliner, but with certain lipsticks you need to give more definition. One optional step that I like to follow is to fill in the lips with the lip liner. This gives some depth to the application later and also fills in the vertical lip lines, which BTW I have in abundance.
Thereafter, apply one coat of the lipstick. One fashion advice that my SA at Sephora once gave me was to use some pressure while applying lipstick. This helps in bringing out the true color.
This step is a must. Use a piece of tissue paper or old business card, hold it between your lips and dab gently. This removes any excess lipstick and will prevent staining.
Reapply the lipstick and voila!!!
FIVE OF MY FAVORITE LIPSTICK SHADES