Lip stains to avoid – NYC Smooch Proof 16HR Lip Stain in Forever Mine Wine and e.l.f. Essential Lip Stain in Berry Blush
Today I am reviewing 2 lip stains from 2 popular drugstore brands – NYC [New York Cosmetics] and ELF [Eyes Lips Face].  I love both these brands and most of their products, but these lip stains are a no-no for me.
Lip stain is a trend that got major publicity with Benefit & their famous Benetint; Revlon followed with the much loved Just Bitten Balm Stains and then there are many Korean products inspired by the Ulzzang gradient lips [not a fan of this trend, looks weird to me]. The concept was to avoid layers of product like with lipstick or gloss but at the same time get the color you want resulting in a very natural 'stained' look.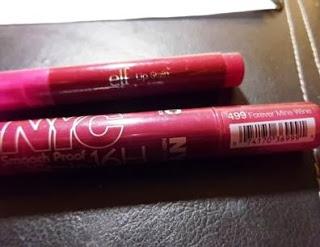 I like lip stains as a product type but not every brand offers a great one; check my review of Joe Fresh's Lip stain in Berry here
http://makeupandbeautytalk.blogspot.ca/2014/01/review-swatches-joe-fresh-lip-tint-in.html
. The worst lip stain product type as far as I am concerned are, the ones that look like Sketch Pens – yet to find one that actually works.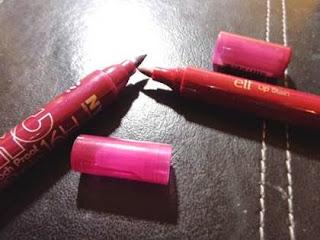 NYC Smooch Proof 16Hr Lip stain [
http://newyorkcolor.com/products/lips/lipcolor/smooch-proof-16hr-lip-stain
] in Forever Mine Wine [approx. $4.99, may vary on sales] looks exactly like a berry colored sketch pen I once had. The color of the stain matches the color of the casing. I like the handy design and the idea of getting very contoured lips with precision tips like you do with felt tip eye liners. This is very easy to use – Shake once or twice before using and apply 1st along the lip contours to define the lips and then fill in the color. It works very similar to a lip pencil. The problem is with the color intensity – it applies very patchy and it is difficult to get a very even colored look. Also there are no words to describe how dried up this feels on lips – should be a nightmare product for dry skinned ladies. The color is a very pretty berry pink shade and can easily give nice tint perfectly suitable for winter – if you can manage to get an even color! That is my problem with this product- it is supposed to be easy to use, instead it makes life difficult with patchy colors. Also, don't expect 16hrs, don't even expect 8hr – the best you can hope for [unless you don't plan to talk, drink or eat] is 3-4hrs. W.r.t other factors, this has no sharp scent, no discernible taste and does not irritate skin.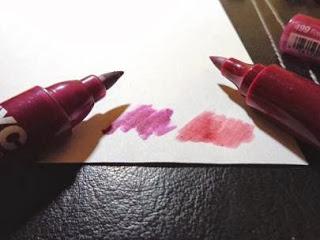 NYC - Left, ELF -Right
1
ELF Essential Lip Stain in Berry Blush ($2.00 approx) is even more of a fail than NYC – at least NYC lip stain had some color! This is a more reddish berry tint and would have been a nice lip color if it was more pigmented.  I got 2 uses out of this product and even then it was so sheerly tinted that it look around 3-4 swipes to get a decent color. I really can't understand why ELF brought out this product unless they felt that they didn't want to be left out of the whole 'tinted lip' game. The design is pretty similar to NYC but smaller sized. As with NYC smooch proof, this also doesn't have any scent or taste, does not irritate skin and dries lips pretty badly. Application gives a patchy color and doesn't last more than 2 hours.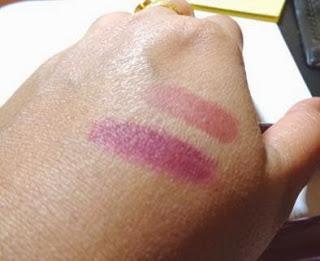 On Top – ELF Berry Blush [look how faded it looks!]  Bottom – NYC Forever Mine Wine
Summing up:
Pros of both lip stains:
Handy packaging – casing shows color of the product making it easier to select

Low price – both are drug store brands

Non scented, non-irritant, no bad taste
Cons:
Useless products  if you are looking for a stain that lasts more than 5-6 hours

Makes lips dry

Color applies very patchily
Overall:
I wouldn't recommend these sketch pen type of lip stain- including Revlon's Just Bitten Lipstain+Balm, this type is a disaster and can easily put a newbie off lip stains for life! I recommend trying a liquid gloss-type version if you are looking to try lightweight lip stains – especially like Etude House's Fresh Cherry Tint. Another option is the chubby pencil or lip crayon type like Revlon's Just Bitten Balm Stains, Jordana Twist & Shine lippies etc that gives a 'lip-balm+stain' effect to lips. Both NYC and E.L.F has so much better products for the same price – so if you are looking for lip products from these brands, try NYC's liquid lip shines or ELF's mineral lipsticks.
Check my blog at - http://makeupandbeautytalk.blogspot.com/
Follow me on Twitter @ladydevzz