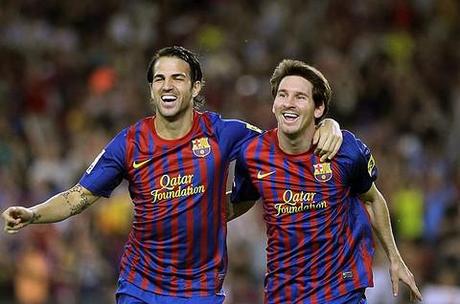 Barcelona attacking players Cesc Fabregas (l) and Lionel Messi (r). Photo credit: Globovision
Barcelona's dimunuitive Argentinian superstar Lionel Messi has won the Fifa Ballon D'or, awarded to the world's best footballer, for the third year running. Messi's third win did not surprise the sports commentariat; many are now suggesting that, although still only 24, he could just be the greatest player ever to play the world's most popular sport.
Messi has become the first person since French star Michel Platini in the mid-1980s to win the award three years running. The Dutch duo of Johan Cruyff and Marco van Basten are the only other players to have ever won the accolade three times in their careers.
 
This year, Messi beat out Real Madrid hotshot Cristiano Ronaldo and Barcelona teammate Xavi to the prize.
He has made the incredible routine. "To compare Lionel Messi to anybody else is unfair – on them", declared Sid Lowe in The Guardian, who insisted, "it is no longer about whether or not Messi is currently the best player in the world; it is about whether he might even be the best there has ever been." Lowe noted that not only does Messi's score hatfalls of goals, he scores them when it counts most: "he has a habit of scoring in the biggest games; two Champions League finals, two World Club finals, a Copa del Rey final, and goal after goal against Madrid – no goalkeeper has conceded as many against him as Iker Casillas." Besides the mesmerising statistics, Lowe talked up the "intangible sensation: the control at speed, the softness of touch, the variety in his play, the vision, the simplicity, the mastery of the tempo, where stopping is as important as starting, the sheer, jaw-dropping ridiculousness of it. The relentlessness of his brilliance; he has made the incredible routine."
Messi needs to turn it on for Argentina to be truly crowned the greatest ever. Writing at ESPN.com, Tim Vickery said that the debate about whether Messi is the greatest of all time is "complicated" and that "making comparisons across eras is always likely to be a frustrating exercise." He concurred with Platini that, given the increased protection modern-day flair players get from referees, "it would seem undeniable that it's easier these days for a player of Messi's type. The treatment handed out to Pele and Diego Maradona would these days bring a jail sentence rather than a verbal warning." Vickery insisted that "the sport's shifting dynamic in recent years has led to the World Cup being replaced by Europe's Champions League as football's main event – as illustrated by a comparison between World Club champions Barcelona and World Cup winners Spain." That said, Vickery suggested that, "in order to prove his all-time greatness once and for all, he really does need to turn it on in a major tournament for Argentina. Not because he has something to prove in terms of the standard of his play, but to show that he has the leadership qualities to make the difference when not surrounded by the fruits of Barcelona's long-term philosophy."
Sure, Messi is unbelievable but La Liga is too easy. Writing at First Post, Jonathan Harwood said it would be "it would be ridiculous to deny Messi's genius, but La Liga is hardly competitive. It is dominated by Barcelona and Real Madrid, almost to the extent that Rangers and Celtic rule the Scottish game." Harwood wondered if the "lopsided nature of the Spanish league give a false impression of quite how good the likes of Messi, Ronaldo and Xavi actually are?
 
It is a terrible cliche, but would Messi be quite as effective were Barcelona playing the likes of Stoke City week in, week out?
" Harwood pointed out that, shorn of his Barca team-mates and "obliging opposition" he encounters in La Liga, "he is somewhat less effective." At international level Messi has netted 19 goals in 66 games.
More on football

Barclays Premier League at half time: What we know so far including Robin van Persie's hot and Steve Kean's not
Gary Speed's death: Sport and suicide
Gary Speed: Why, wonders world of football?
More football »