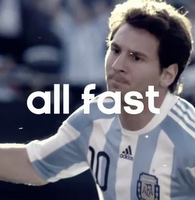 I usually don't post many ads/videos, but when I saw this one from Adidas, I had to post it. The F50 Adizero Prime are being hyped up by Adidas, and this ad with Lionel Messi has become one of my favorites.
While I usually prefer Nike ads (mainly because they tend to be much more epic compared to Adidas which has always been slightly cheesy), this new Adidas ad is my favorite right now. It starts with a few seconds of Lionel Messi,
juggling the cleats
, and the ad just gets better and better from there. The camera angle is dynamic and amazing, and the final line by the commentator gives the ad all the awesomeness it might have needed.
Here it is below:
My favorite ad I've seen yet, even better than Nike's Write the Future. But what about you? What do you think about Adidas's newest ad? A step in the right direction? Share your comments below!