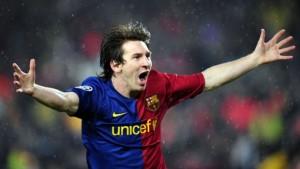 Lionel Messi becomes father of a baby boy
Barcelona megastar Lionel Messi has become father for the first time. His girlfriend Antonella Roccuzzo gave birth to a baby boy at instituto Universitario USP Dexeus, a hospital in heart of Spanish city.
The proud couple has named their son Thiago.
"Leo Messi is a father," read a Barcelona statement. "This Friday afternoon Antonella Rocuzzo, the Argentine star's girlfriend, gave birth to Thiago Messi, the couple's first son."
Soon after Lionel Messi posted on his Facebook page: "Today I am the happiest man in the world, my son was born and thanks to God for this gift!. "Thanks to my family for the support! A hug to everyone."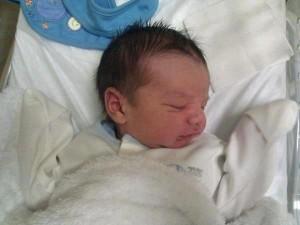 Lionel Messi's newborn son Thingo
25-year-old Argentinean, who is universally discussed as the soccer's most vibrant player, had expressed the excitement about new role of being a father in his recent interview to a Spanish daily El Pais.
"It makes you think of things in a different way. You can no longer just think about yourself, you think about him, and how you hope he doesn't have any problems," he said.
Barcelonan midfielder Andres Iniesta, who last year became the father of a daughter, congratulated the couple:
"Much happiness to Leo and Antonella! Congratulations… I am very happy that everything went well!!," Iniesta tweeted.
The missed training on Friday to be with Antonella but Barcelona coach Tito Vilanova said he expects Lionel Messi to play the match against Celta Vigo on Saturday.
"In principle he'll be available for the match," stated Vilanova. "It won't change anything that he hasn't trained for one day, it's not significant."
Messi, who won three successive FIFA Ballon d'Or Awards to earn the prestigious honor of soccer's best player, is hot-favorite for a fourth straight annual award.