Top 10 Bottom 10 Upcoming releases
1

Mint

4237

2 Mageia 2226

3 Fedora 1639

4 Ubuntu 1593

5 Debian 1363

6 Arch 1183

7 openSUSE 1179

8 PCLinuxOS 1096

9 Puppy 869

10 OS4 856

308

Mangaka

11

309 Karoshi 11

310 Jibbed 11

311 IDMS 11

312 TFM 10

313 Ekaaty 10

314 Burapha 10

315 Omoikane 9

316 Càtix 9

317 LinEx 7

2013-01-08:

Fedora

18

Ubuntu

12.04.2
2013-02-04:

Frugalware

Linux 1.8
2013-03-05:

Mageia

3 RC
2013-03-13:

openSUSE

12.3
2013-03-20:

Mageia

3
2013-04-25:

Ubuntu

13.04



Distro Of the year:

The Winner of T

he platform

trophy is :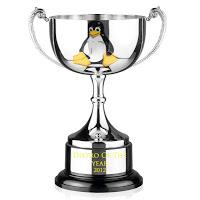 Based on: Arch
Origin: Spain
Architecture: i686, x86_64
Desktop: Cinnamon
Category: Desktop, Live Medium
Cinnarch is a modern, elegant and powerful Linux distribution and live CD based on Arch Linux. It uses LightDM as the login manager, Cinnamon as the graphical desktop and Chromium as the web browser. Cinnarch is a rolling-release distribution and the Cinnarch live CD includes a simple text-mode system installer.
Cinnarch has made a breakthrough the distro watch ranking table since it's first release. It started at #112 in the ranking table in January 2012 and ended at #15.
Ratings and information regarding distros in this post are featured by distrowatch.com