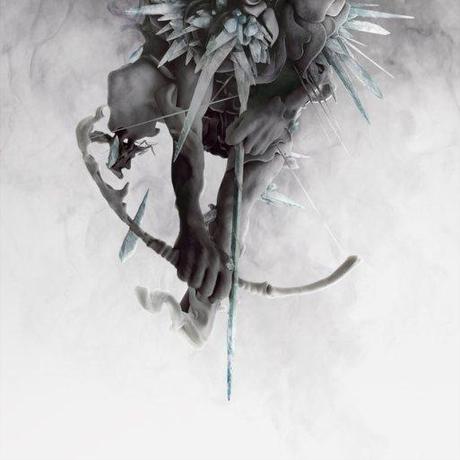 Two years after their latest release and 14 after their first, Linkin Park don't slow down and reinvent themselves with each new album. They started off with the then-popular nu metal, then they deviated to forms of punk and classic rock, they experimented with an industrial and electronic sound and with The Hunting Party, they return to more of a rock sound. Featuring guest musicians for the first time, the album has the potential to divide Linkin Park fans, but they do a good job of keeping some elements from recent albums and even some old ones that seemed forgotten. This is the band's first attempt at self-producing, since they parted ways with long-time collaborator Rick Rubin. Let's take a look at each individual track:
Keys to the Kingdom
The opening track features Chester Bennington's signature guttural vocals right off the bat. We then are immersed in a punk rock sound reminiscent of the Minutes to Midnight era. Mike Shinoda offers his rapping vocals in the pace he has used since A Thousand Suns, in addition to his softer vocals. The track has potential to become a great element for live performances.
All for Nothing
Slowing down the previous track's tempo, it still sounds punk, but with hard rock components. Page Hamilton (Helmet) serves as the chorus' vocalist, giving the track a different, but interesting sound. Hamilton's voice is a good contrast with Shinoda's rapping vocals, proving that the bet to feature artists was a good one on this track. It could become a fan favorite.
Guilty All the Same
The lead single has been out for a while, showing fans that this would be in fact a return to the heavier side of rock. Almost with a heavy metal sound (including a guitar solo,) the instrumentation works well with Chester's vocals. Rakim's rapping during the breakdown is a nice touch, demonstrating that the classic Linkin Park sound isn't affected by changing rappers. Another successful collaboration.
The Summoning
An instrumental track that serves as a build-up to War. Slowly increasing the tempo and volume, the song reaches a sudden silent climax in order to feature what sounds as someone encouraging another person to watch the ball, and what sounds as a baseball hit.
War
A very fast paced track with a classic punk sound (and length.) Fast drumming and guitar riffs compliment Chester's exploding growls. The song features another prominent guitar solo that almost sounds like Metallica at times. Short, but angry, the song is effective as a contrast between the first and second half of the album.
Wastelands
The third single will become a fan favorite. With its arena anthem quality, catchy chorus and Shinoda's signature rapping, it feels like a Minutes to Midnight B-side. The track keeps showing the audience that the return to a more rock sound is true.
Until It's Gone
Reminiscent of "What I've Done," the song opens with Chester's soft vocals and a catchy synth riff. The chorus screams sing-along quality. On the softer side in comparison to the previous tracks, it reminds fans that Linkin Park does have a mainstream side that isn't afraid to show.
Rebellion
From this writer's perspective, the best song of the album. With Daron Malakian as the featured guitarist, the song almost feels like a System of a Down record in the first 30 seconds. Then we're immersed in a fast paced instrumentation that contrasts well with Shinoda's singing. The chorus is short, but with a sound that will fill stadiums with dedicated fans. The breakdown shows Malakian's fast riff, with a fast synth riff and explodes with Chester's growls. Successful collaboration that gives Linkin Park new things to explore in the future.
Mark the Graves
It opens up with heavy instrumentation and suddenly becomes a "ballad," it has an odd resemblance with "Blackout" from A Thousand Suns. Catchy verses, catchy riffs and a guitar solo work well with Chester's softer angry side.
Drawbar
Another instrumental track. Featuring Tom Morello in the guitar section, a marching drumming style and a nice piano section, the song works as another interlude that could work well in live sets. While the collaborator was of star quality, the track didn't showcase his talents, becoming the weakest of the other three very successful collaborations.
Final Masquerade
Another single, with plenty of harmonies and a catchy chorus, the song is another one that could become a fan favorite and a permanent fixture on their live sets. The instrumentation offers a good atmosphere for Chester's softer vocals.
A Line in the Sand
The longest album track ever released by the band. Rather quiet for almost a minute, Shinoda appears with soft vocals and "warns" the listeners that "little did we know," before the song explodes into a classic rock sound. Featuring some good harmonies and a great rapping section, the song also reminisces the Minutes to Midnight era. The track is a good roller coaster, ending with Shinoda's soft singing.
Overall, the album proved to be a deviation from recent electronic sounds that the band was into. With featured artists for the first time ever, this move was very good and will help earn more fans. The album is more Minutes to Midnight than it is Living Things. It's a good return to a rock sound, but reassuring fans that the nu metal sound is not coming back for now and it's not what the trends want back.