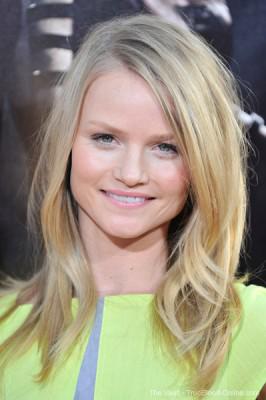 True Blood's Crystal Norris, Lindsay Pulsipher has joined the miniseries starring Kevin Costner ("Devil" Anse Hatfield) and Bill Paxton (Randall McCoy), who play the famed leaders of the feuding families. The project, which will center on the bloody hostilities between two clans that escalated to the point of near war between two states, will air next year, the 150th anniversary of the country's most infamous family feud.
Pulsipher is set to play Roseanna McCoy, the beautiful daughter of Randall and Sally McCoy (Mare Winningham), who attracts the romantic attention of Johnse Hatfield, leading to a forbidden romance that divides the families still further. Filling out the cast areTom Berenger and Powers Boothe, both of whom will play members of the two families.
The miniseries, which will begin production this month in Romania, is part of the heavily unscripted network's move into the potentially brand-enhancing miniseries space. Despite an early misfire with The Kennedys, which ultimately aired on the ReelzChannel, History is also readying efforts including The Bible, a mini from reality producer Mark Burnett.
source: hollywoodreporter.com