The Linden Hills neighborhood has been a popular location since long before it was known as Linden Hills... even long before it was part of Minneapolis. Lake Harriet was a popular recreation area in the late 1800s with its own streetcar line from downtown Minneapolis. Going even further back the first school in the area, the Lake Harriet Mission School, was founded in 1835 to serve the children of a Dakota settlement in the area between Lake Harriet and Lake Calhoun.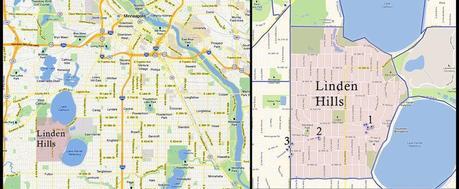 Linden Hills - click to enlarge map
'downtown' Linden Hills
Convention Grill

44th and Beard, Linden Hills home of the original Turtle Bread Company
The corner of 44th &  Beard has been a neighborhood gathering spot for decades. I remember stopping in the little red house next to Turtle Bread that is now Rick Rack Boutique in the 1970s to get Marimekko fabric to create wall hangings. I don't remember what was on the corner at that time, but it has been the home of The Turtle Bread Company since it was founded in 1996.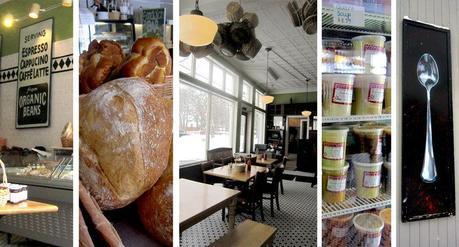 The Turtle Bread Company and adjoining Trattoria Tosca
The Turtle Bread Company
Many people think of their 48th and Chicago Avenue location when they think of The Turtle Bread Company (so named because great bread takes time)... but this was the original location. Their adjoining restaurant, Trattoria Tosca, features a rustic Italian menu.
If you would like to have this corner in your neighborhood (where you can also stop at Brown & Greene Flower Market across the street), check out Linden Hills homes for sale and let me know if you have any questions or would like to take a look at any properties. Average price of current listings is $719,339, with a range of $99,900 to $1,490,000.
Sharlene Hensrud, RE/MAX Results - Email- Minneapolis City Lakes Realtor