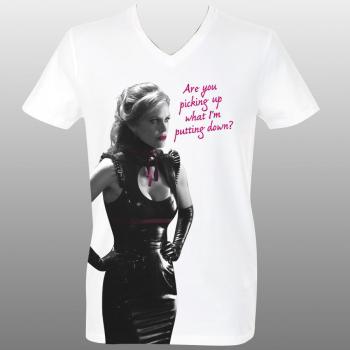 During the course of her Kickstarter campaign back in July and August for Out for Africa , Kristin Bauer van Straten (Pamela Sywnford de Beaufort) introduced t-shirts with a picture of alter-ego Pam from season 3 and the phrase "Are You Picking Up What I'm Putting Down?"
A finite number of shirts have been made available in Kristin's eBay auctions to support Out for Africa. The shirts are available in sizes S-XL and will be signed by Kristin herself. They are $75 each with a Buy it Now option.
But if you want one, you'd better hurry! 6 have already been sold and there are only 28 available! So go buy one now!
Source: eBay.com- "True Blood Pam T-shirt signed by Kristin Bauer – LIMITED EDITION"
Image Credit: Out for Africa