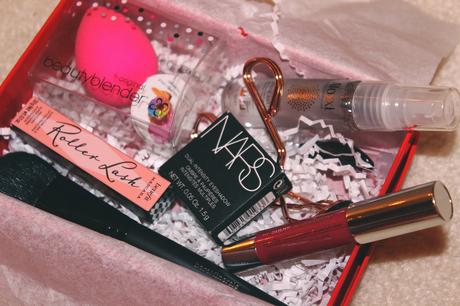 I am not a huge fan of beauty boxes because they tend to lure you in with the one or two full sized products and then add a bunch of samples. However, when I heard about the Limited Edition Allure Beauty Box, I knew I could not pass it up.
For $45 dollars, you get the best beauty products 2015. You get five popular full-sized products and two sample products. I was really excited to try all the products because everything was new to me, but I heard great things about.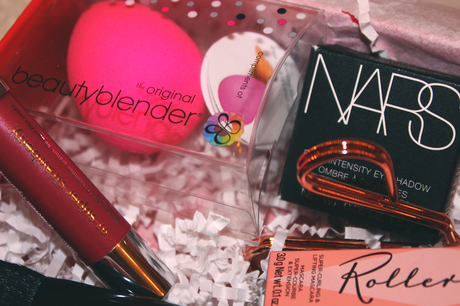 Beautyblender

I was really content on just using BB knockoffs for the rest of my life, but I knew if I was given the chance I would have to try the original. Honestly, I can see why this is so popular. The texture of the sponge is unlike any other sponge I have encountered. It is very unique, which might give it a spot on my most-loved list.


Clinique Chubby Stick in Super Strawberry 


At first, I was not very excited to get this product after seeing other items, but surprisingly it is pretty nice. I am always on the look out for very natural looking makeup products and think Super Strawberry ticks all the boxes.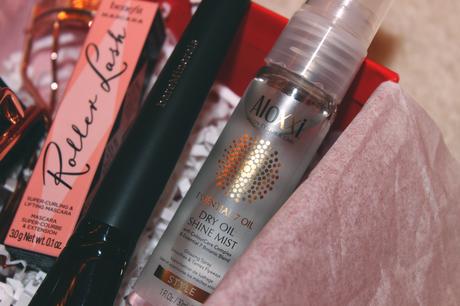 Benefit Roller Lash Mascara (sample)

You may not know, but I am a complete mascara hoarder. I collect all different kinds because I am very meticulous on how my lashes look. I enjoy long, separated lashes and I believe this mascara takes the cake. The bristles on the brush are sturdy and short to get to the base of the lashes without making a mess. 
BareMinerals Blooming Blush BrushI am in the middle of tossing out my old makeup brushes, so this was a pleasant surprise. The bristles are so soft and dense-enough to apply the perfect amount of blush and blend it effortlessly. 
Aloxxi Essential 7 Oil Dry Oil Shine MistThis was the only product I thought was like meh...I am not a very big hair junkie because my hair is very thick and consumes too much product. I curled and straightened my hair this week, adding this as the finishing touch, but I did not see much difference.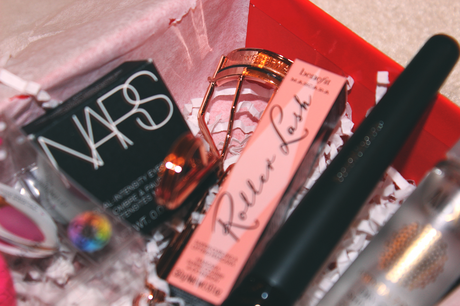 Tweezerman Procurl Lash CurlerIf there is anything I needed more, it would be an eyelash curler. I have had mine for about four or five years...yikes! It was in dire need of disposal. I could not have gotten a better replacement! This rose gold beauty comes with three rubber replacements, so it can last a long time.  


Nars Dual-Intensity Eyeshadow in Sycorax

I have not even used this product yet because I have been meaning to take pictures of the delicate pattern on the shadow. It is basically a charcoal black eyeshadow accompanied by microscopic shimmers. I would have to compare it to Black Russian by MAC, but I have not tried it yet, so I don't really know the color or finish.
Overall, I would highly recommend this box to anyone who is on a budget, enjoys makeup, or even as a gift for a friend or friend(s). $45 is nothing considering you are getting over $100 worth of highly-rated products.
Starting today, I am doing 12 days till '16, which is something I made up because it is too late to hop on the Blogmas train...lol. I will be posting everyday till New Years because 2016 is going to be a very special year! In a few days Townhouse Palette will be 4 YEARS OLD and I will be graduating high school in May. It is something special and very hard, but I will do my best. A new post will be up tomorrow at 6:00 pm eastern time. So ttyt (talk to you tomorrow!)