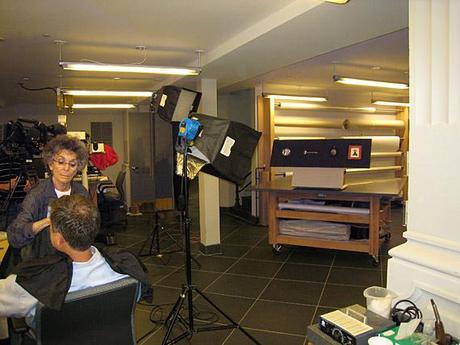 Antiques Roadshow host, Mark L. Walberg, prepares for filming in the Lunder Conservation Center last August.
A crew from Antiques Roadshow, along with Nancy Druckman from Sotheby's, filmed a segment about some of American Art's portrait miniatures last summer and it will be premiering tonight, June 27 (check your local PBS channel for times and other airings). Druckman and Walberg talked about the overall history of portrait miniatures and looked at four miniatures in the museum's collection: Matthias and Thomas Bordley by Charles Willson Peale, Gilbert Stuart by Sarah Goodridge, Captain Noah Rich by Unidentified, and Portrait of a Lady by James Sanford Ellsworth.
If you're in town, stop by the Luce Foundation Center's visible storage area to view the miniatures in person. They can be found on the third floor mezzanine in case 16a, drawer 2, drawer 4, drawer 13, and drawer 14. You can get the insider's scoop from staff members at the Luce Center's information desk.