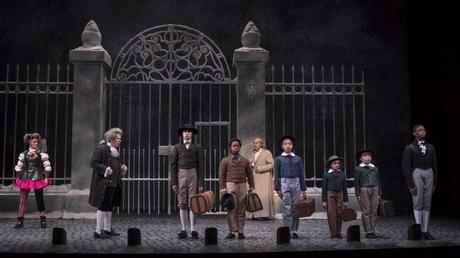 Now in its 40th year, A Christmas Carol brings joy and merriment to the people of Chicago, each year with a different spin. For the fifth year, Artistic Associate Henry Wishcamper serves as director of Charles Dickens' universal tale of hope and redemption. Larry Yando returns for his 10th turn as Ebenezer Scrooge and Paris Strickland plays the first ever female Tiny Tim. Another aspect of this milestone production is Goodman's partnering with Autism Speaks Chicago to offer its first sensory-friendly performance for those with autism or other social, cognitive, and physical challenges on December 30.
Dickens' holiday classic is the iconic tale of greedy businessman Ebenezer Scrooge, whose sizable bank account is only matched by his disdain for humanity and, bah humbug, charity! One Christmas Eve, Scrooge is visited by four ghosts who take him on a spectacular adventure through his past, present and future, creating his ultimate redemption and true connection with his family and friends.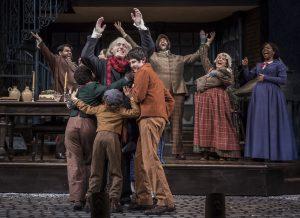 Executive Director Roche Schulfer, who established the production as an annual offering in 1978 — a time when only a handful of U.S. theaters produced it – said, "For all of us at the Goodman,
A Christmas Carol
is much more than a holiday entertainment. We believe that Charles Dickens' story promotes values that are universal and true everywhere in the world — compassion, understanding, love, empathy, forgiveness and redemption."
Attending the Opening Night performance, this year's production is filled with magnificent, larger-than-life sets, special effects, flying spirits, and a cast of 25 as well as many returning cast members. What this new version offers is a greater use of humor and on-stage musicians to create a more festive atmosphere. It's joyous to watch Scrooge transform from a bitter, miserly man to one who at long last discovers the joys of love, friendship, and humanity. There's one particular scene that looks just like the perfect holiday greeting card. Magic, indeed.
A Christmas Carol runs through December 31. For tickets, visit GoodmanTheatre.org/Carol, call 312.443.3800 or visit the box office (170 N. Dearborn). Bring the whole family!
Photos by Liz Lauren