By Rami Shamma and Stephen Rosenlund

From the start of Lebanon's celebration of Global Entrepreneurship Week, the Development for People and Nature Association (DPNA), with the support of CIPE, has been actively advancing the tenets of entrepreneurship across various segments of Lebanese society.
DPNA and CIPE have been implementing an entrepreneurship education project in Lebanon since 2006 under the Entrance to Enterprise / Fostering Free Enterprise in Youth banners. Within the past two years, DPNA has worked closely with the Ministry of Education's Center for Educational Research and Development (CERD) to make high-quality entrepreneurship education available to all high school students in Lebanon. Most recently, and in conjunction with GEW 2013, DPNA has worked with the ministry to roll out a national strategy for Life-Long Entrepreneurial Learning that will reach children and adults at all levels of education. This approach also supports and encourages civil society organizations, along with public and private sector institutions, to nurture the entrepreneurial spirit within Lebanese society.
On November 28, DPNA and CERD organized an initial meeting with key civil society stakeholders to introduce the vision of the entrepreneurial society to be advanced through the program. These civil society leaders are called upon to provide not only technical support to the program, but the power of their ideas and the will to get things done. In addition to consultations with other civil society groups, a core group of private sector leaders and key stakeholders in the economy will be meeting this week to provide their support and input to make the vision a reality.
Shifting from a national-level initiative to a more localized effort, DPNA in partnership with SouthBIC (South Business Innovation Center), the only entrepreneurship incubator in Southern Lebanon, convened a GEW event in Saida on November 23. This CIPE-supported event was designed to increase the awareness among young people in this underserved community on entrepreneurship-related concepts. The event included an exhibition for institutions that support young entrepreneurs and four workshops on topics such as opportunities and challenges facing entrepreneurs in Southern Lebanon, micro-finance, LinkedIn as a tool for entrepreneurs, and innovation.
The event concluded with a seminar organized by DPNA's own Entrance to Enterprise Alumni Network that featured the success stories of four entrepreneurs from Southern Lebanon at various levels of professional development.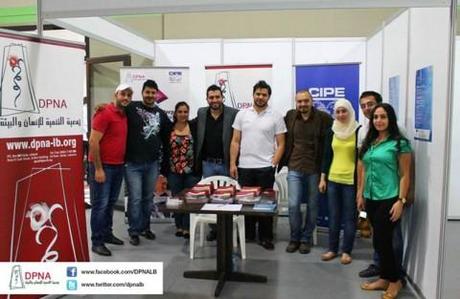 Thanks largely to DPNA's leadership, GEW is vibrant in Lebanon. This week (which has actually expanded to three weeks in Lebanon!) showcases the tremendous dynamism and energy within the country's entrepreneurship ecosystem. By harnessing the passion of Lebanese entrepreneurs and leveraging the enduring sense of community in the country, DPNA and its local partners are moving Lebanon toward a more inclusive entrepreneurial society.
Rami Shamma is Project Manager at the Development for People and Nature Association (DPNA) in Lebanon. Stephen Rosenlund is Program Officer for the Middle East & North Africa at CIPE.