"Master, I shall die if I do not taste a little of this bread-fruit pie."
-In Jules Verne
Rachael from Pizzarossa was our lovely June 2013 Daring Bakers' host and she 
had us whipping up delicious pies in our kitchens! Cream pies, fruit pies, chocolate pies, even crack pies! There's nothing like a pie! :)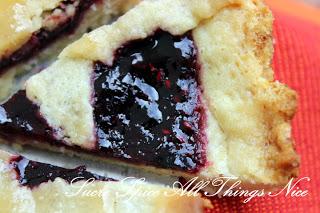 What was more challenging for me was not the pie but selecting which ones to make. I wanted to make them all !! But time being a constraint I settled for a crostata. One, I wanted to use some assorted berries and second I simply love Italian Cuisine!!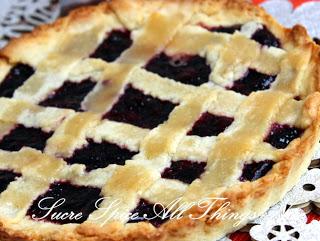 Crostate also known as "open faced sandwich"are a traditional Italian sweet treat, most often filled with jam, preserved or fresh fruit, or nut-based fillings such as almond or hazelnut paste, or they can be filled with pastry cream, citrus curd or numerous other delights.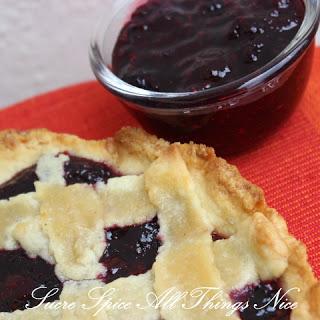 Crostata is one of the most delicious pies I have had.The pastry is slightly sweet with a nice crunch.For the filling I made a mixed berry preserve with strawberries,raspberries and blueberries .The preserve is delicious,full of flavor and the ruby red color makes it more delectable!
Filling
Makes about 2 cups
300 gms       Strawberries, washed, hulled and cut in half.
100 gms       Blueberries
100 gms       Raspberries,used whole
250 gms       Sugar
1 3/4 t          Pectin
2 Tbs           freshly squeezed lemon juice
Pasta Frolla (basic Italian pie pastry)
150 gm            butter at room temperature
75 gm              sugar
1 large            egg,    
1 tsp               vanilla extract
225 gm           flour
grated zest of 1 medium lemon
a pinch of salt
Glaze
40 gm            apricot jam
1-2 tsp           lemon juice
Filling
Put all the berries,lemon juice and sugar together in a heavy-based saucepan and heat over medium-low heat,stirring constantly.
When the berries have released their juices let it boil for a few minutes.
Add pectin and cook for another 4-5 minutes till it thickens .
Allow mixture to cool to room temperature.

Pastry
Using an electric hand mixer or whisk, cream the butter and sugar until pale and fluffy for about 3-4 minutes. Add the egg, vanilla and lemon zest, one at a time, mixing thoroughly after each addition.
Add the flour and salt and mix until the dough comes together but remains soft, about 1 minute. Don't over-mix.
Wrap dough in plastic wrap and refrigerate for 30 minutes to one hour.
Lightly grease a shallow 9" metal pie dish.
On either a piece of parchment or a lightly floured surface, roll 2/3 of the dough out to a circle to generously line the pie dish.
Transfer the dough to the pie dish, press in gently and roll the edges to form a good surface for attaching the lattice later. Prick all over the bottom with a fork. Refrigerate the dough-lined pie dish for 30 minutes to reduce shrinkage during baking.
Preheat oven to moderate 180°C.
Line pastry with parchment and fill with dry beans . Bake until set, around 15
minutes.Remove the weights and parchment and allow to cool.
Preheat oven to moderately hot 200°C.
Roll the remaining dough to fit the pie dish and cut it into roughly half inch-wide strips.Spread the filling over the par-baked crust.
Arrange the strips of dough in a lattice over the filling  trim as
needed and lightly pinch the ends onto the rolled edge of the bottom crust.
Place pie dish on a baking sheet and place in center of oven. Bake until lattice is golden,around 20 minutes. Meanwhile, prepare the glaze.
Glaze
Heat the jam and water in a small saucepan over medium heat until mixture comes to a boil.
While glaze and pie are both still warm, brush over lattice crust.
Allow pie to cool completely before serving.