True Blood's Joe Manganiello is featured in the latest issue of Da Man Magazine.  Below are photos from the photo shoot and also a Q&A.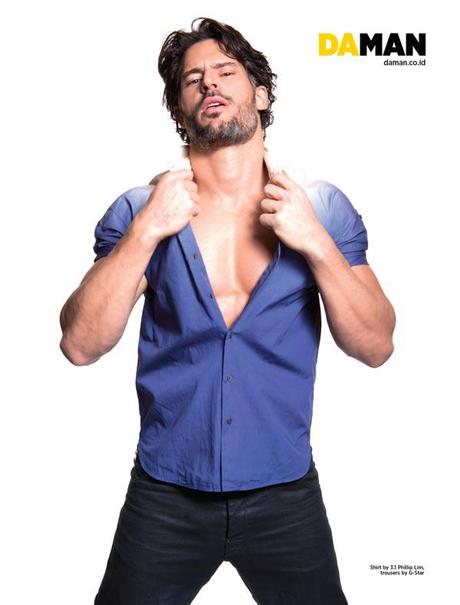 Originally from Pittsburgh he has been plying his trade for over a decade in such hits as One Tree Hill (as Owen Morello), ER and two of the Spider-Man films, in which he portrays Flash Thompson. This coming May, you'll see him in What to Expect When You're Expecting working together with Cameron Diaz, Matthew Morrison and Dennis Quaid.
In June 2012, Manganiello will co-star in the Steven Soderbergh-directed Magic Mike, in which he portrays Big Dick Richie, a male stripper, alongside Channing Tatum, Matthew McConaughey, Alex Pettyfer and Olivia Munn.
Overall, life is good for Joe Manganiello.





Below is part of the Q&A with Joe where he talks about his success since taking on the werewolf role of Alcide.
DA MAN: Who was your biggest influence while growing up that encouraged you to pursue a career where so many want to do it, but so many fail?
Joe Manganiello: There was a cascade of events that led to my pursuit. My mother took me to see a production of the Hobbit with puppets, as a kid, and I remember being absolutely enthralled but I didn't want to be an actor until later in life. I remember vividly this sense in my gut that this was what I was supposed to do. I also had a high school theater teacher that saw something in me and kept bugging me to try out for the senior musical, and so I did and I got the part. That gut feeling then led me to try out for one of the toughest drama schools in the world and I ended up getting accepted with a scholarship. The moral: trust your gut.
DA MAN: As a youth, you also dabbled in filmmaking along with friends, does that fire still burn within you?
Joe Manganiello: Yes, I am currently developing several projects as a producer.
DA MAN: What experiences, positive or negative, have made you a stronger person?
Joe Manganiello: Quitting drinking and smoking have been the two biggest turning points of my entire life.
DA MAN: Do you have any regrets about pursuing a career in showbiz?
Joe Manganiello: None whatsoever. I love every single second of my life and I wouldn't trade it for anything.
DA MAN: After finishing at Carnegie Mellon's esteemed drama school, did you go straight into a project or did you have any of those 'starving actor' type jobs?
Joe Manganiello: I screen-tested alongside James Franco for my part in Spider-Man the week after I graduated from CMU and got the part. However, it didn't start shooting for six months, so I paid the bills as a bodyguard for singer/actor Tyrese Gibson and as a bouncer at a Mexican rock bar and an afterhours club.
DA MAN: We've read that you turned to acting after a series of injuries prevented you from sports during your school days. What is it about acting that interested you at that time, as opposed to say, the band or chess club?
Joe Manganiello: Injuries didn't stop me from pursuing sports. I could have gone on to the next level if I wanted to but the artistic side of me would have gone unfulfilled. Acting was the way in which my artistic nature surfaced in my late teens so I went with that… my heart was in it.
DA MAN: What was the biggest motivation for you to choose to pursue a career in showbiz?
Joe Manganiello: I grew up a misfit. I never fit in. I had all of these parts that were in direct conflict with each other. I was an athlete, but I was extremely artistic. I was a big strong kid who was also very sensitive and empathetic. I was a jock who was good at math and chess and loved to read … I didn't know what group to hang out with in school until I started acting. When I did, I realized everyone was as weird and out of place as I was, and that I could combine all of those weird opposing characteristics together and create characters that made sense to me in my weird way. Acting was the only place that I ever felt like I belonged so went for it with everything I had.
DA MAN: Obviously, your experiences at Carnegie Mellon prepared you well, but what sorts of things do you now do to stay at the top of your game and keep pushing the envelope to hone your craft?
Joe Manganiello: CMU prepared me for just about anything that could possibly come my way. I studied every style and time period of performance in the history of Western culture and some Eastern as well. Now, it's about getting out there and working with others at the top of their game. People like my cast-mates on True Blood, Alan Ball, Steven Soderbergh, Sam Raimi, etc.
DA MAN: Have you read all or some of Charlaine Harris's The Southern Vampire Mysteries—the literary inspiration behind True Blood?
Joe Manganiello: I read each coinciding book before each season in an effort to get inside the writers' heads. I wear the books like a loose jacket.
DA MAN: Do you discuss things much with creator Alan Ball? And is he open to input from you or the rest of the cast?
Joe Manganiello: I don't tell daddy how to f*#k … Alan is a genius. I trust his judgment implicitly and I give everything I have to my job, which is playing Alcide. Alan and the writers give me the situation and what I'm going to say and then I put my stink on it.
To read all of this interview with Joe, go to: daman.co.id