Life: 24 Essays by Tomichan Matheikal is a collection of 24 essays focusing on meaning and purpose of life. The first essay 'Absurdity' is quite intriguing and it literally drove me thinking about various aspects of life like - How much of it do I really live? Do I really decide how shall I live my life or just let it go as it is? Do I make my lifestyle to make me more comfortable or to make it more active and meaningful? How much do we really challenge ourselves? The most important question is - Do I live my life to its fullest? "Your soul is your property and your destiny. It is your burden and your joy. That is the ultimate absurdity of life. Face that absurdity. Take over its challenges. Work with those challenges with unconditional integrity. In spite of your frailty which is humanity's frailty itself."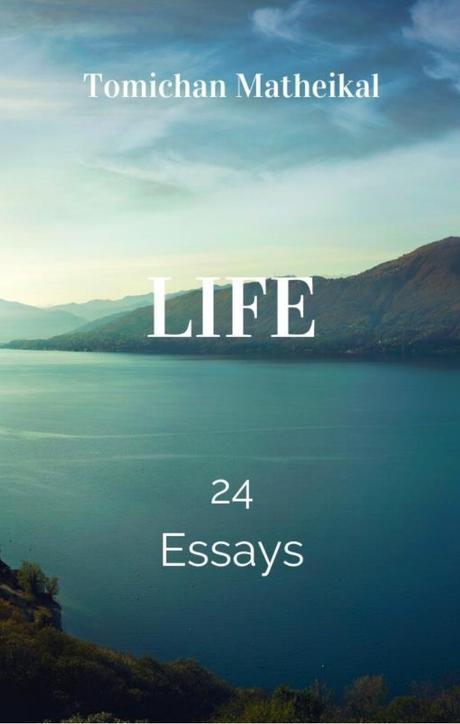 Each essay of Life: 24 Essays by Tomichan Matheikal is a gem. So, basically, the book presents 24 precious gems to me for enriching my life, lifestyle, and soul. According to the second essay 'Rebel', anybody who loves life is a rebel. I was wondering after reading this line and going further to read the rest that does it really holds good? But when I started reading further, it became crystal clear. An excellent aspect of this book is that it can be read any number of times. Each essay is an independent entity. Everytime I read the same essay again, it gives me a different perspective and a new approach to think about life. The book talks about 'me' and 'my life'. It intends to bring a change within and once that happens, the entire world will become more colourful and meaningful. That's it's beauty.
Life: 24 Essays by Tomichan Matheikal is a thinker's paradise on one hand and a practical world for doers. Each essay is thought provoking and at the same time gives ample scope to find out action points to improve life. I find this book quite motivation, inspiring, and connecting to spirituality. It brings in positivity in thoughts and actions. In fact, it keeps giving a number of checkpoints to see if I am responsible for the pains and shortfalls in life or it is because of somebody else. A good amount of energy and research work has gone in this book. Each essay contains some quotes from well known philosophers and researchers to bring in more relevance to the respective topic. The author of this book tried to touch life through all important angles viz philosophy, literature, and religion. It's an open ended book.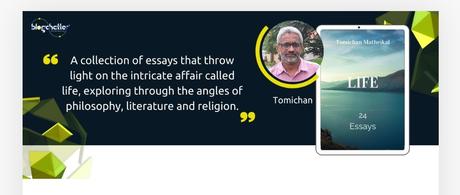 Why I call Life: 24 Essays by Tomichan Matheikal an open ended book is because it doesn't impose anything on the reader. Still, it gives a lot of points for introspection. Each essay gives different perspective to look at life in a very positive manner. It's a kind of book that is good to be a part of every personal or public library. 
You can download the book here.