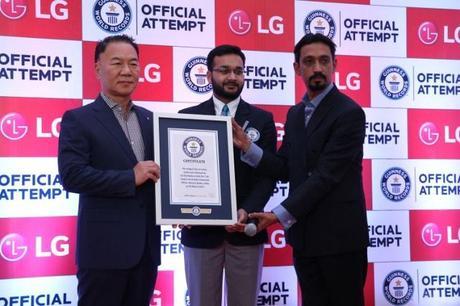 In celebration of India's Republic Day 2017, LG India had launched the #KarSalaam initiative saluting Indian soldiers. This initiative invited all Indians to post their salutes and messages for Indian soldiers on LG's website and social networks. As part of this initiative, Indian soldiers and their families were also invited to share their stories. Also, LG pledged a portion of income generated by sale of LG products during a set period to the welfare of Indian soldiers. This led to the donation of 1 Crore rupees to CRPF Welfare Fund.
While people could share their wishes online for #KarSalaam, LG also started a campaign to gather messages for the soldiers at their retail stores and other places like malls and schools. These messages were collected on sticky note slips. And it is this campaign that has won LG the Guinness World Record for the 'Longest Line of Sticky Notes' containing wishes. The campaign gathered 114741 messages of salute and good wishes for Indian soldiers.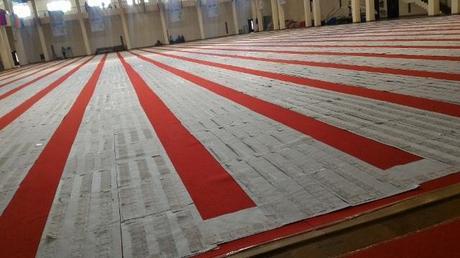 Celebrating the achievement, Mr. Kim Ki Wan, Managing Director, LG Electronics India said, "A million thanks to the people of India for showing their gratitude towards the Indian soldiers. The initiative has been a massive success that can be validated by the overwhelming response that we have received from the people in the form of messages for the soldiers. It is also a very proud moment for us at LG and immensely gratifying to break the Guinness Book of World Records by getting more than 114741 wishes."
Mr. Amit Gujral, Head - Corporate Marketing, LG Electronics India said, "We are humbled by the astounding response that we have received from our fellow Indian citizens for our soldiers and are now more determined to spearhead other initiatives that extend LG's core philosophy of Life's Good to other realms."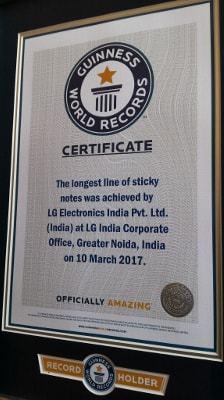 Mr. Swapnil Dangarikar, Adjudicator Guinness World Records® said, "We are happy to announce the entry of LG Electronics India Ltd. as a record beaker for the 'Longest Line of Sticky Notes' messages from the Indian citizens. It is an honour for us to be a medium through which we can partner in wishing the Armed Forces for their immense contribution in ensuring the safety of the citizens. This initiative of LG Electronics India is unique and we hope that they take up many similar initiatives in the near future."
The world record is not just an achievement for LG, it also celebrates the Indian spirit of patriotism and our love for our soldiers. The #KarSalaam campaign helped Indians to express their love and gratitude for our armed forces. I am happy that I could do my little bit for the campaign too and could personally witness the making of the world record. My heartiest congratulations to LG. May our love and trust in our armed forces never waver and we continue to appreciate the sacrifices our soldiers make and hardships they suffer because of us.