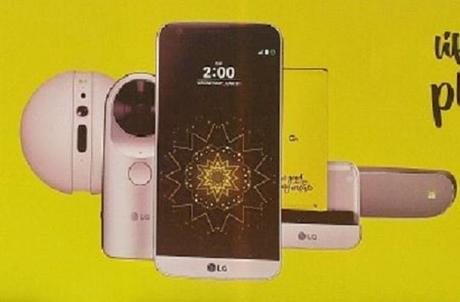 On 1st of June, 2016, LG G5 was launched in India. Along with this latest flagship smartphone of LG, several other gadgets were also launched. These are all companion devices of LG G5 and other high-end LG smartphones that might come in the future. LG is calling these devices LG Friends. LG intends these cool gadgets combined with their smartphones like the G5 to act like playgrounds wherein users can take their smartphone use to the next level. Like controlling a drone with your smartphone, for example.
Although a drone is not a part of the LG playground (but G5 has the capacity to control it), we do have a cool robot to play around with. Let's take a quick look at some of the LG Friends that have been launched. As I loved the robot best, I'd begin with it.
The Rolling Bot: This is a robot in the shape of a white ball. When I first saw it, I was reminded of the robot in the movie The Absent-Minded Professor. Of course, that movie robot could hover and do all sorts of fantastic things. Maybe, some day we'd really have a cute little robo like that. For now, let's come back to the LG Rolling Bot. This ball shaped robot can roll on any smooth surface. It is equipped with a camera with recording capability, a speaker, an IR Blaster and even a laser pointer. So it can roll around and record video footage for surveillance. As you speak through it, it can roll around the room carrying your voice to wherever you like. You can use it to talk to babies, pets etc. even when you are away. The Rolling Bot can be controlled from the connected LG Smartphone (G5 only, for now) from anywhere in the world.
LG hasn't revealed the price of the Rolling Bot yet. However, it is easy to guess that this little rolling ball is going to cost quite a lot. While I don't see common users buying it for their homes, it can prove helpful in services like armed forces, fire fighters, rescue workers, field researchers, remote pipe inspection and so on. The possibilities are many.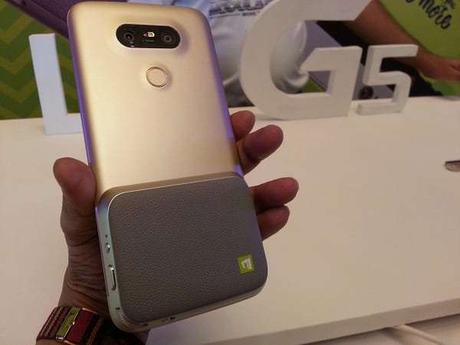 CAM Plus: This is like an Add-on for LG G5 that can turn the smartphone into a digital camera with physical controls for power, shutter, zoom and record. It also has LED indicators. When it is attached to the G5, the smartphone feels almost like a digital camera in hand. Not just that, when attached to G5, it gives the smartphone an additional battery power of 1,200mAh. This helps the phone's battery to last longer and the users can have uninterrupted photo shoot or video recording. CAM Plus also has intuitive auto focus and exposure lock which makes it more like a digital camera.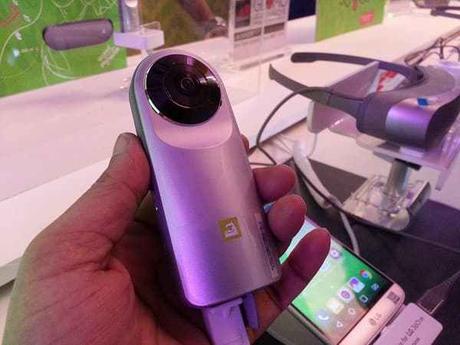 LG 360 CAM
This is another of LG Friends that I found really interesting. It is a small and lightweight gadget capable of creating 360 degree content. It has two 13MP 200-degree wide angle cameras. And it is equipped with 1,200mAh battery and 4GB internal memory. The internal storage of this little camera can be extended using a microSD card. The LG 360 CAM is capable of creating 2K video with 5.1 surround channel recording provided by its three microphones.
Check out this 360-degree video shot by LG 360 CAM. It depicts famous landmarks to put focus on the value of protecting our heritage. The landmarks in this video include statue of Liberty, Eiffel Tower, Red Square, Great Wall of China, Sydney Opera House, and Seoul Changdeok Palace (360 effect might not be visible on all devices)
The 360 CAM can be connected to and controlled by LG G5. And the content created using it can be directly uploaded to Google Street View and YouTube360. This content can also be viewed on the LG 360 VR or other compatible devices capable of playing 360 degree content.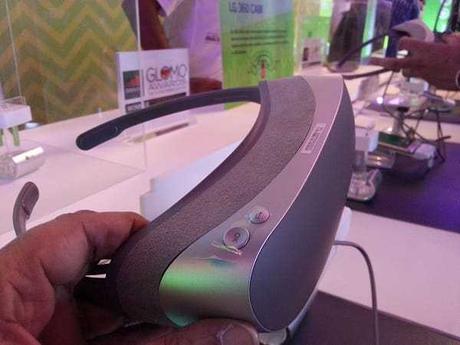 LG 360 VR
The LG 360 VR is light-weight and foldable VR goggle. When connected with LGG5 using a dedicated cable, it simulates the experience of watching a 130-inch TV viewed from about two meters away. LG VR is foldable and weights only 118g (4.16 ounces). As this weight is just one-third as heavy as other competing VR goggles, it is comparatively more comfortable to wear and easier to carry around. Most other VR goggles need a smartphone to be inserted in them. This makes the goggles even heavier. However, LG 360 VR can connect with the smartphone using a cable. This allows the user to keep the smartphone in the pocket, instead of adding it to the VR Goggles. LG VR Goggle delivers a resolution of 639 ppi and is compatible with all Google Cardboard content and the 360-degree images and videos that are captured with LG 360 CAM.
LG Friends Manager:
All the LG Friends mentioned above can be used with LG G5. G5 comes pre-installed with a hub application called LG Friends Manager. It auto-detects whenever an LG Friend is within reach of the G5 and connects quickly in just three simple steps.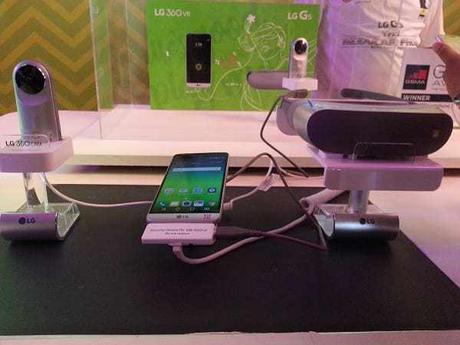 These are some LG Friends that have been developed by LG to help G5 users do more with their smartphone and have fun playing with cool gadgets. LG assures that very soon, more such gadgets will come out making the LG Playground more interesting. However, all this fun and play is not for budget buyers. These gadgets are so far compatible only with G5. In future too, they are more likely to be compatible only with LG premium smartphones. So one would need to buy a high-end smartphone and then spend more money on these LG Friends to be able to enjoy the LG playground.