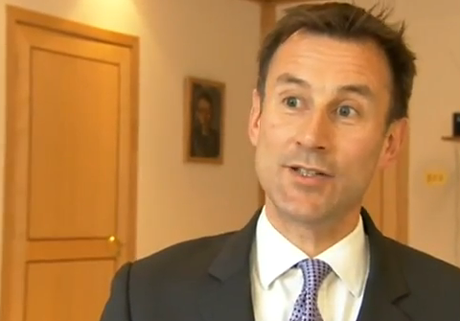 Jeremy Hunt. Photo: ITV
The background
The Leveson inquiry into media ethics continues, now throwing up allegations that Jeremy Hunt, the Culture Secretary, was in close contact with James Murdoch whilst the £8 billion News Corp bid for BSkyB was going on. He wrote a memo to David Cameron, the Prime Minister, on 19th November 2010, in which he said that Rupert Murdoch was angry that Vince Cable had decided to refer the decision to Ofcom.  He was then asked by Cameron to oversee the bid instead after he demanded that Cable be taken off it – something which he had previously denied, reported The Guardian.
Hunt was in contact, mostly via his special adviser, Adam Smith, with Fréderic Michel, News Corp's top lobbyist, over 1,000 in the year of the bid, sometimes up to four times a day – and this in spite of the fact that he was meant to be acting in a quasi-judicious fashion. Jeremy Hunt's future in his role looks precarious, and commentators are pointing out that Cameron must answer questions, too. Labour MPs are calling for Hunt to resign.
Hunt was consistent in his role
10 Downing Street said in a statement that "Hunt's note is entirely consistent with his public statements on the BSkyB bid prior to taking on the quasi-judicial role. It also makes clear that 'it would be totally wrong for the government to get involved in a competition issue which has to be decided at arms length'. The PM has made clear throughout that he recused himself from decisions relating to BSkyB and did not seek to influence the process in any way," quoted on The Guardian.
Hunt was clearly biased
Hunt's bias was obvious, said The Guardian's editorial. Why did Hunt "so recklessly" defy his officials' advice not to get involved? And though News Corp claimed otherwise, it now seems that they did want to combine both Murdoch "platforms and content into one unity." And what about Cameron? Why did he ask Hunt to take over? We're getting a "fuller picture" of the bid daily, and "it is not an edifying one."
Hunt must go
And Jeremy Hunt can no longer "defend his position in government," said The Independent's editorial. The "whiff of impropriety" is also coming closer to Cameron. And the level of contact between News Corp and the government is "something else entirely." Hunt still hopes to "discredit Michel" by saying that his reports were "the puff and posturing of the public relations professional." And Hunt can't claim Smith went beyond his remit – he was either "complicit in his subordinate's excesses, or he was catastrophically dilatory in his management." Hunt has to go, and Cameron should explain why he thought Hunt was "appropriate" in the first place.
Cameron's judgment in question
"What on earth were they thinking?" stormed The Daily Mail's editorial. It defies belief that Cameron "saw no conflict" in giving Hunt the job. The Conservative Party had "grown so sickeningly close to News Corporation that it seemed to lose its marbles." Hunt's defence is shaky. "The BskyB affair had already stained the integrity of the Cameron government. That stain grows uglier by the day."
Text from Mr Cameron: "The stupid Jeremy Hunt". Not sure if that's rhyming slang.

— Elizabeth Windsor (@Queen_UK) May 24, 2012
Watch Jeremy Hunt reacting to last month's evidence below