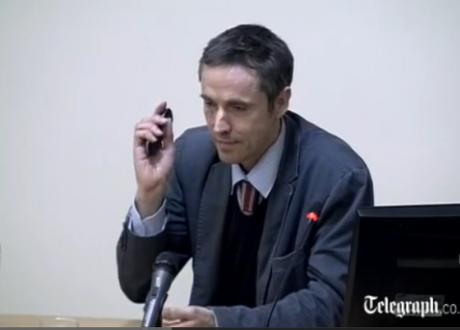 Paul McMullan, giving evidence at the Leveson inquiry. Photocredit: Telegraph TV
The Leveson inquiry into media ethics saw some bullish comment this week from ex-tabloid hack Paul McMullan (erstwhile deputy features of The News of the World). Gawker gleefully branded him a new "pitch-perfect" villain, as he "gamely" defended phone hacking "with Snidely Whiplash relish."
On a more serious note, Peter Hain, the former Northern Ireland secretary, may have had his computer hacked by private detectives working for News International whilst he was in office and negotiating sensitive matters. This would really cause some problems for the organisation, as it is a matter of national security. Alistair Campbell, the former Number 10 Communications director, is giving evidence today – although blogger Guido Fawkes had somehow already got hold of it.
"Phone hacking is one thing, but targeting the computers of ministers with high-security clearance takes this police investigation to another level. It also raises questions for News International about whether its management were aware," said Tom Watson, a campaigner against phone hacking, quoted on The Guardian.
In an inquiry that's brimming with celebrities, sadness and bile, we take a look at five of the most damning moments so far.
1.  Peter McMullan. His comments included boasting about how great car chases were: "Before Diana died it was such great fun"; defending the hacking of murdered schoolgirl Milly Dowler's phone, on the grounds that they were genuinely trying to find her; admitting to pinching a photograph, and claiming that "Privacy is for paedos; fundamentally nobody else needs it." In a bombshell, he also claimed that Rebekah Brooks and Andy Coulson knew that hacking was going on.
2. The Dowlers. One of the saddest moments was the Dowler family's testimony. A Guardian journalist claimed that investigator Glenn Mulcaire was behind the hacking. Journalists deleted messages, raising hopes that Milly might be alive. "I rang her phone and it clicked through on to her voicemail and I just jumped and said: 'She's picked up her voicemails Bob, she's alive'," said her mother, Sally Dowler.
3. Charlotte Church, the singer, who apparently was asked to sing for the Murdoch family for free at the age of 13 in return for good press, gave emotional testimony. She claimed a story about her pregnancy could only have been discovered through phone hacking; its repercussions destroyed her family.
4. Hugh Grant is perhaps the most familiar face of the inquiry – he was the one, after all, who beat the hacks at their own game, secretly taping a conversation with McMullan. But his testimony has also been damning, claiming that the photographers who chased him and his girlfriend "were the ones following Princess Diana when she died."
5. J K Rowling said that press intrusion had all but ruined her family life; a journalist even put a note into her five year old daughter's schoolbag.