At 10am on a greenish pitch, started the Frank Worrel trophy -  Jason Holder lost the toss but didn't mind that Steven Smith chose to bat.  ~ at around lunch, he would have felt that any way he would have put them in - Australia were 3 for 121 and wobbling. It turned out getting through that middle order was the hard part, for by 6pm Adam Voges and Shaun Marsh had cruised to centuries, had a triple-hundred partnership, and Australia were 3 for 438. The only consolation for Holder was that he hadn't sent Australia in, though he said he would have done so if given the chance. Apart from one crowded hour when they claimed all three of their wickets - the hour leading up to lunch - West Indies were lacklustre.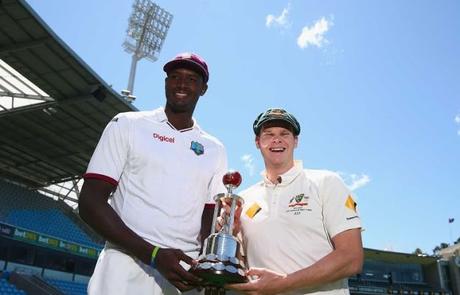 1931 statistically was the last time before, when WI conceded over 400 runs in a single day's play. On that occasion the same opponents had amassed 428 runs for the loss of three wickets on the first day of the Brisbane Test.  Warner made 64; Voges is unbeaten on 174 and SE Marsh on 139 unbeaten – more to come !
The test is played at scenic Bellerive Oval in the headquarters of Tasmania, abutting Derwent River. The venue consists of three principal stands - the Southern Stand (capacity 5800) and the Members and Players Pavilions; there are two smaller stands and a traditional hill on the eastern boundary which collectively contribute to a capacity crowd of 16,000.  Tasmania's first Test, between Australia and Sri Lanka, was played here in 1989.
Hobart is the capital and most populous city of the Australian island state of Tasmania. Founded in 1804 as a penal colony, Hobart is Australia's second oldest capital city after Sydney, New South Wales. The city is located in the state's south-east on the estuary of the Derwent River, making it the most southern of Australia's capital cities and its harbor forms the second-deepest natural port in the world.  Bellerive Oval has produced some cricketers – David Boon and Ricky Ponting.
I remembered India having played at Hobart – Krish Srikkanth playing here and we watching that match in the very early hours came to my mind – initial searches revealed that it was not to be !
Some searches led to Launceston in Hobart being  protected by a series of flood levees that reach up to 4 metres (13 ft) in height. The reason for this is because large portions of land  sit within a flood plain. The last major flood occurred in 1929, when Invermay was completely devastated. More than 4,000 people were left homeless after just one night of flooding. Since then, there have been minor floods but nothing as severe. Wikipedia states that work  is underway on a $59 million flood levee upgrade that should protect the city from 1-in-200-year events, that is expected to take five to six years to construct.   A levee, levée (dike, dyke, embankment, floodbank or stopbank)  is an elongated naturally occurring ridge or artificially constructed fill or wall, which regulates water levels.
Launceston  is a city in the north of Tasmania, Australia at the junction of the North Esk and South Esk rivers where they become the Tamar River. Launceston is the second largest city in Tasmania after Hobart.  Settled by Europeans in March 1806, Launceston is one of Australia's oldest cities and is home to many historic buildings. Like many Australian places, it was named after a town in the United Kingdom – in this case, Launceston, Cornwall.  The first significant colonial settlement in the region dates from 1804, when the commandant of the British garrison Lt. Col. William Paterson, and his men set up a camp on the current site of George Town.
It was in North Tasmania CA Ground at Launceston that the Benson & Hedges match between India and Newzealand was played on 2nd Feb 1986.  In ODI no. 361 – Krish Srikkanth opened with Sunil Gavaskar.  Sunil was caught by wicket-keeper, Ervin Bruce McSweeney off Richard Hadlee.  Hadlee, Chatfield, Stuart Gillespie, Martin Snedden and Martin Crowe all bowled well.   Mohinder and Srikkanth had 50 partnership whence the ball was swinging so much that Cheeka was hit on thigh and higher and uttered a couple of Tamil words in pain ! Ashok Malhotra top scored with 39.  Chetan Sharma was unbeaten on 38 – Indians were 202/9 in 48 overs. 
Chasing an adjusted target of 190 in 45 overs, NZ could make only 168 with Kapil Dev and Roger Binny sharing the spoils with 3 wickets apiece.  In fact both had identical figures of 9-1-26-3.  Chetan Sharma was the man of the match.  
. ….
That turned out to be  the only match played at this venue
With regards – S. Sampathkumar
10th Dec 2015