FirstLadyB: Christian Millennial Blog Covering Entertainment, Lifestyle & Pop Culture
LeToya Luckett is sharing how a mentor helped her to seek God after her departure from Destiny's Child.
On the last episode of Essence "If Not For My Girls" with her girls Keri Hilson and Eudoxie, LeToya shares how God placed a woman in her life after the Destiny's Child breakup that helped guide her to church, prayer and a stronger relationship with Him.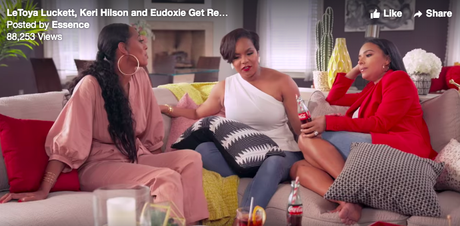 "She was a motherly, nurturing spirit who comforted me and told me, 'Dust yourself off. Let's go to church. Let's go to these women's conferences. Let's pray together.' She helped me to build my prayer life. I got a better understanding of who God was, to me," LeToya Luckett shared with the ladies.
She continued,
"I started to build a relationship with God, and I found comfort in that instead of trying to figure out what I wanted to do next. I had to seek Him first before I could make any moves," the Reality TV star concluded.
LeToya Luckett, Keri Hilson and Eudoxie Get Real About Overcoming Fear, Developing Faith & Forging A Strong Sisterhood

Grab your bestie and some tissue! We've made it to the final episode of #IfNotForMyGirls with Keri Hilson, LeToya Luckett, and #EudoxieBridges.In this episode, the ladies talk overcoming fear, developing strong faith and the power of strong mentors and friends.Missed the past episodes? Go to the ESSENCE page now to catch the full series!

Posted by Essence on Thursday, August 15, 2019