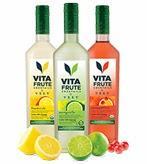 When I rang in the new year just a week or so ago, I toasted it not with champagne or wine, but with VitaFrute! Described as the "first organic super fruit cocktail in a bottle," it comes in three flavors -- Cosmopolitan, Lemonade, and Margarita -- and is just 125 calories per serving! That's because this natural, organic alcoholic drink is made with VeeV, "the original acai spirit." I drank my lemonade-flavored VitaFrute straight up since I was toasting in the new year, but you can use it in many different cocktail recipes, which are provided on their website.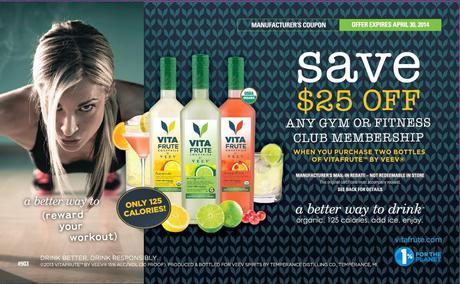 As another way of ringing in the new year, VitaFrute is offering $25 off any fitness class, gym or health club membership or monthly fees when you purchase just two bottles of VitaFrute and submit the rebate form found at the store. (Offer expires April 30, 2014.) What a great way to commit to be fit in 2014!
After trying the lemonade flavor, I'm anxious to try the margarita and cosmopolitan flavors, too. Fortunately, when I used the store locator on the VitaFrute website, I found that several stores near my house carry their products. Hurray! Thankfully, I don't have to wait for another New Year's celebration to try them. If you're looking for an alternative to standard alcoholic beverages (and you're over the age of 21), I hope you'll check out VitaFrute! Learn more at www.vitafrute.com.