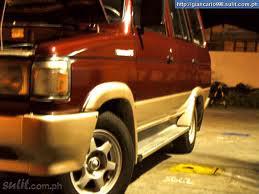 photo courtesy of: via.
I know this is off-blogging pero my conscience is calling me to reach out to these poor mute victims of the society. This is posted by my friend Debs, where she encountered a horrifying event with a mute girl kidnapped awhile ago. SOMEONE, SOMEBODY AND EVERYONE needs to save the girl! This info may not be that helpful pero for awareness purposes, please I'm reaching out to everyone else.
This is Debs story:
"May ikkwento lng ako about sa nakita nmin kanina sa street nmn sa flores de mayo, lagro around 7:30 pm.
Habang naglalakad kami papunta sa sakayan ng tricycle merong sumigaw na babae mula sa TAMARAW FX RED na mukhang luma na medjo tinted na walang plate number. napalingon kami akala nmin nangjjoke time lang,
Nung lumingon kami ung babae nakalabas ung kamay na parang tinatawag kami, tpos nakita ng kapatid ko may kalbong lalaki na hinila ung kamay nia at sinara ung window ng malakas. So nagulat kami bakit sinara ng malakas ung window. 
Nung nakalagpas na samin ung FX huminto sila ng saglit at nakikita nmin pinipilit ng babae na buksan ung window pero pinigilan xa. 
Nung nakalagpas sila dun lng nmin na realize na pipi ung sumisigaw. sigaw ng pipi alam namin dahil ang mama namin deaf-mute. iba ang sigaw ng mga pipi sa mga normal na tao. atska dumaan sila sa sa street na walang ganoong tao dahil hindi nmin un main road.
This may not be helpful xe walang plate number. This is just to inform you na laganap pa din ang pandudukot sa mga pipi."
Let us please SAVE AND HELP the Deaf-Mute victims of the society. I'm calling out to everyone's heart to reach out to our leaders!