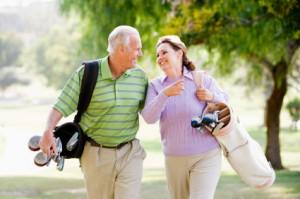 The first in a ten part series on golf, today we look at taking golf lessons.
No matter how good you are everyone needs the occasional golf lessons. If you are a beginner or your game needs a lot of improvement then golf lessons are probably a must.
One question you may ask yourself is, are golf lessons really necessary? After all the aim of the game seems to be solely to hit a ball into a small hole, surely it can't be that hard to master? To be honestly that's fine if just hitting a ball and getting a little exercise is all you want to do, but if you really want to master the game of golf then having lessons is a necessity so you can get as much out of the game as possible.
Private Golf Lessons
Golf lessons can be quite costly especially if you have private lessons. However, there are advantages to having private lessons.  One of the best things is that you can set your own pace. In a group this is more difficult.
With private lessons, you are calling the shots (as you are paying for them), so it is a good idea to decide exactly what part of your game you want to concentrate on improving. Of course if you are only just starting to play golf and you have no idea about the game, you're talking about basic golf lessons, and the best way to start is at the beginning and work your way upwards and onwards.
A qualified golf instructor will give you a good grounding in the basics of golf and will ensure your game has improved by the end of every lesson.
Group Golf Lessons
If you can't afford private golf lessons but you are really keen to acquire lots more golfing knowledge then think about learning in a group with other people. You won't get quite the individual attention that you do in a private lesson, but you will still learn a lot plus you will have other people to commiserate with when things go wrong and celebrate when they go right.
Group golf lessons are much cheaper than private ones because there are a number of people learning from the one instructor. You will find there are different types of group golf lessons which range in lessons for the complete beginner to those for different skills such as putting and driving. All you need to do is decide which program suits you the best and get yourself booked on.
Practice Makes Perfect
Golf lessons are great and yes they are necessary to improve your skills. However one of the most important things you need to do is practice what you've learned between the lessons. If you don't practice your game won't improve and you'll find those golf lessons have not done you much good at all.