In my last post, I featured
books for Christian teen girls
, made after I noticed that Lynn, 11 going on 12, is just about the same height as her mother.  This time around,
I'd like to focus on books that will assist my target audience, the fathers, Christian dads in particular. 
Gentlemen, we need all the help we can get, so here's
a list of books for Christian fathers
.
I'm dividing this post into three parts, books for:
Parenting in general
(one of the books being teen-specific)

Parenting sons
Parenting daughters.
Hope you enjoy the list.  If you have any other suggestions, let me know.
Parenting in General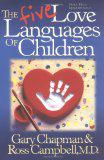 The 5 Love Languages of Children by Dr. Gary Chapman. 
Gary Chapman's
original five love languages
easily ranks among the best marriage-enhancing books out there.  His version for children will likely go down as one of the best books about enhancing your relationship with your child.  Basically, each of us expresses love in five "languages," but each of us also has a primary love language that take center stage above the others. 
This book helps us find out the love languages of our children and how to maximize them to their benefit and the benefit of the home. 
The 5 Love Languages for Children
is available on
paperback
and Kindle.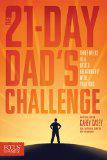 The 21-Day Dad's Challenge: Three Weeks to a Better Relationship with Your Kids by Carey Casey
.  This joint project by Focus on the family and the National Center for Fathering (where Casey is the CEO) is sure to pick up where the movie Courageous left off, making better fathers out of us goofballs.  This book challenges us (and we, men don't back down from challenges, right McFly?) to become a totally new dad in 3 weeks, practicing "Championship Fatherhood" as termed from the book.  Getting help from big names of Christian ministry, sports, and parenting circles, this book can certainly help us practice just that…in only 3 weeks to boot.
21-Day Dad challenge
is available both on
Kindle
and on
paperback
.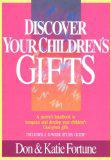 Discover Your Children's Gifts by Don and Katie Fortune.
  Ok, ok, don't crucify me for the girly cover…you're not supposed to judge a book by its cover anyway.  But, well, every parent, especially every parent living in Asia, should get this book because it touches on a big no-no that we do against our children…making them become what WE want them to become.  You hear the sob stories: child pursues a certain course that he hates because his parents force him to, etc., etc.
Don't force your kids into your mold.  Just because you or your family is good at this or that doesn't mean your child will be also.  They're uniquely designed by God, so, instead, let them apply their natural giftings, and this book will greatly, and I mean greatly help you do that.
If you want to really understand your children, buy this book (in
Kindle
and in
paperback
)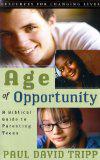 Age of Opportunity: A Biblical Guide to Parenting Teens, Second Edition (Resources for Changing Lives) by Paul David Tripp. 
Renowned Filipino public speaker Francis Kong joked that putting up a business and all that comes with it is much easier than raising a teen.  Well, my daughter is almost there, and I'm starting to think he's only half joking. 
So, enter this amazing book for parenting teens, penned by the president of Paul Tripp Ministries (and who has survived raising four now-grown rambunctious teenagers).  Let's face it, that once super-talkative child will all of a sudden speak to you in mono-syllables.  The gleeful kid who can't wait to jump on your back will develop into a young man who constantly begs you to get off his.
Parenting teens will force you to change some of the parenting techniques that you used when they were small…and
Age of Opportunity
is a must-have for you to survive this chaotic time.  Available in
paperback
only.
Parenting Sons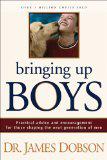 Bringing up Boys
by Dr. James Dobson. 
If there's any go-to author when it comes to raising great kids, it's Dr. James Dobson, the founder of Focus on the Family, and a legend in parenting circles.  His short little tips that are heard on the radio (
103.3 FM
here in Cagayan de Oro) are fantastic, and his advice to raising boys is especially helpful.
If you want to raise your boys to become the kind of men the world needs.  Make this book your first stop.  Available in
paperback
and Kindle editions.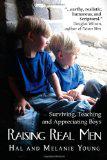 Raising Real Men: Surviving, Teaching and Appreciating Boys
by Hal and Melanie Young. 
When you have six boys to raise (plus two girls), and you ended up raising them very well, then you can qualify to write one heck of a book.  Not only that, but he Youngs frequently speak on parenting and family issues all over the country. 
Like the book above,
Raising Real Men
make a clear and purposeful exhortation to celebrate the, um, uniqueness of the boys we bring up and they give very practical and powerful advice on how to shape them into the real men that God wants them to be.  
Raising Real Men
is available in
paperback
and
Kindle
.
Parenting Daughters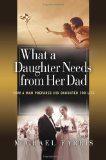 What a Daughter Needs From Her Dad: How a Man Prepares His Daughter for Life by Michael Farris. 
The Youngs have six boys?  Well, the Farris family has six girls…and he writes an equally excellent and compelling book on how to mold them into lovely young women.
We dads need a lot of help too, because lovely young women are harder to come by in a world like this one.  Here's some good help (
paperback
and Kindle).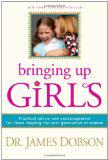 Bringing Up Girls: Practical Advice and Encouragement for Those Shaping the Next Generation of Women by Dr. James Dobson. 
Back to James Dobson again, and this one, judging from Amazon reviews, is just as impressive as the book above (as well as many of his other books,
The Strong Willed Child
being his most famous one). 
Girls have unique challenges, and Dr. Dobson's mentoring, down-to-earth approach (not to mention that he gave his professional life to the enhancement of parenting and family) shines once again.  If you want to raise your girls to become strong, healthy women, you'll need to get this book either by
Kindle
or
paperback
.
Oh, if your girl is already a teen, you'd be wise to let her read some of the books that I feature in
this blog entry.
I hope you enjoyed my
list of books for Christian fathers
.  If you have any suggestions, please post here in the comments section.