Better Late Than Never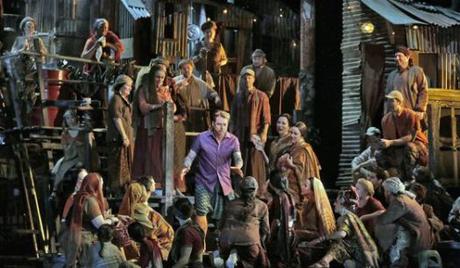 Matthew Polenzani (Nadir), with the Met Opera Chorus in
Les Pecheurs de Perles
Why did it take so long for Bizet's Les Pêcheurs de Perles to come to Lincoln Center?
How could the Metropolitan Opera, this country's most prestigious and enterprising repertory house — one that has introduced such borderline cases as Tchaikovsky's Mazeppa and Iolanta, Janáček's From the House of the Dead, Rossini's La Donna del Lago, and Shostakovich's The Nose — have neglected to revive such a tuneful piece as The Pearl Fishers, as it was known in the U.S., for well-on a hundred years?
How did such an oversight occur and what changed the opera company's mind about it?
In an earlier post of mine, I suggested that it was Francis Robinson, a long-time member of the Metropolitan Opera's administrative staff and dean of the intermission series, "Biographies in Music," who had the strongest and most vocal opinions regarding the work.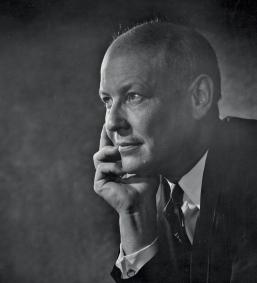 Francis Robinson (The Nashville Opera)
When listeners wrote in with repeated queries as to when, if ever, The Pearl Fishers would be staged, the old Kentucky-born gentleman would grumble and squirm in his announcer's chair before coming up with the answer. After much hemming and hawing and rifling through his notes, Mr. Robinson would measure his response: if an iconic cast comprised as it was, in 1916, of Enrico Caruso, Frieda Hempel, Giuseppe de Luca, and Léon Rothier, was incapable of turning The Pearl into a gem of the repertoire, how could anyone else hope to do so? Besides, all the best-known melodies are heard in Act I, indicating that nothing beyond that peak was worth bothering about.
Oh, ye of little faith! What rubbish! This is one of those spurious wives' tales that has been circulated around the opera for as long as I can remember. The main criticism, even in Bizet's time, was aimed not so much at the composer's music but at the creaky and trite libretto by Eugène Cormon (the nom de plume of author Pierre-Étienne Piestre) and Michel Carré, which set the story in ancient Ceylon (our present-day Sri Lanka) among the pearl-diving natives.
Despite the dramatic drawbacks, the music far outweighs the silliness of the plot and stands out for what it was. Exotic and melodious, with an airy charm and youthful impetuousness, Georges Bizet's 1863 opera Les Pêcheurs de Perles marked the fledgling musician as a bona fide artist of the first rank and on the cusp of stardom. Of course, this and Bizet's subsequent oeuvre (i.e., his incidental music to Alphonse Daudet's play L'Arlésienne and the opera La Jolie Fille de Perth) would pale in comparison to his final masterpiece, the four-act Carmen from 1875.
Due to a pre-existing throat condition, Bizet died of a fatal heart attack (he was only 38 at the time) a few short months after Carmen's controversial debut at the Opéra-Comique in Paris. What could have been a major career in the theater was cut short by his illness and premature passing. Had he lived another two or three decades, Bizet might have given Wagner or even Verdi a run for their money, and quite possibly have earned him the title of greatest living opera composer.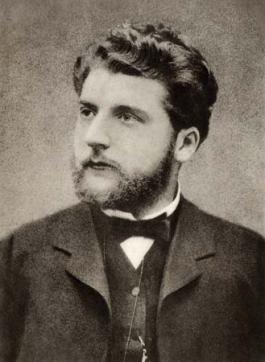 The young Georges Bizet, composer of
The Pearl Fishers
Yes, Bizet was that talented! Not only was he an exceptionally gifted musician and concert pianist, but he was known and respected by, as well as mingled and mixed with, many of the era's most illustrious contemporaries, among them fellow Frenchmen Charles Gounod, Camille Saint-Saëns, Hector Berlioz, Fromental Halévy (whose daughter, Geneviève, became Bizet's wife), and Jacques Offenbach, and the pre-eminent Italian composer of his day, Gioachino Rossini.
However, it was Bizet's command of the French idiom and the principal influence of Gounod, Offenbach, and ultimately Wagner that propelled the young composer forward. In Les Pêcheurs de Perles, Nadir's music at his entrance is doubly reminiscent of Hoffmann's initial appearance in the prologue to Offenbach's The Tales of Hoffmann. As well, the chorus in Les Pêcheurs, with echoes of Bizet's Carmen, is given similar-sounding themes in their introductory passagework. Even the ubiquitous French horns, featured prominently in Leila's Act II solo from Pêcheurs, may kindle fond memories in listeners of Micaela's "Je dis que rien ne m'épouvante," from Act III of Carmen.
Unfortunately, there was no complete orchestral score for Les Pêcheurs, only the surviving vocal score. Written when Bizet was 24, the version that went into circulation after his death, and that was subsequently published by Choudens, is many times removed from the original. In addition, other editorial hands have altered and rearranged the opera's music (i.e., Benjamin Godard, who inserted a new trio at the end). Why, even the work's most famous and best-loved number, the duet "Au fond du temple saint," had a much different ending (this one, by Bizet's own hand) that contrasted radically with the familiar main theme.
I couldn't help noticing that this same theme, sung so movingly by Nadir and Zurga in Act I, could have served as a model for Verdi's tenor-baritone pairing, "Dio, che nell'alma infondere," from his opera Don Carlo, or the Don Alvaro-Don Carlo duet, "Solenne in quest'ora," from La Forza del Destino. A justifiable and recognizable coincidence? Perhaps, perhaps not.
What brought the opera back after so many derisive decades in limbo? There are a variety of explanations, but for the purposes of the Met's revival an October 2008 article in Opera News, by architect and writer James C. Whitson, made it clear that Les Pêcheurs had regained its footing in the U.S. due in part to American audiences' craving for "romance." Whitson quotes dramaturg Roger Pines in claiming: "[We] want the music we hear in the opera house to be beautiful. American audiences simply can't accept much of the repertoire [in European houses], because the sounds aren't attractive enough to our ears."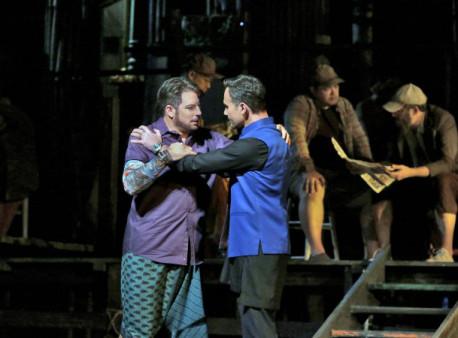 Matthew Polenzani (Nadir) & Mariusz Kwiecien (Zurga), in "Au fond du temple saint"
Fair enough. Certainly a large part of this feeling comes from the "narcotic effect on listeners" induced by the stirring tenor-baritone duet "Au fond du temple saint" — paradoxically, the very tune that Francis Robinson had once found so restricting to the opera's success at the Met.
Additionally, Whitson's article takes a few well-placed swipes at the common knowledge concerning the libretto's lack of dramatic viability and the composer's incredible ability to overcome its source: "Bizet shows tremendous skill in building a dramatic scena, providing subtle musical cohesion where recitative meets aria or ensemble. Through the sophisticated orchestration and novel harmonic diversions, one frequently glimpses the shapely form of Carmen." So there it is.
Whitson concludes his argument by stating, unequivocally, that "It's a miracle, really, how Bizet shaped [the librettists'] 'infamous bear' into a creditable opera."
So, On with the Show Already!
Much work went into restoring the composer's original vision, including that stirring tenor-baritone duet and the final denouement, for the Met's newest presentation of Les Pêcheurs de Perles. The production was directed by Peggy Woolcock, which was originally conceived for the English National Opera, with set designs by Dick Bird and video projections by 59 Productions. The story's setting was relocated, somewhat, to a village in the Far East, which still kept the exoticism implicit in the scoring, amid potent reminders of the ravages of the tsunami that hit Indonesia about a decade ago. Was it another of those "modern dress" updates? Yes, but only intermittently so.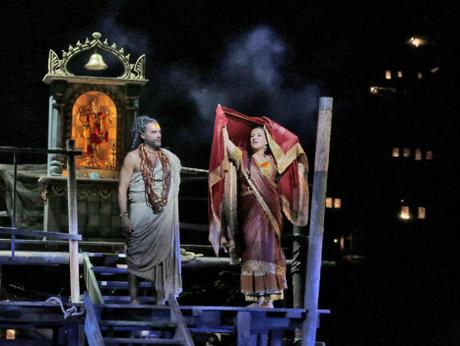 Nourabad (Nicolas Teste) & Leila (Diana Damrau)
In keeping to audience preferences, the familiar climax to that favorite among record collectors, "Au fond du temple saint," has also been preserved, the main theme of which gets repeated at various intervals all through the opera — and fittingly so. Bizet was no fool where main themes were concerned. Just give a listen to Carmen's impressive "Fate" motif, and you'll know what I mean.
He has also built his scenes in strict symphonic order: first, the main statement and theme, followed by a middle section with variations thereof; then, a return to the primary statement, but more forceful upon its resultant recurrence. Such was the case with the opera's opening chorus, "Sur la grève en feu," and the scene of Leila's taking of her priestess' vows, which ends with a reiteration of the orchestral introduction. There's an incredibly vivid second-act storm scene, robustly executed by the Met Opera Orchestra and projected onscreen in a video montage.
The Saturday radio broadcast of January 16, 2016 featured German soprano Diana Damrau as Leila, American tenor Matthew Polenzani as Nadir, Polish baritone Mariusz Kwiecien as Zurga, and French bass-baritone Nicolas Testé as Nourabad — not exactly comparable to Hempel, Caruso, De Luca, and Rothier, mind you, but more than satisfactory by themselves. The conductor was the noted Italian maestro Gianandrea Noseda, who previously led a masterfully conceived reimagining at the Met of Borodin's epic opera, Prince Igor, back in 2014.
In as essential a revival as this one turned out to be, casting was key. In that, the singers met every challenge head on, so much so that I came away with renewed respect for this beautiful work. If nothing else, it proved beyond a doubt the folly of the Met's original assessment. Mary Jo Heath, the broadcast host, mentioned on the air that listeners had not heard this work in a hundred years.
That may have been true of the Met itself, but not this listener. I had previously familiarized myself with The Pearl Fishers' musical jewels through numerous recordings by such artists as Jussi Bjoerling and Robert Merrill, in their superb and justly admired rendition of "Au fond du temple saint," and the likes of Alfredo Kraus, Léopold Simoneau, Richard Tucker, and Nicolai Gedda, with Nadir's benchmark tune (mentioned below).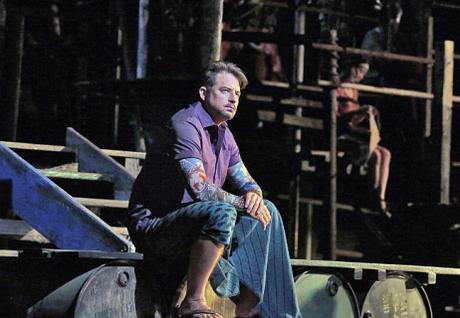 Matthew Polenzani as Nadir, in "Jes crois entendre encore"
Matthew Polenzani's Nadir was the virtual embodiment of exotica in extremis. His dreamy depiction of the Act I aria, "Je crois entendre encore," was skillfully handled and softly uttered high up in the nether reaches of his range, leading to an exquisite morendo ending whereby the combination of head tone with falsetto (termed voix mixte) was flawlessly balanced and evenly produced. The number is marked pianissimo throughout, and in this instance Polenzani kept to the composer's direction.
Likewise, Polenzani displayed a melting mezza voce, as well as took the elongated phrases of each verse all in one breath — amazingly done, with nary a hint of effort on his part. That's artistry for you! The result typifies that mood of "intoxicated surrender," as Lord Harewood described it in the chapter on Les Pêcheurs in the volume Opera on Record 2, "with which the composer drugs his lovers as with an opiate." I'll vouch for that! Bizet also happened to have left the enthusiastic Met audience drugged as well, and pleading for more.
The ebb and flow of Nadir's lilting, trance-like air reflects its undulating rhythm as a barcarolle (mirroring the work's seaside surroundings), which just about sums up his Act II serenade to his beloved Leila, "De mon amie fleur endormie," tossed off with equal facility. As the object his affection, Diana Damrau managed the role's coloratura fireworks with efficiency and ease, tossing off the roulades and scales called for in her extended scene to the public's delight.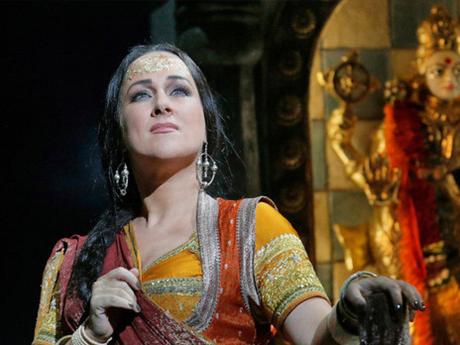 Diana Damrau as Leila
Dramatically, the soprano helped build a solid case for this part, one that's been too often glossed over in the past by artists with less means of expression and vocal assurance than Ms. Damrau demonstrated. Need we mention that she looked absolutely stunning in her flowing silk robes? Many thanks to costume designer Kevin Pollard for his fine work, and to the Met's makeup department for supplying the convincing body tattoos.
The work high spot was the electrically charged Act III confrontation scene between a raging Zurga, marvelously voiced and acted by Mariusz Kwiecien, and the equally insistent Leila, sung by Damrau. Their sizzling duet, wherein the jealous Zurga comes to realize how much Leila still loves his childhood companion Nadir, pushed both artists to their vocal and histrionic limits.
Kwiecien chewed up the scenery, as it were, not only with Damrau in attendance but in his extraordinarily lyrical piece, "Ô, Nadir, tendre ami de mon jeune âge," that opens the third act. The buildup is the atmospheric prelude that Bizet obligingly provided and the remarkable recitative that comes afterward, "L'orage s'est calmé," along with the character's changing moods and his reflections on his golden youth.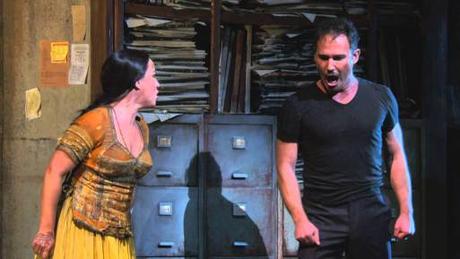 Damrau (Leila) with Kwiecien (Zurga) in Act III
Though he started the opera off a bit rough around the edges, Kwiecien settled down sufficiently to blend well with Polenzani. Again, both artists took the last line of their duet in one breath, holding on to the climactic note and milking the moment for all it was worth. They were greeted with the warmest applause of the afternoon. Damrau's real-life husband, Nicolas Testé, looked and sounded properly authoritative in his brief turn as the high priest Nourabad.
In a choir-heavy piece such as this, the chorus is of paramount importance in conveying the mood and flavor demanded by the composer. Donald Palumbo's Met Opera Chorus was particularly outstanding in this regard, exuding both a physical and tonal force of nature that perfectly fit director Woolcock's concept of a community in transition.
Even though it was not an acknowledged hit at its premiere, Bizet's pearl of a stage work was undeniably influential in its heyday. It is speculated that Léo Delibes may have borrowed some of its intoxicated airs for his 1883 opéra-comique Lakmé, set in British-occupied India. We can top that: The Pearl Fishers' Act II chorus, during that violent storm scene, is almost a line-by-line musical quotation from Saint-Saëns' future 1877 opus Samson et Dalila, specifically in the High Priest of Dagon's railing against the Hebrew slaves, "Maudite à jamais soit la race des enfants d'Israël" ("May the children of Israel be forever cursed"), and the chorus' interjections.
If imitation is the sincerest form of flattery, then the French owe Monsieur Bizet a hefty and long-overdue royalty payment. Along those same lines, the Met should apologize for Francis Robinson's poor evaluation of the composer's youthful work.
It's tough to admit when you're wrong. But after nearly a century of excuses, The Pearl Fishers' time has finally come.
(End of Part One)
To be continued…
Copyright © 2016 by Josmar F. Lopes