Photo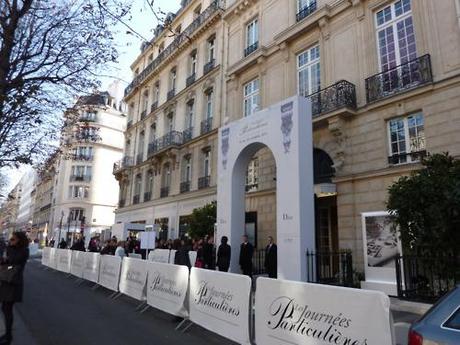 Zoom
Les Journées Particulieres -Dior
So As I said I would, I got out of bed at 6am on this sunday morning and arrived at Dior at 8:15 expecting to be quite near the front of the queue, like i was yesterday at Givenchy. Oh how wrong I was! When I arrived I was informed that I probably wouldnt gain entrance until 11am due to the volume of people who staked out there place in line by 7am; doors opening at 10 - respect to them though, I thought I was hard core but there are worse than me :)
It was totally worth the wait -as I knew it would be, its Dior after all! 
Like at Givenchy, we were not brought into the real atelier but instead to the original office and salon where we discovered 2 floors - clothing & Cosmetics.
We got to view the work that goes on behind the scenes and talk with the artisans that create the dreams we see in the magazines year after year. This time the artisans were speaking to us, explaining the process of his/her particular specialty, be it creating shoes, bags, watches & jewelry or Haute Couture dresses. Our questions were answered by the real experts - even prices were out in the open (we got to see and understand the making of a watch worth 28 thousand euros!).
In the cosmetics salon, we heard from 2 of Diors make-up artists (one of whom was a charming American fellow who had trouble with his French - so i felt in good company!) And we got to sample some of the most famous Dior perfumes while admiring the various bottles in a short history lesson,finally treated to a free gift of a cute miniature bottle of J'adore Dior perfume before parting!
All in all there was a warm friendly atmospere, which i did not feel so much at Givenchy and the organisation seemed in good order.
Most importantly however, I was INSIDE Dior! The house that has made me dream for so many years, the house that I have dreamed of leading one day as head designer, so thanks to Dior for opening there doors to me for the very fist (and hopefully one of many) time. 
Just to point out: when I entered the Queue was set at 3 hours waiting, if you were at the end, 45 minutes later when I left, it was 6 hours! so i didnt do too badly for either of the LVMH open days.
xoxo LLM